8 October 2018  |  A Report on the Hope Center Donors' Meeting with General Conference Officials
by Rita Corbett
Two years ago, donors to the Hope Center project were frustrated.
A group of us from the Williams Lake, British Columbia church, joined by friends from many places, had entered into a partnership with the Southeast Andhra Conference in India to build an evangelistic center. It wasn't until several years into the project that we began to suspect that the it wasn't going as we'd expected: we had good reason to believe that a substantial chunk of the roughly $1,000,000 we'd spent on the project hadn't gone to the project at all. Furthermore, what had been built wasn't on land with a clear title. You can read the entire sad saga of the Hope Center here.
After realizing this, our representative contacted many in the church organization on all levels around the world for assistance. One GC official looked at the 60 pages of documentation we sent him, though that didn't lead to progress at the time. Repeated requests to the GC president's office only yielded the advice to leave the matter with the Southern Asia Division—which had already demonstrated to us that it had no interest in pursuing it.
Turning Point
The report in Adventist Today, though, reopened the inquiry. Donors began again to try to make contacts not only in the GC president's office, but in offices of mission and finance, as well as with current and former GC vice presidents.
(Other leaders we sought help from, sadly, were less responsive. We received this communication from the office of the GC president on September 18, which we found not encouraging given that the Hope Center issues had already been simmering for over two years:. "Thank you for the email you have sent over to the General Conference and regretfully we are not able to attend the meeting that you have invited at the time and venue you have selected as, the GC personnel is not available in the date you have selected since their calendars are filled up for months in advance and they have other appointments scheduled. Sometime after Annual Council is over, … [and] the division officers are available, something could be arranged, but this will need to be mutually agreed upon with only the directly involved in the matter attending.")
Our Meeting
Recently we were able to put together a meeting. Invitations were rather flexible: proxies were welcomed if specific invitees were not available. Understandably, some were unable to come due to the short notice. On September 24, several donors and others involved with the Hope Center met with some General Conference officials. The meeting was congenial. They did a lot of listening, especially to a shocking presentation by someone who had researched this matter for the donor's group. This was followed by an exchange of questions. As explained in a previous article on the Hope Center, our inquiries seemed to show unhealthy deviations on the part of Indian church leaders from the moral and ethical business principles we were expecting.
The donors reiterated their desire for a third-party audit relating to a possible fraud or forensic issues in order to restore a trustworthy working relationship; for any misused funds be recovered so they could bless India as was their original intent; and that any gaps in compliance with GC procedures or Indian law be shored up so that the church going forward could operate ethically.
A strong mutual focus of the meeting was on solving problems in order to protect and enhance the long-term effectiveness of the church and uphold the values of the church. The donors expressed the hope that guiding principles in the Bible, and the desire of the church to operate with integrity and accountability, could also lead any who may have gone astray back to a higher plane of operation.
The seriousness of the situation did seem to come through. A current GC officer voiced that the situation appeared "mafia-like", while another said, "It seems to me that unless we get our house in order business wise, we will have a hard time claiming the high road in scriptural and theological matters."  
Why We Went Public
We brought the Hope Center troubles to the notice of the body of believers in order to seek solutions to lingering problems. This is, frankly, only part of a much bigger corruption problem in the SUD: since we went public with our findings in Adventist Today, donors have received about 4000 emails and other communications from Seventh-day Adventists in India, most telling us that we are only seeing the tip of the iceberg. In our meeting with GC officials we made clear that we are aware of wider ethical, financial and worker distress questions, beyond the Hope Center itself. Baptism and membership numbers should not be manipulated for the purpose of creating power centers or financial opportunities. Operations should be in line with both church and government policies. Genuine qualifications should determine who wins leadership elections. Work policies should provide support and protection, and not allow for mistreatment of workers.   
Why should these situations persist?
Simply put, donors are asking only what normal business practices would dictate. We want to see this matter through for the sake of the church and the salvation of many, especially those church leaders who are trustworthy friends. Justice and morality need to be restored.
Boz Tchividjian, a former sex crimes prosecutor who leads an organization that works with victims of abuse in Christian institutions, is quoted as saying that certain church leaders "feel almost invincible… They don't feel like the rules apply to them, because they're doing great things for Jesus, even though their behavior doesn't reflect Jesus at all." A powerful church leader will surround himself with people who are loyal to him instead of people who actually can and will hold him accountable, illustrating the danger that comes when a church becomes big business.
This seems to us to be what has happened in India. Clearly trust has been broken by leadership there, and trust isn't restored quickly. Thus our request for audits, documents, receipts and reports to help set things right quickly in matters that need correction.   
It isn't clear to us how our contacts in the GC will be able to proceed on this matter, but we are hopeful that they will be able to help. Though one effort to add a financial accountability discussion to the Autumn Council agenda was politely denied, those with whom we met seemed genuinely concerned. What we don't know is whether they are able to do the deeper digging into the matter that we would like to see.
Stop Giving?
Reports from multiple sources have darkened the picture, illustrating the truth that we may "have more to fear from within than from without." A recent statement from a former GC officer was unnerving: "I would recommend that: 1. All private groups seeking to invest monies in the mission(s) work at SUD, stop immediately until, 2. the SUD/GC establish a fact-finding committee to investigate how and why things went wrong, and 3. a report is published in Adventist Today and also provided to the groups that lost money in their good-hearted efforts to impact the work in SUD. What are the chances this will happen? . . . I'm not holding my breath!!"
However donors, as members ourselves, are not wanting to withdraw from winning people to Christ in South Asia. As the body of Christ, we are called to continue the earthly ministry of Jesus today. (1 Corinthians 12:27). The apostles were so Christ-like that their enemies saw their boldness and recognized that they had been with Jesus. We believe in future possibilities—but timeless Christian ethical values need to be implemented internally, and urgently.  God calls us to pray "for kings and all who are in high positions," and speak Biblical truth as Paul did in Acts 24-26, and we invite you to pray for the Hope Center and for the problems in the church in India.
We are seeking a kingdom approach in our collaborative attempts to bring justice in the Hope Center debacle. We wish to avoid any additional tarnishing of the church and its officers. Compliance with Christian principles, General Conference policies, and the laws of India would be a good start toward bringing about long-lasting change, and ending what we believe are widespread habits of monetary mishandling and unethical business practices. The future of the church in India may depend on it. It might not be easy, but if this counsel is followed, there could yet be hope for those alienated and disaffected donors who carry a heart for both India and the church.
---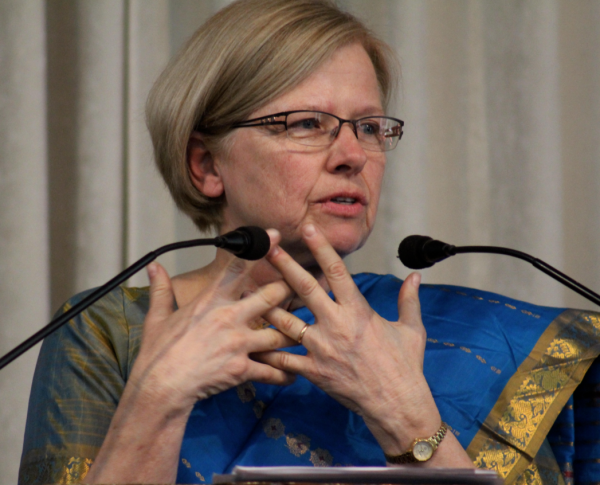 Having grown up on an African mission station in Zaire, Rita (Schaffner) Corbett jumps at any chance to be involved in a church development and health-education classes overseas. Her husband Grant is an orthodontist, and they have 6 children, 4 of whom are adopted and are the colors of the rainbow. Rita is very involved in her home church in Lake Williams, British Columbia, and teaches family health classes in the community.