By Pastor Tony Romeo, posted 11-23-2016 by D Kovacs.
Editor's Note: Faithful readers of this periodical have seen the name of Pastor Tony Romeo several times, including in a previous feature. We have sometimes posted notices of his ongoing Concerts for Peace. His REACH NYC project, partnering with his church in Manhattan, is always deeply involve in its community, but has now, in part due to recent developments in the US government, begun another. When I received the following, I immediately asked him if I could edit it for use as a feature. He said yes, and in editing, I have left his personal voice intact. DLK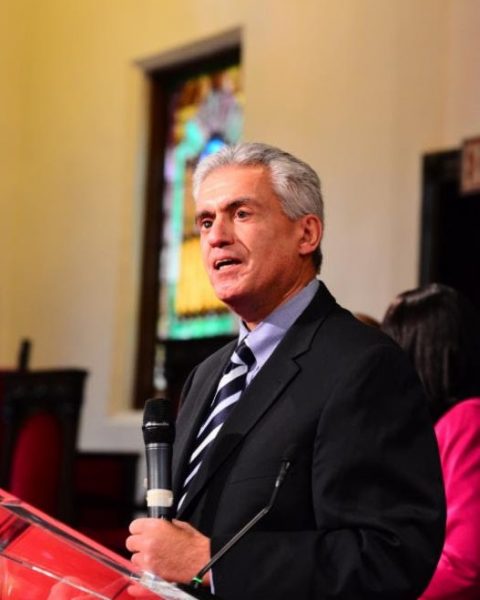 For the past few months, I have been attending and experiencing a dynamic, multi-faith series of meetings known as The Micah Table. This series began my education about, and has given me a glimpse into the lives of, people many read about, but fewer have had the privilege of meeting and seeing first hand. It is a place where we come from different faith traditions, but are all clearly open to helping those who are in need. Suddenly a Rabbi, a Priest, an Imam, a Lutheran, an Episcopalian, a Catholic, a Buddhist is my associate, trying to do good. To seek justice. To help those in need.
A few weeks ago, I heard of an undocumented immigrant who was being taken care of by a church a few blocks west of where I pastor in Greenwich Village, NYC. Judson Memorial Church, located near the famous Washington Square Park, has been home and sanctuary for several months to a father who has been separated from his family due to the threat of deportation to his country of origin.
When I first heard his story shared by a Lutheran minister, I was moved to learn more about people who stand in similar circumstances. All are children of God.
After attending an Immigration Seminar about six weeks ago, I listened intently to the various stories like a gifted young adult with a 4.0 GPA, unable to go on to higher education due to her undocumented status. At this same meeting was a member of Judson Memorial Church, and we spoke, shared a small gift from REACH-NYC in support of what they were doing, and offering help in the future if they needed any.
The call for help was received early one afternoon as a response to the offer. It was just last Thursday, November 10, 2016 that a group of "undocumented immigrants" filled the lower fellowship hall of Historic Manhattan Seventh-day Adventist Church, which REACH-NYC partners with.
Generations of families and individuals gathered under the leadership of a Lutheran minister who spoke Spanish, and guided them through the vast and complicated arena that is the daily life of these families in need of support.
They ranged in age from approximately 6 years of age to grandmothers and grandfathers, and many young adults, all of whom live and work in the shadows. These are good people who simply work and toil and seek a peaceful life in a place they now call home. They shared their backstories, and both tears and smiles filled the faces of those gathered for strength and support. No matter what your politics, a person in need is certainly a friend.
Historic Manhattan Seventh-day Adventist Church, which has become a true community church, now serves about fifteen 12-Step groups of various types all through the week. Thursday evening is the busiest night of the week, and on this evening, four adjoining rooms were filled with members of four of these groups.
As the stories were shared by our newest group of friends, in a language not heard often in the fellowship hall, the English translation from Spanish sometimes filtered into these other rooms. Members of those groups, recovering from their own battles, were moved as they heard the stories of immigrants. That night several individuals thanked us for providing the space for these new friends to meet, and also asked us how they might be of help. It is truly remarkable how helping others in need brings out the best in the human spirit.
These undocumented individuals are feeling the stress and pain of not knowing where they stand, and seek to find a way to legally come out of the shadows and into the light of the freedom that is the United States.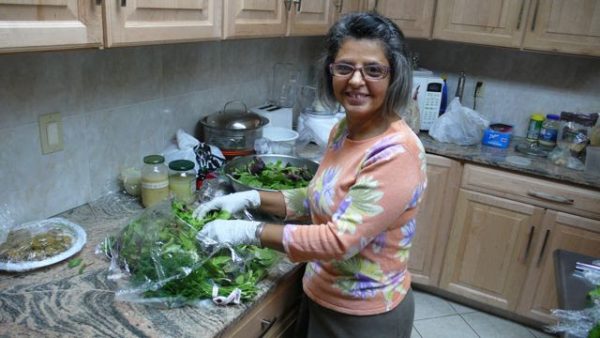 The last few weeks at Historical Manhattan Seventh-day Adventist Church have been a beehive of activity, with the various community group teams that meet on Thursday evenings preparing for the upcoming Saturday afternoon luncheons that are offered free after the worship service each week.
The aroma of healthy vegetarian, plant-based, sustainable food has members of the 12-Step groups following their noses to the kitchen area, and of course our teams always offer our guests a nice bowl of whatever is being prepared for the Saturday luncheon.
It's kind of a Thursday evening preview and tasty sampling of a dash of this or that, and a whole lot of love.
We are so happy that our guest list is growing as we share God's love and compassion with our neighbors, some of whom we are meeting for the very first time. We support all those who are doing good in New York City, no matter the faith tradition they belong to or if they are just stopping in for a bit of warmth and friendship.
To learn more or to find out how you can help, go to our main website. If you sign up for our email updates (under "Contact Us"), you will receive advance notice of, among other things, our Concerts for Peace series, which is also making many friends in the community.

div id="civil-comments">