By Jiggs Gallagher, July 10, 2016:    Pastor Tony Romeo is a maverick man on a mission. Make that two missions. They have led him through an extraordinary life, growing up Italian in the Bronx. The path took him to the High School of Art & Design, college at the New York School of Visual Arts, and to Atlantic Union College (AUC) in Massachusetts, where he earned a degree in religion. Then, he had a career in the heady world of international advertising in New York City. The possessor of a rapier wit, he even did stand-up comedy in clubs in the city.
After all that, eight years ago Tony decided retire from the ad biz and enter the ministry full time. He had often preached as a lay volunteer during the years on Madison Avenue. He was ordained by the Adventist denomination's Greater New York Conference and assigned a church to pastor—more on that to come.
"My mom passed away when I was three years old," says the now-68-year-old. "I had challenges in my childhood, including losing an eye at a young age." For the rest of his life, he has had an artificial eye, leading him to write a recurring commentary blog online, "Looking at the World through a Glass Eye."
"I was torn between the ministry and working in the world of art and design." Out of high school and knowing he had artistic talent, he enrolled in art school on a scholarship. Later he went to AUC and earn a B.A. in religion.
"After graduation, I got a job in the Art Department at the Review and Herald Publishing Association in Washington," he says. "I spent only eight months there, in the early 1970s. I learned a lot, and the experience motivated me to move toward the advertising world, which I did."
Tony also learned a few things about the Adventist denomination while at the Review. "I'd be working at my desk, and Arthur White, grandson of Ellen G. White and secretary of the White Estate at the General Conference next door, would come into the department to check on some publication. It amazed me that staffers would almost get out of their chairs and bow down to the man, as though he were someone very special and very different. It was strange."
He went back to New York City and the ad world. First, he worked in the bullpen at Grey Advertising (now the Grey Global Group). "I was creating 'mechanicals,' in the days before computers. I was also breathing a lot of second-hand smoke, as the only non-smoker in tightly packed space."
Then he moved to Scali McCabe Sloves (SMS), another large New York agency known for their account with Swedish automaker Volvo. Finally he spent years at Doyle Dane Bernbach Advertising (now DDB Worldwide), moving on to the creative side and into management. In all, Tony spent about 35 years working in the ad industry on Madison Avenue.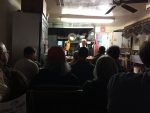 But he continued with a role in the church as an active lay leader. Once, in the 1980s, Tony preached a sermon on racism in New York, and the need to overcome it in the church. An Adventist administrator heard it and invited him to travel to Kenya and preach on the subject there. "I said in my sermon that the Queen of England is no better as a human being than any person in Africa, and that really resonated with the congregation. But I was approached after the sermon by brethren from South Africa, who warned me I should never preach about that kind of equality. I was disappointed."
As he approached 60, Tony became more active as a guest speaker in churches and various Adventist meetings, and decided he wanted to move into the ministry for the rest of his career. He knew with his no-holds-barred attitude and New York Italian personality, it wouldn't always be an easy ride. "My thinking is 'out of the box,'" he reflects. "Sometimes I just have to learn to keep my mouth shut. I've rubbed shoulders with all kinds of people in the ad business, with New York Italians, Catholics, Jews, everybody. It sharpens your wits. Sometimes I don't have a lot of patience with church politics, especially on the administrative level."
But he became ordained clergy, and was appointed pastor at the Church of the Advent Hope on Manhattan's Upper East Side, a somewhat progressive congregation where he thought his style of leadership might find support. He stayed for a while, but moved on to his current position as pastor of the Historic Manhattan Seventh-day Adventist Church on 11th Street in Greenwich Village. There, he found a spiritual home that has nourished him and his wife, Marlene. He chose to add "Historic" to the church's name because the building was erected in 1888 and has been a fixture of Village life for nearly 130 years.
"I was criticized by Adventist conservatives for the word historic in the title," he says in amazement, "as if it implied something about my liberal views." He acknowledged that it was odd, as "historic Adventist" usually refers to a more conservative view of the faith.
"I have worked very hard to be inclusive in my ministry," Tony says. "I welcome visitors of all denominations; I welcome lesbian, gay, bisexual and transgendered people. I believe in the gospel as Jesus Himself preached it, not as we sometimes change it to fit our institutional needs."
His church hosts various 12-Step programs associated with Alcoholics Anonymous; "I call them my second congregation." He also works with a Presbyterian congregation nearby on various community projects.
The major outreach he created, several years ago, is Reach NYC. The ministry is separately incorporated as a 501(c)3 organization. They sponsor cultural programs, drawing audiences of as many as 300 to classical and religious concerts, as fundraisers for other charities in the Greenwich Village neighborhood.
"We work on a shoestring budget, but we're doing great work with Reach NYC," Tony says. "We've supported Catholic soup kitchens, homeless projects and other outreaches. After the Pulse nightclub shooting in Orlando in June, we sent a $500 check to the survivors."

 A few months ago Tony encountered a personal health issue, and it got him thinking about how he wants to spend the rest of his life. Then, when he received an "avalanche" of negative comments from Adventists on Facebook when he expressed support for the gay community after the Pulse shooting, it made him even more introspective.Just a few weeks ago he was invited to speak at the GNY Conference executive committee. The conference president wanted to see his remarks before speaking; he told the president he speaks from the heart and he didn't have a prepared text.
So he outlined the kind of ministry he hoped to see in the future at the Historic Seventh-day Adventist Church in Greenwich Village. The reaction was mixed, and he came home frustrated.
"I'm not sure where I will go from here," he said recently. "But I want to spend my time on Earth doing Christ's work. I believe our church is a good church, but we don't always live out our best ideals. I hope I can see my way forward."
---
Jiggs Gallagher is a senior editor in the news section at Adventist Today. The feature photo with this story shows Pastor Tony Romeo preaching in the Historic Manhattan Seventh-day Adventist Church in the Greenwich Village neighborhood. It was shot by photographer Alex Belisle. The other two photos show a community group meeting in the church basement and Pastor Romeo's professional portrait from his years on Madison Avenue.