by Stephen Ferguson  |  08 July 2018  |
The world is abuzz with Hulu's The Handmaid's Tale, a new TV series that adapts the 1985 book of the same name by Canadian author Margaret Atwood. The series is now in its second season, and received an impossible 100% score on review aggregate site Rotten Tomatoes. It stars Elisabeth Moss (Mad Men), Joseph Fiennes (Enemy at the Gates), Yvonne Strahovski (Manhattan Night), Alexis Bledel (Gilmore Girls) and Ann Dowd (who was later compared to Sarah Huckabee Sanders). I should just forewarn would-be audiences that the show is definitely not for children, and this article will discuss some adult themes.
Set in an alternative reality of our own time, within the backdrop of a drastic fall in fertility rates said to be caused by pollution, sexually-transmitted diseases, abortion, female work-participation, and homosexuality, the United States government has been toppled in a coup d'état and replaced by a new nation: the Republic of Gilead. Only Hawaii and Alaska are still in U.S. hands, although U.S.-loyal rebels seem to be active throughout various parts of the mainland.
The Gilead government is an extremist theocracy—a Christian ISIS. It is led by a council of black-wearing Commanders (rulers), supported by machine-gun carrying Guardians (bodyguards), Angels (soldiers) and Eyes (secret police).
Women are now second-class citizens, probably worse off than their counterparts in Saudi Arabia or Afghanistan. No matter their position of privilege, no woman in Gilead is allowed to work, drive or even read.
Nonetheless, women are placed within a highly stratified caste system. At the top are Wives wearing blue (wives of Commanders), Aunts wearing brown (enforcers), Marthas wearing green (housekeepers and servants) and Econowives wearing grey (ordinary women).
At the very bottom is an underclass called the Handmaids, wearing red—the focus of the show. These are fertile women and as such, a very precious resource. However, they are also considered Dalit-style Unwomen, often with backgrounds as feminists, homosexuals (also known as Gender Traitors), or adulterers.
The role of a Handmaiden essentially involves being used as a sex-slave and forced surrogate. They are ritually raped by their Commanders once a month. Importantly, this occurs with the full consent and indeed active cooperation of Wives, who in turn get to keep the resulting babies.
Why am I mentioning this rather disturbing dystopian story of fiction? Well, while discussing the series around the water cooler with a close work colleague, who also happens to be a lesbian, it suddenly dawned on me how relevant the show might be to Adventists. I was particularly drawn to parallels between the show's fictional portrayal of theocratic Gilead and what Adventists have traditionally taught about end-time events. I draw five major lessons from the show for myself. I suspect you might appreciate thinking about these points, whether to agree or disagree, even if you are not a traditional Seventh-day Adventist Christian:
#1. The Handmaid's Tale illustrates the power of Christian self-rationalization
The first and most important lesson from the show is the power of Christian self-rationalization. How could a so-called Christian nation justify the ritual mass-raping of women? The Bible, of course. The key biblical passage underpinning such horror is the story of Rachel in Genesis 30:1-5:
When Rachel saw that she bore Jacob no children, she envied her sister [Leah]; and she said to Jacob, "Give me children, or I shall die!"  Jacob became very angry with Rachel and said, "Am I in the place of God, who has withheld from you the fruit of the womb?"  Then she said, "Here is my maid Bilhah; go in to her, that she may bear upon my knees and that I too may have children through her."  So she gave him her maid Bilhah as a wife; and Jacob went in to her.  And Bilhah conceived and bore Jacob a son.
And in another scene from the series, the Commanders establish a secret brothel called Jezebel's, a clear reference to the Old Testament story about a pagan Phoenician princess of the same name. The rulers of Gilead justify this by noting that "men have needs."
As we all know, where there is a material need, Christians can use the Bible to justify almost anything. The question for me was, "How often do I do the same?"
#2. The Handmaid's Tale offers a somewhat plausible vision of Adventist prophecy fulfilled
Growing up within the Seventh-day Adventist Church, it seemed the traditional interpretation of eschatology (the "end times" or "the apocalypse") found within the Bible's books of Daniel and Revelation had become fairly implausible, if not a cringe-worthy embarrassment. Interestingly, the second lesson I drew from The Handmaid's Tale was that the show proffered a plausible vision of the future, a future that was not in fact that far removed from Adventism's own end-time scenario.
The show, of course, isn't Adventist, but the show's fictional depiction of Gilead has many of the same elements Adventism has long foreseen and warned about: an environmental crisis acting as a catalyst for radical change, including damage to the food supply; a theocratic regime that pretends to be lamb-like and Christian but is in fact dragon-like and apostate; the fact this power arises out of continental America; the strict regulation of commerce, where only the select can buy or sell; the danger of large cities; and perhaps other elements.
While I've grown to dislike the style and sureness of traditional Adventist prophecy seminars, maybe I shouldn't be so dismissive of some of their key elements and themes.
#3. The Handmaid's Tale might remind us that things happen in a way we don't expect, and people don't usually see the end coming until it is too late
A key theme running through the program, usually shown through various flashbacks, is the extent to which the main protagonists are caught unawares by the changes in events happening around them, so a third lesson from the show is how often people fail to see these situations coming. Like the Pharisees' failing to see that John the Baptist was really Elijah returned, this seems to occur when we become fixated on our preconceived visions of the future.
Like Jews who refused to leave 1930s Germany, or even as it was in the days of Noah when people continued living their ordinary lives right up until the rains came, people are often blind to what is occurring right in front of them. In one memorable scene, a lesbian character has her same-sex marriage revoked while she is literally standing in the airport queue, leaving her stranded in America as her foreign-born partner flies out of the country with their small child.
None of this necessarily suggests we should live like next season's contestants of Doomsday Preppers. But the realism of this series should act as a wake-up call to remember to watch what is actually happening in the world—not make events try and fit some preconceived and elaborate eschatological chart.
#4. The Handmaid's Tale offers a warning about the dangers of prejudging which persons or groups will be on the right side of eschatological history
Many progressives "have pointed out the distant but disconcerting parallels between Gilead's upheaval of America, and America under Donald Trump—painting a fictional, exaggerated picture of how things could go wrong."[i] While that could be true, I think that attitude is itself a mistake, which misses another key theme of the story.
I like that this series demonstrates that while Gilead professes to be Christian, none of its Commanders or their Wives are ever actually seen going to church. By contrast, Catholics, Southern Baptists and other Christian groups are in fact enemy number one for the regime. While Gilead's Commanders hate secularists and liberals, they actually dread God-fearing conservatives. It is Christian conservatives who have the corresponding moral and religious authority to challenge the Commanders on their own terms. For traditional Adventist prophecies about Catholics and apostate Protestants, which may or may not be correct, we should be cautious of being so confident as to predetermine which persons or organizations will be God's beastly enemy.
Part of that problem is the question of organizational continuity. I also like that the show emphasizes Gilead as arising out of, but being distinct from, the United States. It is too simplistic to say the Commanders were against the U.S., because although the story never presents a full picture, it seems that at one point the Commanders took control of the U.S., its public servants and institutions. In other words, the theocratic revolution becomes the United States—at least for a little while—before eventually dissolving that political entity and declaring their own in the Republic of Gilead.
And yet we also see, within the universe of the show, that ultimately the beastly enemy is not the U.S. but another organization (Gilead) that replaces it and makes war with its people. In an episode about the main Commander's Wife, the series asks: who is a traitor to their country? As it turns out, those citizens who constitute the rump United States exiled in Hawaii and Alaska are in fact what we might consider a good remnant.
Don't presume it won't ultimately be the same with any other religious, political or cultural organization and sub-organization, whose fate you think you have worked out in advance.
#5. The Handmaid's Tale forewarns that we personally may end up on the wrong side of eschatological history
The final lesson I drew from the show is that just as we might mistake the role of particular organizations, so too we might wrongly presume our own personal place in future eschatological history. This occurred to me when I read star-actor Elisabeth Moss denying any obvious parallels between Gilead, as depicted in the show, and her own religion of Scientology.[ii]
Unlike Moss, I don't deny these parallels to my own Adventist-Christian life. If I am honest with myself, not only could I survive a Gilead-like scenario, but I suspect I could thrive in it. My wife and I often discuss this while watching the show, noting Gilead's attitude to wholesome organic food free of condiments and coffee (at least for the Handmaids), as well as strict attitudes towards dress reform, sex, marriage, and ungodly entertainment, would probably make the most ardent Ellen White supporter proud. What's more, we laugh at the TV screen whenever we watch the theocratic rulers of Gilead engage in practices we Adventists would consider morally lax, from drinking alcohol to smoking cigars. Not only would I fit right in as a Gilead Commander—if anything, I might find its system not extreme enough!
When I mentioned this to my lesbian friend at work, she asked, "Is that a good thing?" Of course not! And that's the point. To paraphrase a recent piece by Canadian celebrity-psychologist Jordan Peterson, everyone imagines that if they had lived in Nazi Germany they would be the ones hiding Jews in their attic. The truth is, most of us would be too scared to help—or worse, would be actively participating in the crimes.[iii]
When it comes to traditional Adventist end-time beliefs, no doubt we always imagine we would be the ones running for the hills. But as Saul (before he was Paul) assiduously persecuted the Church with holy zeal, have you ever wondered if, in fact, you might be the one doing the chasing? Normally we are so convinced of our own "goodness" it never even occurs to us that we may, given a particular set of circumstances, actually be "evil." If you haven't already, I would recommend watching the show and consider asking some of these painful questions of yourself.
---
[i] Jonah Waterhouse, "The Creepy Ways Gilead In 'The Handmaid's Tale' Resembles Trump's America," Elle, Jun 29, 2018.
[ii] Anna Silman, "Scientology and Elisabeth Moss: What the 'Mad Men' star isn't talking about in interviews," Salon, Apr 7, 2015.
[iii] Jonah Cohen, "Jordan Peterson is not an Anti-Semitic White Nationalist (or a Nazi)," the Standard Weekly, Apr 11, 2018.
---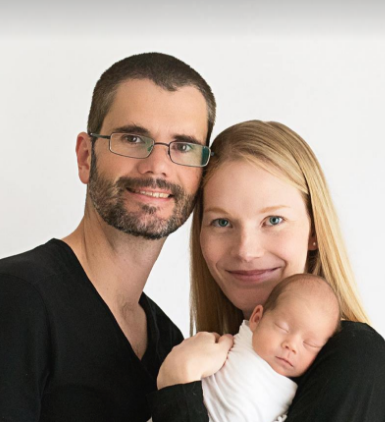 Stephen Ferguson is a lawyer from Perth, Western Australia, with expertise in planning, environment, immigration and administrative-government law. He is married to Amy and has two children, William and Eloise. Stephen is a member of the Livingston Adventist Church.