by Christina Cannon  |  1 June 2023  |  

On April 13, as part of the Southern's Scholars Honors Program, Dr. Eric Anderson, PhD in history from University of Chicago, Fulbright lecturer, and former president of Pacific Union College, delivered a speech entitled "Smashing Icons: Reflections on Thomas Jefferson and Others," which you can read here.
This was the inaugural Benjamin McArthur Lecture—Dr. Anderson was a colleague of the late Dr. McArthur. The Association of Seventh-day Adventist Historians also convened at Southern on the same weekend, and many visiting historians attended the lecture. 
I reflect on Anderson's lecture here as a student in the Scholars Honors Program. 
A less controversial history?
Anderson spent part of the lecture reminiscing about values and principles of some of the now-controversial white figures in the earlier United States history—people such as Thomas Jefferson, Robert E. Lee, Woodrow Wilson, John Muir, and William Porcher DuBose. Anderson sees these figures ripped unjustly out of American history, because history has become a "partisan armory" emphasizing real or imaginary mistakes, misunderstandings, and malice. 
Dr. Anderson warned against the "weaponization" of history and the lack of nuance and context that characterizes many political and religious debates. His hopes for a history that was not "a source of bitter division," he said, had been disappointed. 
[I thought] we could honor Confederate valor without excusing their cause. We could commemorate Jefferson's principles even as we deplored some aspects of his practice. But I was wrong. Over the last decade, and especially in the last three years, history and memory have become explosive issues…" 
I understand his argument for "not throwing the baby out with the bathwater." Must we reject the principles of democracy and human rights espoused by Thomas Jefferson because he owned slaves and had an enslaved mistress? Should we reject the Psalms because of King David's bad behavior? Of course we consider the context in which people thought and worked, and don't reject an idea or system solely out of its association to a problematic character. Dr. Anderson spoke of the "numbness to nuance" that can only be cast out by subtlety;
[T]he real Jefferson or Lincoln or Muir are not discovered simply by rejecting outrageous simplifications or challenging distortions. 
He also raised some good questions about how we decide whom to honor and what kinds of personal flaws can be overlooked in a public role model. He was deeply concerned about the "erasure" of history that he sees happening through efforts to rename buildings or remove statues that display prominent figures of early United States history whose morality many today find problematic. 
Monuments and memorials
Yet while I and many others agree with his stated goals of honoring nuance and preserving the helpful structures and ideas that have emerged throughout U.S. history, I found his fear that reevaluating public monuments is "erasing" history, and his resistance to reevaluating cultural icons, somewhat troubling. He seemed to be referring, among other things, to the removal of statues and renaming of buildings after the murder of George Floyd. 
Anderson compared the process of reevaluating cultural icons to 
Mao's Cultural Revolution with its slogans against old customs, old culture, old habits, old ideas, and its fruitless pursuit of perennial revolution. The best we can hope for is incremental progress… 
He referenced Orwell's phrase, "Who controls the past controls the future"—a phrase that, to me, requires the context of Orwell's time as an armed street revolutionary in Spain. 
Yet the seemingly innocuous exhortation of discerning "what really happened" was contextualized by condemnation of "the woke standards of today" to mean something decidedly less unbiased. 
Adventist memorials
While Adventists tend not to erect statues of prominent figures, our institutions aren't devoid of memorials to historical figures. Southern's campus, for example, includes several buildings and at least one road named after people who opposed integration of Adventism or our schools. One of these is, ironically, the social work building, named after A. G. Daniells. 
Dr. Phillip Warfield, a graduate of Southern who is working on his PhD at Howard University, reminded the crowd after the lecture that Daniells 
believed we should not allow African Americans and white Americans to worship together. 'Let it be known to them,' he said, 'that African Americans are never to think about this this way.' Yet we continue to lionize many of these people without paying more attention to African Americans and women as a whole, not just at this institution but in Adventist historiography. 
Anderson responded to this by affirming that historians need to tell the whole story, but he explained that all people are flawed and "I wouldn't want you to rename streets, I wouldn't want people to tear down statues in general. I'd like to see things built up." 
Anderson blamed the "woke standards of today" for trying to erase history, citing the novelist Milan Kundera during the Soviet reign in Czechoslovakia: 
[The] first step in liquidating a people is to erase its memory, destroy its books, its culture, its history. Then have somebody write new books, manufacture a new culture, invent a new history…Before long the nation will begin to forget what it is and what it was.
Renaming a structure such as Daniells Hall, Lynn Wood Hall, or Colcord Drive, however, is far from an erasure of memory. History is inevitably, continually, reinterpreted as values shift and more information is brought to light. There is a big difference between honoring someone as a public hero and forgetting that they exist altogether. Nuanced historical discussion will of course continue to study Robert E. Lee and A. G. Daniells; building names and statues, however, typically commemorate well-known people, and so lack capacity for nuance. 
Professor Kevin Burton also commented after the lecture. 
There hasn't been enough consideration for a non-white perspective of how some of these things are received…I recognize that there are only so many public spaces, there are only so many words that can fit into an article or fit into a book. And so to change the narrative in a more positive direction, you have to remove things…No one can ever erase Jefferson, and I don't believe that a statue is history. It's a statue. History is something that a scholar or someone in this room would write.
There are only so many structures to name in an institution. Southern's Colcord Drive is named after the president who didn't allow our first Black student to continue attending Southern's forerunner, Graysville Academy. Do we need to "even the score" by naming some roads after Anna Knight—the student Colcord unenrolled? 
While simply naming more structures is one solution, to name a street after every person who needs naming without removing any would result in a campus severely crosshatched by pavement. 
The weaponization of history?
History is continually being reinterpreted, and historians do not have the luxury of staying out of matters that have political and religious consequences. We may well look back on ourselves several generations from now and find we were doing many things terribly wrong. But that does not negate our being able to act today on what we believe to be right, which includes reevaluating who should be a public role model. 
I am not arguing that we forget or erase people who devalued others, but who also made contributions to ecclesiastical or scientific or governmental structures. 
But to rename a building or a street is not to act in the past; it is to act in the present, to say what needs to be said now: In a 1965 essay for Ebony, James Baldwin writes, 
History, as nearly no one seems to know, is not merely something to be read. And it does not refer merely, or even principally, to the past. On the contrary, the great force of history comes from the fact that we carry it within us…And it is with great pain and terror that one begins to realize this…one enters into battle with that historical creation, Oneself, and attempts to recreate oneself according to a principle more humane and more liberating.
When Anderson spoke of many students today looking back at history through a lens of desperation, I had to pause—do I do that? 
[History students] look at the past and abandon all hope. History is all bad, a sewer (or slaughterhouse) of racism, sexism, and imperialism that must be repudiated.
But upon reflection I do not think that those of us who choose to focus on the stories of people that history forgot, those who are attentive to the problems we must define in order to be more just, can be broadly accused of thinking that history is all bad. Part of telling the most complete story possible involves remembering the people whose values are more constructive than some of those Americans and Adventists have chosen to lionize—which is a posture very different from simple nostalgia about days past. 
Rebecca Solnit, in her Hope in the Dark, reminds us of the productive power of remembering where things have improved, alongside the things that have not yet changed. 
Making an injury visible and public is often the first step in remedying it, and political change often follows culture, as what was long tolerated is seen to be intolerable, or what was overlooked becomes obvious. Which means that every conflict is in part a battle over the story we tell, or who tells and who is heard. A victory doesn't mean that everything is now going to be nice forever and we can therefore all go lounge around until the end of time.
Finally, I found it unhelpful that in addressing the concerns of people like me, Dr. Anderson used the politically charged word "woke" to describe those who would differ from him. This is, it seems to me, right now too loaded a word to describe the kind of nuance Dr. Anderson asks us to employ to study American history.
This lecture comes at a time when I have heard an increasing number of conversations on campus about "race realism," an ideology that tries to use scientific "facts" to rank the races in order of genetic superiority. And no wonder: these are becoming more acceptable in mainstream politics. In light of this, conversations about whom we choose to commemorate or criticize in public are more important than ever, setting the tone for who counts, who gets to speak. 
Should this effort to preserve troubled aspects of our past leave out of our stories African Americans, women, and any other marginalized group who have been very present throughout, that is when we risk forgetting our past. 
Dr. Anderson responds to Christina's critique here. 
---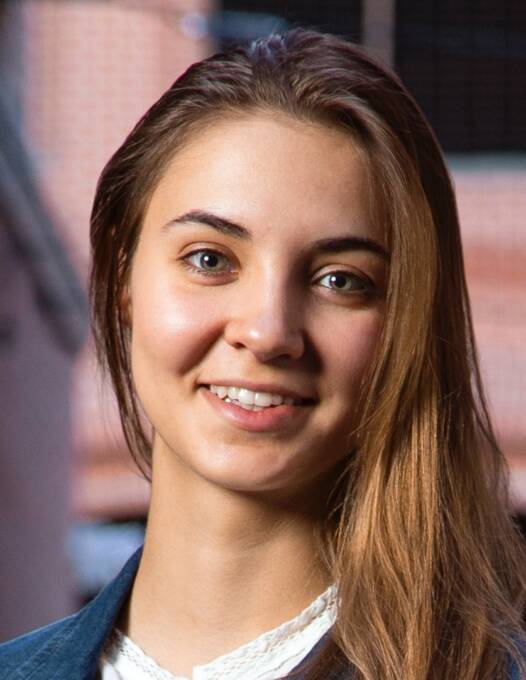 Christina Cannon is a graduating history major at Southern Adventist University minoring in biology, chemistry, and philosophy. She's from Colorado and enjoys art and anything outdoors.