by Eric Anderson  |  2 June 2023  |
You can read Christina Cannon's critique, to which this is a response, here.
After I gave my McArthur Lecture at Southern Adventist University, I rushed off to another meeting. It was a gathering in California of civilian prisoners of the Japanese in World War II. (You could say I was moving from Professor McArthur to General MacArthur.)
At this meeting, most of the participants were descendants, of course, since the vast majority of the adults from Santo Tomas and other prison camps in the Philippines are dead. It was a fascinating meeting, and I learned a great deal about the ordeal of my grandparents. Indeed, in the first meeting I met an Adventist physician whose missionary grandparents knew my grandparents, and whose daughter will be attending Southern in the fall.
I see a clear connection between my lecture and what I did next. In the McArthur lecture, I contrasted Ben McArthur's approach to history with the attitude of people who look at the past and are "immobilized by fury or shame." What happened to my grandparents in the Philippines was certainly terrible, featuring starvation, disease, and degradation. How should I react now, almost 80 years later?
As an historian, committed to finding out "what really happened," I cannot ignore the facts. Yet I am not angry at present-day Japanese because my grandfather was a living skeleton when MacArthur's troops battered down the gates of Santo Tomas Internment Camp. It is possible to study the past without censoring the past, rejecting the past, or inventing an imaginary "past."  I think of the example of my father, an American born in Tokyo, who for his whole life relished Japanese culture—food, language, literature—despite the experience of his parents. He was not a "saint," wrestling with powerful longings for vengeance. No, far from it. He declined to put ethnic identity above understanding and appreciation for nuance. He refused to create illogical connections, dispensing group punishments as reparations for past barbarity.
In my McArthur Lecture, I assumed that understanding Jefferson is important for all American students, regardless of their skin color. He is a central figure in American history—not "white" history—and understanding his principles is essential whoever your grandfather was. Certainly, Frederick Douglass and W. E. B. Du Bois and Martin Luther King would agree with me. His significance transcends our feelings. As Samuel Johnson wrote in Jefferson's lifetime: 
Let it be remembered, that the nature of things is not alterable by our conduct. We cannot make truth; it is our business only to find it. No proposition can become more or less certain or important, by being considered or neglected.
We can take down Jefferson's statues and stop celebrating his defense of religious liberty or his role in the foundation of the University of Virginia, but that does not turn the Declaration of Independence into a false or proslavery document. We can call ourselves "progressive," but that does not make it possible to create a coherent "liberal tradition" by leaving out the Sage of Monticello. We can claim that we are not erasing history, but what else can we call systematic neglect of his actual achievements?
The same principles apply to other historical figures and movements and institutions, ranging from Martin Luther to the modern missionary movement to the Roman Empire. Treating the past as a tool (or weapon) for some current political propaganda gets in the way of understanding and getting the story straight.
My lecture was aimed at honors students, and was an appeal for open-mindedness. Every teacher has run into students with closed minds, who say things like "I won't read Dante; he believed in purgatory" or "I can't stand Whitman; he sounds queer" or "Shakespeare is patriarchal." It is a similar form of self-inflicted blindness to refuse to learn from people in the past who had different standards and vocabularies than we have.
These general observations should not be interpreted as a rebuke of Christina Cannon. Her essay was based on a respectful reading of the text of my lecture—unlike a few instant critics who gave no evidence that they had looked at the manuscript, which I provided upon request. She is disturbed by my invocation of the word "woke," though, in fact, I was quoting someone else. Yet the quote stands without the slang: "A society that rummages through history to hold those of the past to the . . . standards of today will soon have no heroes to honor."
I hope Christina Cannon is not under the illusion that the creation of a more inclusive American history is something new. In fact, scholars have long been writing a more accurate history of slavery, the Civil War, Reconstruction, and the evolution of racial proscription. (As a student of John Hope Franklin, I can claim a small role in this revisionist process.) The truth is, a "Gone With the Wind" view of history disappeared at least a half century ago. The icon smashing of the last few years has little to do with new evidence.
We need an approach to the past that is consistent and principled. Otherwise, we risk making fools of ourselves. I certainly don't want to join that mob knocking over a statue of the "Pioneer Mother," or applaud birdwatchers who frantically disown the word "Audubon," or recommend a campaign to purify politically the names of campus streets and buildings at Southern Adventist University. That is not the way to historical understanding.
---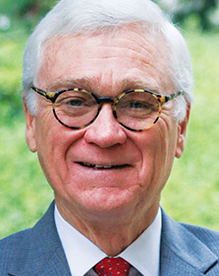 Eric Anderson holds a PhD in history from the University of Chicago. In addition to 30 years of teaching and administration in Adventist higher education, he has been a Fulbright lecturer in Greece and a program officer at the National Endowment for the Humanities. His research focus includes an interest in African American history and the South. He has written on a variety of historical topics, including Reconstruction and race in politics. His most recent publication is a chapter in Ellen Harmon White: American Prophet, published by Oxford University Press.