By Mark McCleary  |  20 July 2023  |
Back in 2015, a congregation with which I was associated set up a committee to research preparing, serving, eating or allowing meat products on church property. As the pastor, I thought it not robbery to do my own research of this topic. I wasn't a member of the committee, but I wanted to provide my view as a position paper on the topic.
Perhaps my insights can be used to guide—without goading—for those who seek a biblical and balanced policy concerning meat eating on their church's properties.
Background
The subject of meat has been a controversial issue in the Adventist Church since Ellen White's counsel to the church-at-large in books such as The Ministry of Healing and compilations like Counsels on Diet and Foods. These works advocate a diet void of any meat in order to mirror the original diet of Adam and Eve before the fall, as well as in the new earth, where there will be no killing of animals (Isaiah 11).
Controversies about meat predate the Millerites or Seventh-day Adventists. It was already a question in apostolic days.
Wherefore, if meat make my brother to offend, I will eat no flesh while the world standeth, lest I make my brother to offend (1 Corinthians 8:13).
For meat destroy not the work of God. All things indeed are pure, but it is evil for that man who eateth with offence (Romans 14:20).
Although we don't know the extent to which their discussion mirrored ours, clearly Paul warns against being preoccupied with the food issue when he says,
Be not carried about with divers and strange doctrines. For it is a good thing that the heart be established with grace; not with meats, which have not profited them that have been occupied therein (Hebrews 13:9).
His reasoning is that food is not a saving issue and does not establish the believer's heart with God (1 Corinthians 8:8) and should not be considered a kingdom priority (Romans 14:17). Paul asserts that meat eating is not a primary judgment issue (Romans 14:20; Colossians 2:16).
Meat in the Bible
But really, what did the Bible mean when it uses the word "meat"? Without traveling an overly circuitous etymological route, "meat" in the Bible often just means "food," or that which man and animals consume (Gen. 2:8; 3:5; 27:5; Deut. 2:6; Matt. 9:10; Acts 27:33; Rom. 14:17; 1 Tim. 4:3). Meat can refer to vegetable food such as green plants (Gen. 1:29, 30; 2:4; 9:3). Fruits and their tree hosts are included in this family (Genesis 1:29; 2:4; Ezekiel 47:12). The honey that comes from the nectar of plants is also for food (Matt. 3:4). Some other forms of "meat" are grains and their flour derivatives—corn, wheat, and barley (Malachi 3:10; Numbers 28:13).
The Bible also includes animal flesh as food. Some of those mentioned are lamb (Exodus 29:41; Numbers 28:13), venison (Genesis 27:5), and locusts (Matthew 3:4). Vegetables, herbs and fruits were man's original pre-fall diet (Genesis 1:31), but animal products were permitted as provisional food after the flood (Gen. 9:3).
The original non-flesh diet was prescribed for man and animals (Genesis 1:29, 30), and will be reinstated in the new earth (Ezekiel 47:12).
Whether the context is pre- or post-fall, the fundamental purpose of food is four-fold:
life promoting (Gen. 3:22; 45:23),
nourishment (Acts 27:33), and
to satisfy hunger (Matt. 25:35). Another benefit of food is its
tastefulness (Gen. 27:4; Prov. 23:6)
The Bible contains some clear guidelines regarding flesh food—a list of clean and unclean flesh is provided in Leviticus 11 and Deuteronomy 14. Many pro-New Testament proponents have critiqued these codes as moribund because they are a part of the Mosaic Law that they believe was abrogated by Jesus' death (Colossians 2:14-17; Ephesians 2:13-16). However, it could also be argued that health isn't a matter of Old or New Testaments, but the warp and woof of human biological and physiological conditions and experience.
That is to say, if it was healthy then, it is still healthy now, and vice versa.
The three restrictions the Bible gives concerning meat (animal) eating are:
without blood,
without association to idolatry, and
not having died of itself or of disease (Gen. 9:3; Acts 15:29).
In spite of some prohibitions, there can be no doubt that God has permitted the proper use of animal flesh and other products for food consumption. The Bible states that all food, including animal flesh, is provided by God. This is illustrated in the manna (Ps. 78:25), quail (Ps. 104:27) and in fact all "meat" (Ps. 111:5; 145:15). The apostle Paul, when speaking about last day deceptions, mentions the meat issue as a clue to detect error when he declares,
Forbidding to marry and commanding to abstain from meats which God hath created to be received with thanksgiving of them which believe and know the truth. For every creature of God is good, and nothing to be refused, if it be received with thanksgiving: for it is sanctified by the word of God and prayer (1 Timothy 4:3-5).
How did Jesus relate to meat in general and animal flesh in particular? After He healed Jairus' daughter, Jesus commanded that she be given something to eat (Luke 8:55)—though we don't know what. In feeding the 5,000, He used bread (grain) and fish (animal flesh) from a boy's donated lunch (Luke 9:16). After using the same menu to feed the 4,000, He commanded that the surplus be saved and not wasted (Matthew 15:37).
Obviously, Jesus had a balanced and practical respect for food consumption and management—and that included animal flesh.
Meat and church policy
What I'm addressing specifically here, though, is a church policy regarding permitting or proscribing the preparation or serving of flesh food on church property by members, or those using church facilities.
The closest the Bible comes to addressing this is the sanctuary. Meat (meal or grain) offerings were a regular part of the sacrifices (Exodus 40:29). They were used to complete the oblation requirements for certain liturgical ceremonies (Leviticus 2:9)—in fact animal flesh was an essential liturgical component for facilitating atonement. Fundamental to the sanctuary rituals was the flesh of lamb (Exodus 29:41).
In certain instances, both grain and animal foods were used and consumed, and the remnants used to as food for the priests and their families (Numbers 28:13; Leviticus 2:10).
Now, in the New Testament dispensation, there is no earthly tabernacle with restrictions as to who or what is allowed in order to fulfill the various ceremony requirements. The primary motivation for animal flesh controversies among Adventist congregations is the belief that such products would militate against the church's health message of a diet void of flesh foods. Such a position varies in intensity from church to church and region to region.
These observations have been contentious for congregations that struggle with applying the Biblical provisional model while adhering to a Spirit of Prophecy prohibition model.
Recommendations
I believe that the Bible presents its readers with sufficient revelation about this planet's origin, people, and our divinely ordained relationship to food: God allowed mankind to add animal products to the original diet on a provisional basis. Both the original and the redeemed state of the human experience exclude certain items considered unclean, but it does not exclude all flesh foods. Thus the issue of eating animal flesh is a sticky but solvable one for churches desiring a balanced and Biblically based guideline.
First, any guideline must respect the irrevocable nature of free choice. Choices may be made by immature (weak) or mature (strong) persons—but everyone's choice must be respected in the development of any guideline.
Second, a church must choose which source of faith and practice it is going to follow and implement, particularly when there are competing sources of truth. For Seventh-day Adventists, a Protestant body of Christian believers, the Bible is our primary determinant for Christian faith and right living (Romans 15:4; 1 Corinthians 10:11; 2 Timothy 3:14-17).
Third, this means that Seventh-day Adventists must balance our "lesser light" gift of the Spirit of Prophecy concerning cuisine, with that of its primary source, the Bible. In other words, any food policy we develop should not be derived from the lesser light alone, ignoring the primary Biblical source for faith and practice, or the Bible will cease being the primary guide and become merely a secondary one.
Fourth, in any effort to harmonize these two sources, the Bible's pre-fall ideals and the Spirit of Prophecy's advocacy of vegetarianism should be applied so that decisions are made in the context of faith (2 Corinthians 5:7; Romans 10:17; 14:22, 23), not fear and moral enforcement (1 John 4:18).
The practice by some of pitting the Bible against the Spirit of Prophecy on this issue is not congruent with our profession of "the Bible as our sole source for determining faith and practice." The Spirit of Prophecy faction, which may consider themselves orthodox and conservative—no animal meat ever—disagrees with the Bible faction, who are sometimes seen as "liberals" who seek a balance between individual choice and Biblical revelation.
In allowing this to happen, we promote division rather than unity and freedom. So instead of making this a Catch-22 for either side, why not develop a moderate solution that factors in individual freedom, Biblical revelation, and education of the principles for good health—implemented without coercion or condemnation?
This doesn't mean that vegetarianism has to wait until paradise: a congregation can teach the full dimensions of the health benefits of a meat-free diet in order to win converts by conviction rather than legislation. This could be done while allowing congregants or others to prepare and serve clean meats in and on its precincts. The goal should be to educate ourselves to eat more healthfully at church and at home.
This approach fosters sound application of the Bible's revelation, and encourages churches to foster greater health consciousness without interfering with an individual's freedom of choice in the name of God or morality. Neither the little horn nor the Seventh-day Adventist church has the right to infringe on anyone's freedom of choice by legislating an issue the Bible makes clear is not a moral determinant as important as salvation by faith in Jesus Christ.
---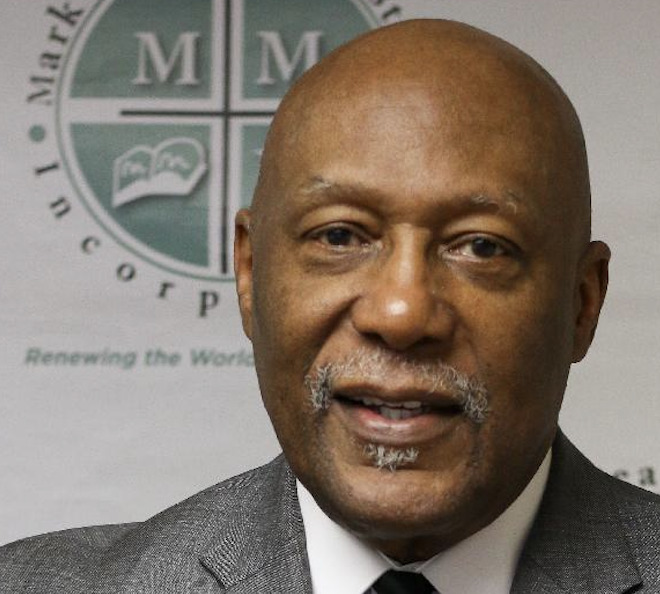 Mark McCleary is a retired pastor with over 46 years of experience in church leadership and community outreach. He now runs Mark McCleary Ministries, an internet-based ministry and radio-podcast. This piece was originally posted on AT in 2015