by Reinder Bruinsma  |  1 January 2019  |
Most people are interested in new things: in buying new clothes and following the newest fashion, getting new furniture for their home, buying new gadgets, acquiring a new and faster laptop or tablet, and trying new holiday destinations, and all kinds of other new adventures. Companies want to renew their corporate image at regular intervals, and often spend huge amounts of money on a new logo and on revamping their house style. Politicians promise a new age, a New Deal, or a New World Order, a world that will be safe for our children and grandchildren.
There is also much talk in the church about the need for renewal. Although some are calling for maintaining the status quo or even nostalgically returning to the past, many sense the need for new technologies, new pilot projects and new communications strategies—but, more than this, for new leaders, new ideas, and a new depth to our understanding of what the core ideas and values of Adventism really are and how they can be effectively shared with a postmodern, ever more secular world around us, and with the increasing number of Adventists who wonder whether what they see and hear in their church is still relevant for their lives in 2019.
Where Renewal Begins
Consulting a theological dictionary and a concordance while recently preparing a sermon on the topic of renewal and change in the church, and glancing over the long list of references with the words "new" and "renewing," it suddenly hit me: In the Bible, positive change and the things that are really new do not originate with human beings but with God. That message rang loud and clear from Isaiah 43:18-20, the text I had chosen as the basis for my meditation. Through the mouth of the prophet the Lord declares: "I [I, not you] am doing a new thing."
When we study this prophetic passage in its context, we see that Isaiah is looking forward, far beyond his own time. The text emphasizes that, as human beings, we do not determine our own destiny, but that God, who guarantees our future, does. It is, however, theologically sound to expect, and work for, a preliminary fulfillment of this eschatological newness in the present—in the new year 2019—for, in a sense, eternity has already begun for those who are God's children.
God-Given Newness
The Bible leaves us in no doubt that this new life—that, albeit in a limited sense, can be ours even now—is characterized by God-given change and newness. A "new covenant" has been given, replacing the "old covenant" and offering a new way of relating to God (Ezekiel 31:31, Hebrews 8:8). The new covenant is an expression of God's total commitment to us, which, by the way, precedes our total commitment to Him! With the new covenant comes a "new heart"; the heart of stone has been changed into a heart of flesh (Ezekiel 11:19; 36:26). This signals a new orientation, enabling us to be new persons (Ephesians 2:15), and "to walk in a newness of life" (Romans 6:4). It enables us to obey the "new commandment," i.e. to relate to God not from a basic attitude of fear, but from love, as a privilege rather than a duty (John 13:34: 1 John 2:7,8).
Being a new creation (2 Corinthians 5:17), we receive a new mind (Romans 12:2). Possessing this new mind is a prerequisite to bringing about and "managing" any real change in the church. We complain about the rampant secularism in the Western world. But we must realize that we ourselves have also become increasingly secular. Much of the ways in which we "do" church and look after the business of the church can be highly secular. We are in constant danger that we look at the mission of the church as a problem that simply waits to be analyzed and that can be fixed if we allocate enough of our resources, in manpower, technology and money. We need a new mind—a spiritual mind. We need a mind that continues to recognize absolutes and knows about sin and human frailty, a mind that is always aware of its own limitations and knows where it can find the ultimate Source of wisdom and power. In other words: we need a new mind that is like the mind of Christ (1 Corinthians 2:16; Philippians 2:5).
Serving God with a New Mind
As we serve God "with all our minds," we must expect to experience a creative tension with others. As we voice our opinions we may be criticized. Church administrators may at times wish we would not ask so many questions, and suggest so many new things. Some leaders seem to have as their primary goal to keep the peace; they fear controversy and want unity (in the sense of uniformity) in the church. We must understand that, as we ask them for space to question things and debate issues. But, on the other hand, church administrators must realize that the church needs people who ask questions, who want to delve deeper, and want to keep the church in tune with the times. Hopefully, we will see more of this in 2019!
John the Revelator recorded this grand promise of God: "I make all things new" (Revelation 21:5). Like the words of Isaiah, this promise applies first of all to the new world that will follow Christ's second coming. But, in a preliminary way, it is a promise we may already claim in the here and now. For those who live in a "new covenant" relationship and follow Christ's "new commandment"; for those who have accepted the new heart and utilize their new mind, God will do what Isaiah 43 so poetically predicts: "See, I am doing a new thing!
 Now it springs up; do you not perceive it?
I am making a way in the desert and streams in the wasteland . . ."
New Things
In 2019 the Seventh-day Adventist Church needs the new things that God can do for it. As individual believers we urgently need the new life that can be ours. As a church we need drastic change. This fundamental change is possible.
But there is an order to be followed: the changes and new things will not come unless we first become new people. As we seek for that fundamental renewal of our heart and mind, God can begin to do new things for us, corporately and individually. He can begin to pour his new wine into our old wineskins (Matthew 9:16,17). Then, the new future opens itself. Then, we can build a church that will first of all be known for its spirituality rather than for its technology, for its love rather than for its compliance to man-made policies. Then, we will be seen as a people whose first aim is to serve rather than to impress, to inspire rather than to urge everyone to think the same. Then, the Adventist Church will become a "seeker-driven" and "purpose-driven" community rather than an organization that is so often dollar- and policy-driven—a church that so often focuses on doctrinal statements rather than the One the doctrines are about.
Finally, let me emphasize one other important thing. Let us enter the new year with the firm resolution that, as we serve God and do what we can to build his church, we will never sacrifice our intellectual integrity, and never sell our soul. That we never change our convictions in order to get a position or to be popular, and never succumb to the temptation to believe one thing in church and another thing at work or at home. Then, and only then, can the Adventist Church in the postmodern West survive the current crisis and be successful in its mission. Then and only then can the church remain our spiritual home and provide the environment where we can truly serve the Lord with all our heart and all our mind!
---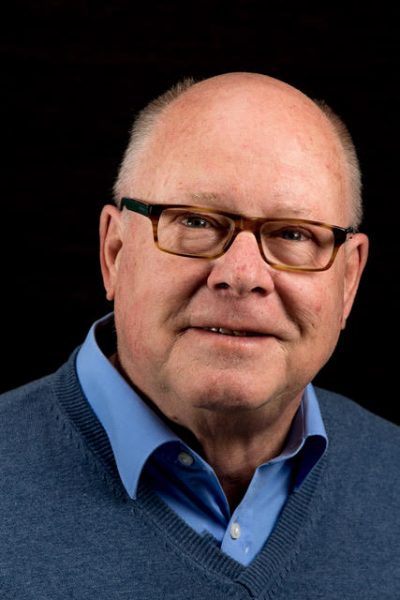 Reinder Bruinsma lives in the Netherlands with his wife Aafje. He has served the Adventist Church in various assignments in publishing, education and church administration on three continents, his last post before retiring as president of the Netherlands Union. He still maintains a busy schedule of preaching, teaching and writing. His latest books are Facing Doubt: A Book for Adventist Believers "on the Margins" and In All Humility: Saying "No" to Last Generation Theology.