News reports from a partnership of three Adventist entities concerned with religious liberty, the family of Louis Venden, the United States Army Reserve, Andrews University and Loma Linda University Health:
Please be reminded that the Andrews University International Religious Liberty Institute, Loma Linda University School of Religion's Religion and the Law Forum, and the Church State Council–the education, advocacy and legal services ministry of the Pacific Union Conference of Seventh-day Adventists, are co-hosting a webinar about the recent Supreme Court decision regarding COVID restrictions on religious gatherings.
Sabbath, December 12
2:00 pm PST
Here's the Zoom link:
https://llu.zoom.us/j/99839252220
Zoom Meeting ID: 998 3925 2220
Dial in: 1 669 900 6833
Details in the graphic below: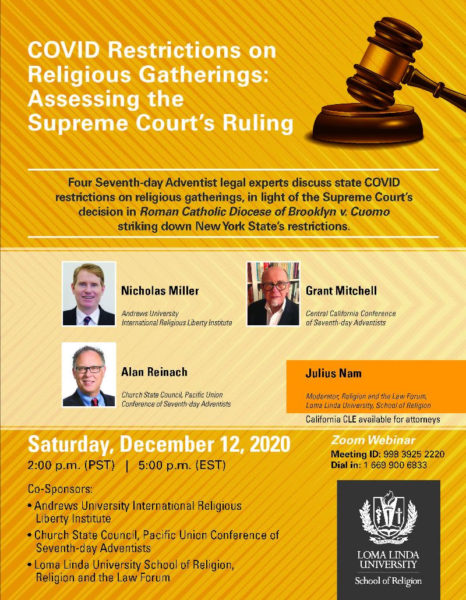 Beloved pastor, evangelist, missionary, educator and administrator, Louis Venden passed away on December 8 in Loma Linda, California. Messages for his wife, Marjorie, or their daughters can be emailed to LouVendenFamily@gmail.com
From NAD News: On Nov. 1, 2020, Col. Andrew Harewood was promoted to general officer upon accepting the position of deputy chief of chaplains for the United States Army Reserve, making him the first Adventist and the first African American chaplain to become a general in the Army Reserve. With the promotion, he is the third Adventist chaplain in the U.S. military to reach the general rank.
"In the military, we consider our career a success when we make it to colonel. When that happened three years ago, that was a humbling experience. When [the promotion to general officer] happened, it was very surreal and very humbling," Harewood said.
Andrews University announced on its Facebook page that Brenda Koopsen, an investigative reporter with ABC57, worked with Medical Laboratory Sciences professor Melissa Poua "to test the efficacy of consumer-grade UV light instruments to kill microbes." Check out their results in this segment: https://www.abc57.com/news
From Loma Linda University Health (edited for length):
The unprecedented pandemic circumstances under which this year's No Shave November initiative occurred were matched by unparalleled fundraising amounts, with law enforcement departments from the region raising nearly $25,000 for Loma Linda University Cancer Center. The 2020 No Shave November initiative also drew participation from the highest number of agencies since the event's genesis six years ago.
Eight agencies — the San Bernardino Police Department, CHP – Inland Division, Chino Police Department, Fontana Police Department, Redlands Police Department, San Bernardino County District Attorney's Office, San Bernardino County Sheriff's Department and Upland Police Department — all pitched in during the month of November to raise $24,876, more than double the sum of last year's No Shave November funds.
For a month preceding the event, members from the law enforcement agencies and Loma Linda University Health compete to grow out facial hair in hopes of earning a top title in five categories: best beard, whitest beard, best mustache, best eyebrows, and best attempt. The award ceremony was hosted virtually via Zoom on Nov. 30.
Below are the top winners: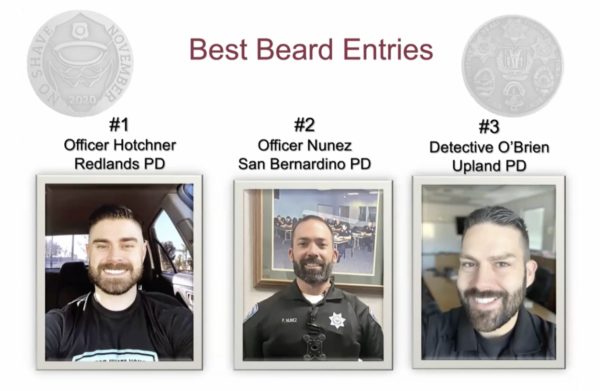 While you are here…
This has been a year like no other. By necessity, a lot has changed about how we worship, create community and cultivate conversation.
We at Adventist Today are doing all we can to be your virtual spiritual family, providing you with accessible, independent journalism, AT Sabbath Seminar, inspiring weekly Anticipating AT1 programming and more.
To do all this, we really need your help and financial support, especially right now, during our Year-end Fundraiser.
So please check out the article above, share it with your friends and help us continue to bring you excellent, informative and encouraging content.
You can donate one time by clicking this link
or
You can also give via an IRA Qualified Charitable Distribution here
or call us toll-free at 800.236.3641