Photos and reflection by Mervyn Weir. Submitted April 22, 2015    While the earth remaineth, seedtime and harvest, and cold and heat, and summer and winter, and day and night shall not cease. Gen 8:22
That verse in Genesis reminds us that the seasons will keep their cycles of change turning while the earth remains. However, our lived experience of these cycles alters year by year as the impact of man's interventions in nature takes its toll. Thus spring has turned up fashionably late this year!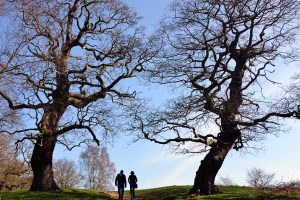 Still, West London is doubly blest when it comes to evidence of God's handiwork, despite the impact of climate change on our environment. The crowning glory of nature in London is Richmond Park. Richmond is Eden in the raw before the creation of man. Here the animals roam free, the flowers grow wild and there is scant evidence of man's meddling. Kew Gardens, on the other hand is very different. Kew is Eden after Adam has been given the responsibility for naming things and classifying them as he sees fit. In Kew, Adam's creativity is everywhere in evidence, as flowers and trees are placed with precision, and plants preserved in artificial hothouses that offer the curious delight of tropical palms thriving in a west London suburb.
These pictures taken in the last week are from the two London gems of nature.
Mervyn Weir is an Adventist Creative who works across several disciplines including design, film, theatre, photography and writing. He shared with us, "I really appreciate the arts section of your magazine. I know from my personal experience that the arts are a much neglected and undervalued resource within much of Adventism. Walking in London last week, I was struck with how much variation there is these days as to the timing of the seasons. Nonetheless the beauty is always striking and in that spirit I share my thoughts and photographs."
Welcome, Mervyn! We hope to see more of your work!