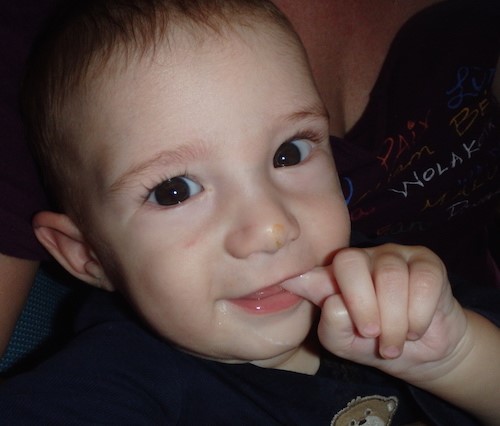 Sometimes SDA medical missionaries get into difficult situations.  Dr. James Appel and his wife, Sarah, have had to bury a child in Chad, due to malaria.  But sometimes a child can save the parents, and this time their 5-month-old son Isak (left) rescued the whole family (James, Sarah, Miriam, Noah, Isak) just by being a baby.
Here is the story, for a smile.  Jack Hoehn
(Reproduced with permission of Dr. James Appel.)
The screams are almost driving me bananas.  God certainly equipped newborns with lungs and a sound that can't be ignored.  It's just unfortunate when you can't do anything to stop it.  Like now.  Except that right now, in my devious little heart I'm almost smiling as I take my revenge.
It all started with what traditionally has been a rather simple affair…getting on a plane to leave the Republic of Chad.  Sarah, Miriam, Noah and Isak had already gone ahead of me to N'Djamena and were waiting for me on the Durand farm.  I stayed behind to tie up loose ends in Abéché: get Abraham enough materials so the work could move forward on the eco-dome housing, pediatric ward and quad-dome OR complex; run around like a chicken with my head cut off to different authorities to try and get the land issue resolved; arrange for a night watchman at the house who can water Sarah's plants and feed her cat as well; move everything into locked rooms; get the contract and initial payment done on the well; etc.
Saji and I then get on public transport for the 11-hour ride across the Sahel from Abéché to N'Djamena.  Aside from increased police controls due to heightened security to prevent Boko Haram in nearby Nigeria from infiltrating Chad, our trip is uneventful.  The next day we start to pack up as we all leave on the Turkish Airlines flight right after midnight.  Sarah happens to call our friend Rich, who will be watching out for our German Shepherd while we're gone, and he mentions that a friend of his is on the same flight and it's been moved up to 9 pm from 1 am.  We check online and find out that it's been canceled.
Saji and I drive 40 minutes across N'Djamena to the Kempinski hotel where the Turkish Airlines office has opened specially for the emergency.  It's a cool 104 degrees out. We arrive around 4:30 pm and leave at 8:30, with the only solution being to get on the next Turkish Airlines flight two days from now and go to Los Angeles.  To get to our original destination of San Francisco would require a 24-hour layover in Istanbul and an arrival a full three days after originally scheduled.  They say that's the best they can do, although some other stuck passengers look online and find the Air France flight from the evening half empty.  This is the second flight in a row that Turkish has canceled.
We get on the flight two days later and the plane is half-full even with the two extra canceled flights' worth of passengers on board, confirming our suspicions that the flights were probably canceled because they were too empty.  On arrival in Istanbul the next morning, now already two days late, I go to the transfer desk to ask about how we can get to San Francisco.  I'm told to go to the main office to see the supervisor.
The agent takes my complaint and says she'll go see the supervisor, who will see me in five minutes.  Ten minutes later I'm starting to stew and I hear them calling for her from time to time.  Finally, she saunters out with a scowl on her face and comes slowly up to me.  I start to explain our situation, about being stuck for two extra days in Chad, about traveling with three small children, about getting to our original destination.  She interrupts me.
"I'm sorry, once it was changed in N'Djamena there's nothing we can do."
"But they couldn't do anything with your Star Alliance partners from…"
"Did you accept the change or not?"
"Yes, but…"
"There's nothing I can do."
"Can I see someone higher up?"
"I'm the supervisor, there's no one else."
"But isn't Istanbul the base for Turkish Airlines?  You mean that two guys in N'Djamena can do things you can't?"
"We don't have a main office in here.   You have to go through passport control and go outside."
"I don't have a visa."
"You'll have to buy one."
And she walks off, still scowling.  I sit there for a few minutes, feeling helpless and enraged.  I finally collect our passports and boarding passes and go explain things to Saji and Sarah.  Sarah says that on her Danish passport she can enter Turkey without a visa, so she can go.  She leaves her backpack and just takes Isak in his Baby Bjorn carrier.  She soon comes back.
"Isak can't go through without a visa since he's on a US passport.  I've just fed him, though, so he should be OK."  I take Isak, and Sarah moves off.  No sooner is she out of sight than Isak seems to sense it and is not OK with it.  The screams begin.  At first, I really try to do something to calm him.  When I realize it's hopeless, I think of an evil plan for revenge.
I have Isak in the Baby Bjorn so I just meander over as close to the transfer desk as I can get without actually getting in line or crossing the boundaries, and I point Isak's wide-open mouth so his soul-shattering shrieks can pierce the armor of even the fiercest Turkish heart.  Within minutes I'm pleased to see—as I glance occasionally over at the counter—anxious glances being cast my way.  Isak continues to yell bloody murder.  I keep a smirk on my face as I half-heartedly bounce him a little and walk back and forth next to the counter.
Meanwhile, Noah and Miriam are playing happily on the small luggage cart, pretending it's a car.  I continue my passive-aggressive counterattack.  I am reminded of a Biblical passage about the persistent widow that strengthens my resolve, which (despite the Bible's warnings against revenge) makes me feel that I'm on a righteous mission (at least self-righteous).  Finally, I see two of the agents tentatively approach me.
"Does he need some water?" One of them asks hesitantly.
"What he needs is to recover from two days in the blazing heat of Africa and get to his destination," I blurt out.
"I see," says the man.  "Wait here, I'll be right back."
Fifteen more minutes of screaming ensues before the man comes back with a bag full of baby food.
"Here, try this," he offers.
"Thanks, but we have plenty of food for him," I reject his offer scornfully.
After about an hour and a half of non-stop auditory assault, thanks to my 5-month-old secret weapon, finally another group of rattled agents approaches.
"Where is your ticket to today?"  They ask.  Since Sarah still isn't back, I feel a little help from this side can't hurt.
"We just want to get to San Francisco but our tickets are for Los Angeles."
"Yes, I know."  Apparently, they've all been talking, trying to get the story, trying to get that baby to STOP SCREAMING!  "But you want to go to San Francisco?"
"Yes."
"OK, we're working on it."
At some point, another agent comes up to offer baby food and a spoon.  A little later another comes up with the offering of a diaper.  The god of earth-shattering yells is not appeased.  Someone comes up and checks the baggage claim ticket on the car seats.
"Do you have your passports and tickets?"
"No, they're with my wife.  Your supervisor told us that we couldn't get them changed here, so we're following her advice and my wife took them outside to the ticket office."
"OK, no problem; we're working on it."
Finally, two-and-a-half hours of nonstop yelling later, when our plane is about to board for LA, the supervisor comes back smiling and friendly.
"We've changed your tickets.  We normally don't do that, but on account of the kids and the special circumstances, these two agents will help you."  She smiles and pats Miriam's cheek like a long lost aunt.
One of the agents speaks up: "Your wife will meet you at gate 208 with the tickets and passports.  We'll help you get through security."
They grab all our bags and load them onto the luggage cart.  Isak has finally fallen asleep, literally less than a minute before they came up.  I grab Noah as well as the limp form of a dead weight Isak.  Miriam initially takes the hand of one of the agents, then wants mine only.  We whisk straight to the front of the line of the priority security check point and are quickly on our way again.  We rush up an elevator and then across many running walkways and finally to the end of the terminal and down another escalator.  Sarah rushes down a couple minutes later and the two agents wave a cheerful goodbye, wishing us a pleasant trip.
We're back on our way to San Francisco…thanks in no small part to the smallest one among us, who certainly earned his way today!
**********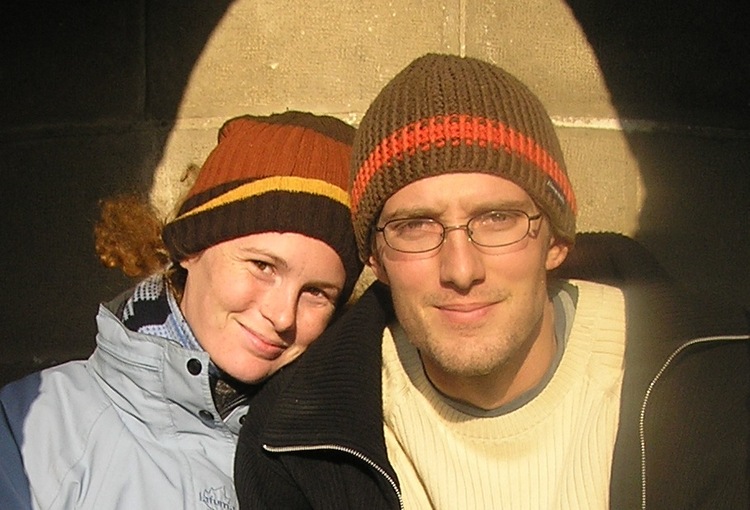 Sarah and James Appel, parents of Miriam and Adam (Miriam's twin, died of malaria at 6 months), Noah, and Isak — Seventh-day Adventist Missionaries in Chad.
Dr. Appel is author of the following books available on Amazon.com:
Ebola-iculous: A Physician Encounters the Ebola Capital of the World
Nasara: Dispatches from a District Hospital in Chad
Children of the East: the Spiritual Heritage of Islam in the Bible
Messiah: the Jesus of the Qur'an and the Gospels (also available in French edition).