By Briana Pastorino, Media Relations Specialist, Loma Linda University Health, Office of Public Relations, Submitted April 22, 2015   [Photos courtesy of Loma Linda University Health.]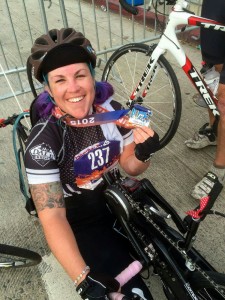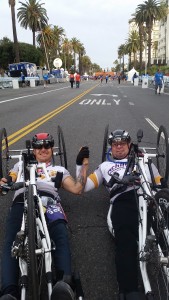 Loma Linda University Health PossAbilities members Jenna Rollman and Owen Daniels won the Asics LA Marathon hand cycling races in the women's and men's division, respectively, on Sunday, March 15, 2015.
Rollman completed the 26.2-mile race in two hours, 15 minutes and 27 seconds; and Daniels finished it in one hour, 21 minutes and three seconds.
"As with all sports at the highest level, cycling takes a certain commitment and sacrifice," Daniels said, who trained up to 15 hours per week in the months leading up to the marathon. "It's a commitment to make sure you are on that bike six days a week and to push yourself harder than the day before."
Daniels competed against 40 other hand cyclists and admits he had some good competition on race day. "I'm very proud to have been able to race with so many great hand cyclists. Everyone was a winner on that day because everyone accomplished what some will never get to do."
After a car accident In January 2010, Daniels was rushed to Loma Linda University Medical Center (LLUMC), where he was diagnosed as a T-10 paraplegic. However, the 32-year-old doesn't let his disability slow him down. "Just because we are disabled doesn't mean we can't race like everyone else. We are ready and just as serious about racing as any elite athlete."
As for Rollman, riding bikes has always been a part of her life – even as a child. She started riding bikes competitively in 2009. While on a training ride in Chino on the morning of February 1, 2013, she came around a turn on a straight highway and she unknowingly closed in on a parked work truck at 25 miles per hour.
"Paralysis was instant and I was completely aware of this," she recalled of the accident, "knowing I had just experienced my last moments of cycling, walking, running, jumping and able-bodied life as I had known it." Rollman was airlifted to Loma Linda University Medical Center. She spent two weeks in the intensive care unit and the remainder of the time at inpatient therapy at LLUMC East Campus hospital.
Rollman, now 28 years old, started hand cycling in July 2014 and attributes who she is to her cycling journey. "Cycling has helped me through the darkest time in my life. I do not see this as an accident—more like this is exactly where I am supposed to be because this is how I can make the biggest impact on those who need it the most."
Both Daniels and Rollman are part of Loma Linda University Health's PossAbilities, which is a free, non-profit, community outreach program. Its goal is to provide those with permanent physical disabilities support and resources to stay active and healthy in life. More information is available at TeamPossAbilities.org.