by Rodgir Cohen  |  19 May 2023  |
As a combat veteran who served in Operation Enduring Freedom, I have both experienced depression, and counseled with those who suffer with it. Depression today is far from uncommon: it can create emotional and psychological effects, physical symptoms, cognitive symptoms, social impacts, and even elevate the risk of suicide.
Though depression is a common experience, it is not an inherent aspect of human nature. It is a complex mental health condition that can be influenced by a range of biological, psychological, and social factors. Research has shown that depression is associated with changes in brain chemistry, genetics, and certain biological processes (Harvard Health Publishing, 2020). Additionally, psychological factors such as negative thinking patterns and life stressors can contribute to the development and maintenance of depression (APA, 2013). Social factors, such as social support, economic status, and access to healthcare, can also play a role (WHO, 2020).
Although the term "depression" is relatively new, the condition has been recognized throughout history, including in the Bible. David, Job, Elijah, Jonah, and Jeremiah are just a few of the Bible characters who struggled with this damaging mental condition. Through the lenses of psychology and psychiatry we view depression as a medical condition. But in ancient times, depression was viewed as a spiritual matter rather than a medical one. People believed that depression was caused by sin or demonic possession. The treatment for depression was often religious in nature: for example, King David turned to prayer and fasting to overcome his depression, while Job questioned God's justice and received comfort from his friends.
Hebrew and Greek words for depression
One of the common Hebrew words used to describe depression is שָׁחַח "shahah," which means "to hang down or droop." This is a word for despair or hopelessness. The Psalmist says in Psalm 42:5 (NIV), "Why are you downcast, O my soul? Why so disturbed within me? Hope in God, for I will yet praise him, my Savior and my God."
Another is רָעַשׁ "ra'ash," which also means "to be afraid." This word is used to describe a sense of fear and anxiety. In Isaiah 61:3 (NRSV) the prophet speaks of "the oil of gladness instead of mourning, the mantle of praise instead of a faint spirit." The word ra'ash can mean actual physical trembling or shaking, often as a result of fear, anxiety, or excitement.
The Koine Greek language of the New Testament also includes several words that are used to describe depression. One of the most common is λυπέω "lupeo," which means "to be sad or grieve." In Matthew 26:38 (NIV) Jesus tells his disciples, "My soul is overwhelmed with sorrow to the point of death. Stay here and keep watch with me."
The word lupeo is used in the context of emotional pain or suffering, whether caused by personal troubles, loss, or persecution. In 2 Corinthians 2:2 (NIV) Paul writes to the church in Corinth, "For if I cause you grief [εἰ γὰρ ἐγὼ λυπῶ ὑμᾶς καὶ τίς / ego gar egrapsa hymis en te lupe], who is there to make me glad but the one whom I have made sad?"
lupeo can also be used to describe God's sorrow or grief over sin and disobedience. In Ephesians 4:30, for example, Paul tells the Ephesian church to "not grieve (μὴ λυπεῖτε) the Holy Spirit of God, with whom you were sealed for the day of redemption."
The Greek word ἀδόκιμος (adokimos) means "rejected or worthless." This word is used to describe a sense of inadequacy that can accompany depression. In 2 Corinthians 13:5 (NIV) the Apostle Paul urges his readers to examine themselves to see if they are in the faith, saying, "Do you not realize that Christ Jesus is in you, unless indeed you are adokimos?" In 2 Timothy 3:8, Paul warns Timothy about certain false teachers, saying, "Just as Jannes and Jambres opposed Moses, so also these teachers oppose the truth. They are men of depraved minds, who, as far as the faith is concerned, are rejected (ἀδόκιμοι / adokimoi)."
Depression in the Bible
The Bible shows people who showed symptoms of what we would consider depression—feelings of sadness and despair are a common part of the human experience, even for those who are faithful and devoted to God. However, these stories also offer encouragement, as they show that God is present in the midst of suffering and can bring healing and restoration.
Here are some of the Bible characters who experienced depression or deep sadness:
Seek care and have hope
It is important to note that while these characters expressed feelings of depression or deep sadness, they also found hope and healing through their faith in God. The Bible provides messages of hope for those who are struggling with depression, reminding us that God loves us and cares about our pain.
Sad people
Just like back then, many people today are sad! Depression is a widespread mental health condition that affects millions of people worldwide. A study published in the American Journal of Preventive Medicine in 2022 found that between 2015 and 2019, there were widespread increases in depression without commensurate increases in treatment, and in 2020, past 12‒month depression was prevalent among nearly 1 in 10 Americans and almost 1 in 5 adolescents and young adults. A study in the Journal of Clinical Psychology in 2015 found that combat exposure was a significant predictor of depression symptoms among United States veterans (Blackburn & Owens, 2015).
Though the Bible offers encouragement, there is nothing unbiblical about seeking the help of a psychiatrist or psychologist. As a society, we must continue to recognize the importance of mental health and seek proper treatment when needed. If you are suffering from depression, seek out support from a trusted professional.
References
American Psychiatric Association. (2013). Diagnostic and statistical manual of mental disorders (5th ed.). Washington, DC: Author.
Blackburn L, Owens GP. "The effect of self efficacy and meaning in life of post-traumatic stress disorder and depression severity among veterans." J Clin Psychol. 2015 Mar; 71(3):219-28. doi: 10.1002/jclp.22133. Goodwin, R. D., Dierker, L. C., Wu, M., Galea, S., Hoven, C. W., & Weinberger, A. H. (2022).
Trends in U.S. Depression Prevalence From 2015 to 2020: The Widening Treatment Gap. American journal of preventive medicine, 63(5), 726–733. 
Hart, A. (2017). Unveiling depression in the Bible: The role of King David's Psalms in shaping
Christian attitudes towards melancholy. Mental Health, Religion & Culture, 20(3), 267-280. doi: 10.1080/13674676.2016.1256036
Harvard Health Publishing. (2020). "What causes depression?"
Johnson, M. K. (2017). From Biblical interpretation to contemporary mental health treatment: An interdisciplinary approach to depression.
World Health Organization. (2020). Depression. 
---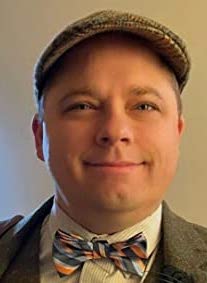 Rodgir Cohen is a university lecturer residing in Redlands, California. As a combat veteran and community activist, his research focuses on political science, ethics, psychology, and religious studies. Rodgir is affiliated with various universities in Southern California, including Loma Linda University School of Religion. When he is not teaching, he cruises his boat around San Diego.