by Jim Burklo  |  16 February 2023  |
"It tastes like cardboard," I said to my friend—also named Jim—as we wandered through the crowd, veggie burgers in hand. He nodded and laughed. 
We drifted into a huge canvas tent where a preacher was fully, physically engaged in exhortation, mopping his sweaty forehead with a big hankie. Bewildered and boggled by whatever he was saying, we drifted out, back onto the promenade. There were plenty of cute girls for us to gawk at. And gawk we did, we two teenage gate-crashers at the Adventist camp meeting at Soquel in 1968. 
That was my introduction to your version of the Christian faith, which I grew to appreciate as I met Adventists whom I am very glad to count as friends. One of them is the editor of Adventist Today! Loren Seibold officiated at the wedding of my wife and me. We've been colleagues and friends for over three decades.
I admire you Adventists' strong community, your healthy if odd food and its concomitant consequences of vigor and longevity, and your general niceness. Your tradition has fascinating roots that are woven tightly into American history. It made a lot more sense after I read Whitney Cross' The Burned-Over District: The Social and Intellectual History of Enthusiastic Religion in Western New York, 1800-1850. 
The character of Ellen White fascinated me: her auras and visions led to her founding a new manifestation of Christianity, florid with apocalyptic imagery. A religion founded by a woman in an era well before women's liberation—that alone made Adventism special. 
Santa Cruz
Santa Cruz in the 1960s and '70s was a really weird and wonderful place to be a teenager. I tell folks that I finished high school there, but didn't grow up there. Adulthood had to wait until I left town. 
Absolutely everything was up for grabs in Santa Cruz, so we did a lot of grabbing. The anti-war ferment at the University of California, Santa Cruz, bubbled over into our high school, where we mounted protests and abolished our student government, believing it a distraction from real politics. Acid was freely available, the aroma of weed permeated the atmosphere, the Grateful Dead was our soundtrack, the women stopped shaving their legs, and gay people started coming out of the closet—to the startled amazement of the rest of us. 
The Jesus People movement—"God at the Beach," as we dubbed it—proliferated with earnest, glassy-eyed longhairs arriving in microbuses to sing praise songs and strum guitars around campfires on the sand. Santa Cruz was the California headquarters of the Assemblies of God. I attended holy-roller revivals, my eyes bugging as I watched people fall down, foaming at the mouth and babbling, supposedly possessed by the Holy Spirit. 
Just to stay something like sane in this swirl, a sense of humor and healthy skepticism was required. I was genuinely open to all of it, and at the same time I realized that careful discernment was necessary. Embrace the truly good, let go of the truly bizarre.
Hard questions
So it was no wonder that in the mainline, white-bread Congregational church to which my family belonged, I asked hard questions that the pastor could not meaningfully answer. 
"You are going to argue your way into seminary," he told me. Which is exactly what happened. 
I never went with the orthodox program. I found I was personally incapable of believing some of the things that Christianity asserted. But I knew in my heart that there was deep spiritual reality somewhere ensconced within the faith. In seminary, I found a way to put it all together in a way that did not require me to park my brain in the church lot before going inside to worship. 
It helped a lot that I had family and friends who had no problem with my emerging point of view. 
My faith
I became what we now call a progressive Christian. God is unconditional love—no more and no less. The gospel is a profound story, mirroring the archetypal spiritual reality of the human soul. Jesus realized that his real, true Self was one with the love who is God, and he taught us how to discover the same for ourselves, and put it into practice through personal contemplation and social engagement. 
As for the Bible, I came to believe it should be taken seriously by not taking it literally: it consists of humans' words about God, not God's word to humans. The task of the Christian is to make Christ's compassion real in this world by struggling in the public arena for racial and economic and environmental justice.
This way of living the faith erases a long list of silly theological conundrums. The Bible isn't a book of facts about how the world works or about how we ought to behave. Rather, it is the richly poetic language of our faith. So there need be no conflict between Christianity and science, between Christianity and common sense, between Christianity and social progress. 
We progressive Christians don't have walls of doctrine that define who is in and who is out. We have an attracting center—the glowing, soul-warming love who is God—inviting all, whether they identify as Christians or not. 
An invitation
I invite you, by way of this letter, to bring what is truly good and life-affirming in Adventism with you into the progressive Christian world. You don't have to agree with everything that you find in the progressive Christian universe in order to be part of it: that's the whole idea! 
Progressive Christians like me don't have an orthodoxy—just an "otherdoxy" that lets go of the dogma that gets in the way of other-focused divine love. I urge you to bring progressive Christianity into the Adventist world, and vice-versa. Gather your questioning, deconstructing, and disaffected sisters and brothers together for study and contemplation and action. You can use media and writings from progressive Christian content-creators.
I recommend ProgressiveChristianity.org, to which group I serve as an honorary advisor. Get your informal groups listed at our global community site, so others can find you. Add your Adventist-flavored content to our progressive Christian universe!
I invite you to come out of the closet and speak your truth and live your truth fully. Progressive Christian organizations are serving folks very much like you: from evangelical churches, from the Latter-day Saints, from conservative Catholicism. There is a massive exodus underway right now from dogmatic, politically and socially regressive religion. It doesn't have to end in the desert. There's a way to live the Christian faith that makes a lot more sense. 
I get it that your journey is a hard one. I've heard your stories, and I can prayerfully enter at least part-way into the struggles of your souls as you change your relationship to a community and a tradition that remains in so many ways precious to you. 
I celebrate Adventist Today as a hub from which you can get support from each other along this often rocky path. But I also want you to know that there is a wider world out here of progressive Christians with whom you can find support and companionship. I hope you'll be part of it, and realize that the rest of us can benefit from your unique experience.
Dear progressive clergy…
A word here for you progressive Adventist clergy: I especially empathize with your predicament. The love of God called you into ministry to serve souls with compassion. But once in the system, you found yourself being required to say stuff you barely even believed, and now can barely stand to repeat. You're in very good company in all sorts of other churches around the country and around the world. 
I, too, experienced this when I was up for ordination in the United Church of Christ. I was fortunate to be in a wealthy and powerful congregation that supported my calling to ministry, defending my expression of my unorthodox beliefs. But not everyone has that kind of support, or has denominational leaders who will give you that much room to explore your theological convictions.
Dishonesty is killing the Christian church. Rotting it out from the inside. So my urging to you is this: if you must get your Adventist pension vested before telling your truth (which I completely understand), go on the down-low to introduce some church folks to the progressive Christian universe, and find a private community of friends whom you can be honest with. It may even make it possible for you to keep preaching God's love and goodness. 
Let's stay in conversation, dear Adventist friends!
---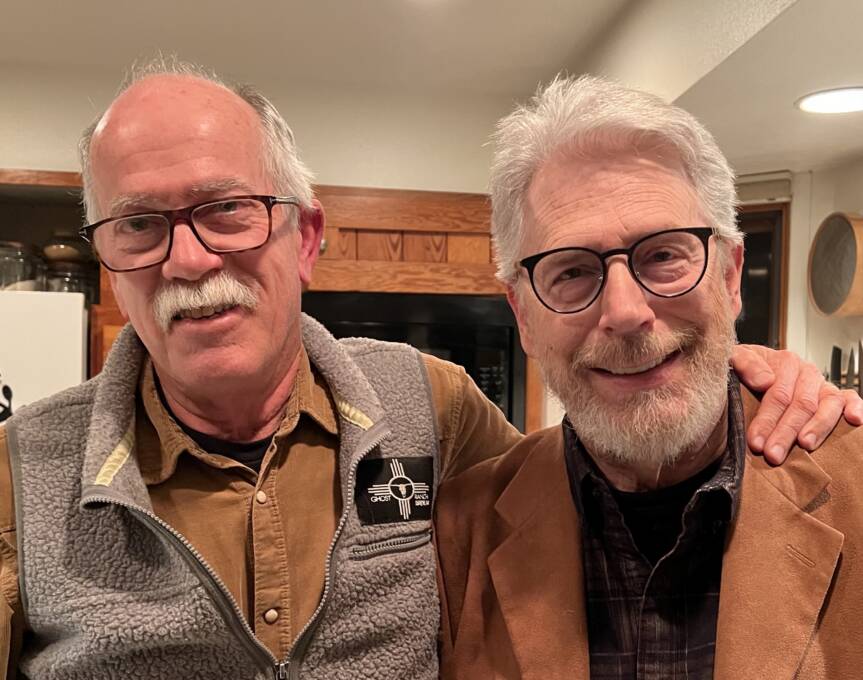 Jim Burklo is an ordained pastor in the United Church of Christ, Executive Director of Progressive Christians Uniting, and a long-time friend of AT editor Loren Seibold.