by Christopher Thompson
I turned on the news and saw that Hurricane Matthew was scheduled to make direct impact with the South Carolina (SC) coast. Then I saw that SC Governor Nikki Haley had already ordered an evacuation for those along the coastal areas of the state. Having been born and raised in the beautiful sea islands of Beaufort, SC, I was instantly on high alert. I called my mom to make sure she intended to evacuate, and to hear her plan of action. It's usually the people who are most often assailed by tragedy who are the most calm in an approaching storm. She assured me that although they weren't quite finalized, she already had a plan for evacuation.
At the time, Matthew had just finished threatening Jamaica, and we thanked God for their protection and for his mercy that covered the small island. Matthew veered right and we sighed in relief. But shortly thereafter, our fears began to mount as Matthew barreled ahead toward Haiti. Several people exclaimed, "Not again!" Haiti is still recovering from the devastation of the 7.0 earthquake in 2010 that left over 100,00 people dead. At the time Matthew was a category four hurricane. Category four hurricanes register wind speeds between 130-156 mph. And possible storm surges of up to eighteen feet. The National Hurricane Service says those type of winds will cause "catastrophic damage."
Meanwhile, on the the mainland, Wikileaks was attempting to cause catastrophic damage to the Clinton campaign by revealing more mess associated with emails. However, in signature Trump one-upmanship, his shenanigans stole the spotlight with possibly the most deplorable revelation about him yet. Video surfaced of an explicit 2005 exchange with (then) host of "Access Hollywood" Billy Bush. Wikileaks has continued releasing emails related to the Clinton campaign, but it appears people are in such shock concerning the misogynist statements of Trump, that Clinton's suspicious tactics aren't hot enough for primetime.
This is not a commercial for either candidate. Fact is, no matter which side of the political aisle you find yourself on, you must admit this is certainly the most bizarre presidential race in recent history—dare I say American history? The vicious personal attacks, the hate-speech, the scandals, and all the rest are indicative of fierce wind conditions. And these winds are threatening to do cataclysmic damage.
When Matthew reached Florida it had downgraded to a category three storm. Category three storms produce wind speeds of 111-129 mph and storms surges of up to twelve feet high. We sighed a sigh of relief once again as friends and family braced for the storm. And though there was no direct hit to the Florida coast, countless Floridians were left without power and flooded properties. The National Hurricane service says that the wind speeds of a category three storm can cause "devastating damage." That sounds about right. Those floods are nothing short of devastating.
Nevertheless, the more I think about the devastating damage of Matthew, the more I think about the devastation caused by the incessant bombing in Aleppo. I think about the little girl who has been live-tweeting the bombing and begging for the unscrupulous leaders to stop the destruction. This tangled web of issues that in some way involves: ISIS, Putin, Assad, Syria, Russia, NATO, the US and more is mind-boggling to me, but what is clear is that it reaks of the new cold-war conflict. Again, no matter where you stand on this issue, we can all agree that the kind of trauma that this little girl and other children like her are currently facing in countless other conflict-laden countries is harrowing and heartbreaking. These are the kind of wind conditions that cause major loss of life.
Matthew finally made landfall in SC about two hours north of my hometown as a category two storm. It danced along the coast and then swung back out to sea, but the damage was already done. Even with a category two there are still winds over 100 mph and possible storm surges up to eight feet. There was so much wind and such heavy rain that there are trees strewn across roads and lawns. When you see a tree that stands sixty feet tall and weighing several metric tons you couldn't imagine that some wind and rain could snap it in two or pull it up by its roots. Nevertheless, the National Hurricane Service has told us that category two storms' "extremely dangerous winds will cause extensive damage."
One can't help but wonder if some of this damage is being caused by the extensive damage that we've done to our own environment. The debate is underway as to whether or not Matthew is a man-made WMD. Is Matthew the result of climate change from the heating of our atmosphere and oceans, which stems from burning coal and natural gas? Well, once again, no matter where you stand on the issue, the fact is we are running out of natural resources. And this is surely a very dangerous wind.
And if all of this weren't enough, just this week, some dangerous winds have been shaking the very walls of the church. I sat down with a group of college students this week who expressed concern about the state and the direction of the church. They asked me "what is the appropriate response when church leaders start acting and speaking in ways that are contrary to things we believe about God's grace, love, and Christian community?" They expressed a deep level of concern and even talked about leaving the church if/when church leaders lose their way.
These students are sharp thinkers. They recognize patriarchy when they see it. They know what hegemony is even when it's clothed in christian garb. They have an amazing commitment to justice, equality and service that is refreshing. They're watching the news and dressing for the weather.
Now, I'm no meteorologist, but I've been paying close attention to these wind patterns for quite some time. Scripture gave a prophetic forecast a long time ago saying that the "whole creation has been groaning as in the pains of childbirth" as it longs for complete restoration (see Rom. 8:22). We have heard of "wars and rumours of war," and "earthquakes in various places," and we are told that these are only "the beginning of of birth pains" (see Mt. 24:6-8).   
I could be wrong, but I believe that these are indeed those infamous four winds that hail from the four corners of the earth (Rev. 7:1). The winds are gaining strength, and those four angels are losing their grip. And so now what do we do? Well, I like the idea of dressing for the weather (see Eph. 6:13-18). But, right along with the armor of God, I've decided to put on my favorite robe. It's the one my heavenly Father gave me. I dare not meet him clothed in the filthy garments that are my sins and shortcomings. I am taking again the robe that He give me so that I can stand and face the wind on that great day.
My mother called me the other day. I was so glad to see her name flash across my cell phone screen. I was worried sick because I saw on the news that many people weren't allowed to go back to their homes yet because of the flooding. She called to say that she had made it home safe. And not only that, but aside from some branches and yard debris, there had been no damage to the house. I was happy to hear such wonderful news. I look forward to that day when, despite the fierce winds and apocalyptic storms, we will all make it home. No more wind. No more rain. No more hurricanes. No more wars. No more tears. No more death. No more sickness. No more pain. Home, sweet home.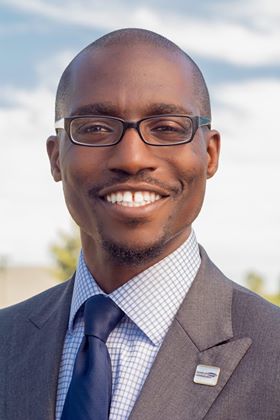 Christopher C. Thompson is the pastor of the Hillcrest Church in Pittsburgh, PA. He and his wife Tracy have one son, Christopher II. The three of them live in Pittsburgh's historic Hill District. He is currently training for the 140-mile Ironman Triathlon.