By Debbie Hooper Cosier  |  22 September 2019  |  
The fourteen-year-old stayed back at the end of class and asked to speak privately with me. She picked at the rubber sole of her school shoe for a long time before she eventually spoke: "Miss, I'm gay."
Because this was an Adventist school, we both knew that what she had just told me was a very big deal. There are reasons young people generally wait until after graduating from conservative Christian schools and universities before coming out. There is a huge burden of guilt and shame. There is suspicion and protectionism when it comes to their interactions with others. Their sincerity will be measured by their willingness to enter spiritual-based therapy, where they will receive the message: "You need to be different." This therapy will actually place them at a greater risk of suicide than if they had never entered it. They probably won't see anyone like them, because others like them have long been silenced or vanished from sight. 
This girl, too, would be gone by the end of the year.
Until recently, Adventists in Australia could largely ignore the rising tide of support for LGBT+ people in greater society. A same sex marriage plebiscite in 2017, however, brought with it the need to declare a stance.
Predictably, biblical principles dominated public debate: from the purpose of marriage at creation, to biblical examples of gender hierarchy, to the stories of Sodom and Gomorrah. To many Christians, this outweighed gospel-based arguments for inclusion and acceptance. They retaliated with "But we love the sinner, hate the sin." 
Yet this ignored a very real sting in the tail: love was conditional upon living a lifetime of loneliness and self-hate. Should the sinner pursue a loving relationship with someone of the same sex, they would no longer be welcome in most Adventist congregations. One Adventist pastor, arguing anatomical complementarity, posted a Facebook image of the male and female ends of a power socket with the words "If it doesn't fit…." 
This may have been his way of persuading his audience to vote "no" for anatomical reasons, but it was weak at best. If the post was a warning to those he viewed as sexuality or gender "shopping," it diminished the fact that there are very real, genuine LGBT+ people out there. It was a blunt tool causing very real harm.
Research carried out by Covenant Eyes reveals another irony: within this pastor's congregation is a likely 68 percent of men, 15 percent of women and 76 percent of 18 to 24-year-olds currently consuming pornography which depicts a variety of sex acts as heterosexual, including anal sex. 
Like Jumping off the Cruise Ship
A friend once described her experiences as an Adventist adult coming out as gay as similar to jumping off a cruise ship in the middle of the ocean. 
She'd buried her attraction to girls deep in the private world of her dreams and daydreams and married an Adventist boy in her late teens. But in her late 20s, amidst planning worship programs and singing praise songs at church, she fell in love with another woman. They both came from conservative Adventist families and Christian schools, but their feelings tipped over into a relationship. She said,
I was married and all my friends and family were in the church. It felt like we were all on this cruise ship together, destination Heaven. All of the activities were there: school was there, church was there, friends were there. Everything in my life was completely self-contained. And then I just leapt off. I knew that if I didn't jump, I was going to be pushed. I had no rights. I had done everything wrong. I felt obliged to hand over everything and lay myself bare. I was resigned to the punishment coming my way. I confessed and did what I was told.
She stepped down from her various roles in the church and was referred to a Christian counselor who advised her to give herself six months to put it all behind her and re-establish herself in her marriage. Although she wished she could change and make it alright, it was impossible. "I was gay and I believed in God, but it was like those two things couldn't coexist."
Once, she asked if she could bring a new partner along to church but she was advised that it would not be a good idea—it would be too hard for everyone. Her connection to the church was severed.
Fakes, Fads and Fears
A great fear for many Christians today is whether they can continue to protect themselves and their children from everything this cultural shift represents. You can see this most clearly in the wholesale rejection by Christian groups of school-based wellbeing programs for lesbian, gay, bisexual and transgender students. Although the intent behind programs like Australia's Safe Schools is to reduce bullying and prevent suicide among vulnerable populations in schools, it is seen by many Christians as a conspiracy to normalize sexual impurity and give unsavory types access to their children. Concern for the psychological or physical health of LGBT+ children doesn't enter the equation because of the threat they pose by their very existence.
Morsels of truth mixed with rumors and fake news about the diminishing rights of Christians to discriminate, and the belief that variations to hetero norms are not legitimate but fads and sinful lifestyle choices only, turn LGBT+ people into figures of dread that can be held at arm's length. All of this makes for a toxic mix and reveals a sad truth that many conservative Christians only care about ignorance, oppression and discrimination when it happens to them.
Young Adventists
Yet the young people that Christian churches are at pains to separate and protect from the influence of LGBT+ people are confused and upset by this behavior. Having grown up in a world of information, ideas and competing belief systems, young people from conservative Christian homes cannot see the rigor or intellectual honesty in this way of thinking. They see the "fads, fakes and fear" model as a betrayal of faith—the faith that calls them to see the face of God in everyone they meet.
American-based Christian research foundation Barna Group published a five-year research project that provides a bigger picture. The book You Lost Me: Why Young Christians Are Leaving the Church and Rethinking Church reveals that by 2011, nearly 59 percent of young people with a Christian background either permanently or temporarily left the church in their 20s. By 2019, these numbers had leapt to 69 percent. Interviews with young people found the following reasons for their defection:
Churches often seem overprotective, making it difficult for them to connect with the world.

Churches come across as antagonistic to science. 

Young Christians' church experiences related to sexuality are often simplistic or judgmental. The modes of teaching that the church uses are not relevant to the sexual exposure and education young people experience outside the church.

Young Christians wrestle with the exclusive nature of Christianity when they have been shaped by a culture that values open-mindedness, tolerance and acceptance.
Significantly, the resilient 31 percent of young people remaining in churches are "concerned for and thoughtful about how their faith in Christ intersects meaningfully and missionally with the world around them." This presents a worrying forecast for some Christian organizations should they continue down their current path.
I wish church leaders would rethink how beliefs and policies translate into action. Young people are leaving because they see the disconnect between their faith—where they're called to love their neighbors as themselves, even if it costs them something—and the narratives they're told about LGBT+ people. They are unafraid of embracing all of humanity and living a bold faith in a bold world. How about everyone else?
Dear Adventist Today readers: I'm inserting this note to tell you that we are right now conducting our autumn fundraiser. Adventist Today is largely a volunteer organization, but if we're going to continue to provide you with stimulating news—often news you get nowhere else—and fascinating commentary by some of the best writers in the denomination, we do need some financial support. If you want to see us continue to do the journalism that you've been accustomed to from Adventist Today, become an AT member now or or give us a one-time gift. Loren Seibold, Executive Editor, Adventist Today website and magazine.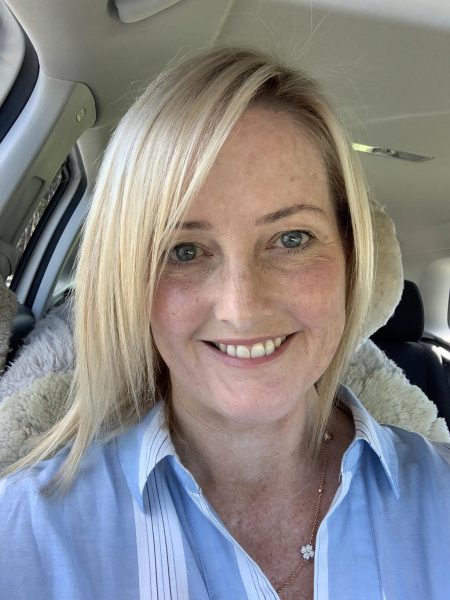 Debbie Hooper Cosier is a former teacher, now a content writer, who lives with her husband, Barry, and sons, Jamie and Braden, in the Tweed Valley in northern New South Wales, Australia. Her website is freshwriting.com.au.