by Bill Garber, 08/24/2017
When Michigan Conference President Jay Gallimore accuses the leaders of ten union conferences from four divisions of the Seventh-day Adventist Church of having "surrendered to carnal worldliness" and having placed their regions into a state of "insubordination" and "rebellion" through "witchcraft," starting with the issue of women's ordination, something unusual is happening within the church.
Elder Gallimore voiced these accusations about his peers in an editorial he shared with me and more than 26,000 other members of Seventh-day Adventist churches in Michigan. His focus was the 2017 Unity Conference held in London in June, which had been sponsored by a number of union conferences.
Such accusations may seem rude and unkind, but they're not unprecedented. They were familiar to Ellen White, even 125 years ago. I found the following passage hidden away in a citation from Elder George Knight's paper from the Unity 2017 conference, organized by the very leaders who so rile Elder Gallimore. In 1892 Sister White wrote about such contentiousness with striking disdain:
"Satan is an accuser of the brethren, and when he can set the leaven of dissatisfaction to work in human hearts, he is exultant. When he can divide brethren, he has a hellish jubilee. I think if our brethren could see, as I have seen, how much wrong is done in speaking evil of our brethren, there would be an entire change in the way we treat one another. You do not understand yourselves, you misinterpret words and deeds, and you measure them from your own finite standpoint. Your imagination leads you astray, your feelings, your tongues, which are not sanctified, are employed in a service and work that is anything but holy and Christlike. (Ms24-1892.3)"
It seems obvious that for Sister White, differences in understanding God's will are bound to happen. Elder Gallimore shares that expectation, but with a different explanation. For Elder Gallimore, the problem is the complexities of denominational organization being leveraged by Satan.
The thoughtful reader will ask: Was it the Unity Conference itself, or Elder Gallimore's accusations against his colleagues in denominational leadership, that set Satan to celebrating with "hellish jubilee"? To avoid triggering another such jubilee you would do well to keep that answer to yourself. Readers will judge for themselves, I hope, after reading the papers from the Unity Conference in June, whether those papers were dividing the brethren, or whether they were actually seeking to create a framework around which to understand how to unify the work of the church. (For a summary of reporting on the conference by Adventist Today's Executive Editor Dr. Loren Seibold, and additional context by CEO Monte Sahlin, AT has prepared a small e-book, The 2017 Unity Conference: Reporting by Adventist Today.)
So what is the state of unity within the Seventh-day Adventist Church?
Not as bad as these leaders think it is. There are differences aplenty. But then, there always have been. And we're still here.
I grew up seven decades ago hearing about European Adventists, California Adventists, mission fields, and us. I have a family member buried in Africa and another in South America, both of whom died tragically bringing Seventh-day Adventism to the world and well before the church was even 5% of its current size. I was there when the General Conference brethren paraded a bushy-haired, grass skirted, still-barefoot convert from the South Pacific through the streets of San Francisco, down the aisle of the Cow Palace, and across the platform celebrating the differences in the church. We bought copies of the San Francisco Chronicle newspaper with a special General Conference wrapper picturing him on its front page at a General Conference session when the church for the first time reached 1 million members. We were at last big enough, it seemed, to be secure in celebrating our differences as a Christian church. (Edward Reifsnyder discusses how unity springs up as he chronicles his recent personal experiences in a wonderfully insightful commentary on church unity in Spectrum.)
To suggest that differences in orthodoxy or orthopraxy have dissipated unity may well be a case of mistaking the actual work of the Holy Spirit for what denominational leaders at the church's Annual Council last fall described as "non-compliance" with the collective will of General Conference leadership.
Like Elder Gallimore, General Conference President Ted Wilson, writing in the current issue of Adventist World, conflates unity with doctrine and mission in an effort to garner support for his own vision for the church. Elder Wilson begins with a beautiful passage by Ellen White out of Selected Messages, Book 1, p.259.
"Then as the children of God are one in Christ, how does Jesus look upon caste, upon society distinctions, upon the division of man from his fellow man, because of color, race, position, wealth, birth, or attainments? The secret of unity is found in the equality of believers in Christ. The reason for all division, discord, and difference is found in separations from Christ. Christ is the center to which all should be attracted; for the nearer we approach the center, the close we shall come together in felling, in sympathy, in love, growing into the character and image of Jesus."
Yet in his own comments on on the passage, Elder Wilson substitutes the ecclesiastical church for Jesus. "As God's last-day remnant church, it is important that we look to Christ for unity in the doctrinal and mission-driven commission given by God for His prophetic movement." (Emphasis mine.) Like Elder Gallimore, Elder Wilson modifies Ellen White's clear and unambiguous call to come close to Jesus, appearing to say instead that Jesus has designated the ecclesiastical Seventh-day Adventist church as His representative, and that we find unity by coming close to the church.
Is it likely that the closer we come to the ecclesiastical doctrine and mission, the closer we are coming to Christ? What if Jesus through the Holy Spirit alone is what unifies the church, and not doctrine, and not mission? Appeals to human expressions of doctrine and mission always seem to divide rather than unify. Doctrine and mission are human enterprises. To the degree that they add conditions to the all-encompassing righteousness of Jesus, instead of the other way around, how can they not become a source for differences—differences that are sustained at the expense of others?
Yet it is not the differences themselves, but the method of dealing with these differences that is cause for Satanic "hellish jubilee," Ellen White observed.
"If brethren would meet together once or twice a week, and with humble minds, feeling their weakness and realizing their defects, then would ask the Lord to enlighten their understanding and fill their hearts with His love, examining not one another, but the Scriptures, Satan would be defeated. Many imaginary difficulties, mere mole hills that have been magnified into mountains and have made barriers between brethren, would vanish, and love, compassion, and respect would take the place of jangling and accusation. When you begin to judge your brethren, you are doing a work God has not given you to do. You are not working with Christ. God did not place you upon the judgment seat to measure and pronounce sentence upon your brethren."
Can unifying around Jesus be enough? Ellen White thought so.
I am certain that in some sense Elder Gallimore and Elder Wilson believe in Jesus alone. The problem arises when others have a picture of the church different from theirs. Inasmuch as the Holy Spirit guides each one of us individually, why are some church leaders so troubled when Spirit-guided differences impinge on their understanding of the Seventh-day Adventist church? If we are led by the Spirit individually each in his unique path, as Scripture seems to say we are, we will have ecclesiastical and denominational disagreement, and we work on that by reminding ourselves that we are all in unity about Jesus Christ.
There's a story of Mahatma Gandhi traveling to the northwest frontier of India during his non-violent movement that freed India from colonial rule. His friends told him, "These are violent people. What's the use of going to them? Fighting is all they know."
"A skeptical crowd of Pathans with their guns slung over their shoulders gathered to watch the little figure in his loincloth get up before them. "Are you afraid?" he asked gently. "Why else would you be carrying guns?" They just stared at him, stunned. No one had ever dared to speak to them like this before. "I have no fear," Gandhi went on, "that is why I am unarmed. This is what ahimsa means." Abdul Ghaffar Khan threw away his gun, and the Pathans, following his leadership, became some of the most courageous followers of Gandhi's way of love."
Is it not an expression of fear to thrust aloft, like a muddy bayonet-mounted rifle, some reference to a vote by "the highest authority of God on earth" in a desperate call for unity? It seems that way to me. It is as though the speaker is trying to frighten us into church unity, when it is always and only the work of the Holy Spirit that unifies.
Elder Wilson began his editorial this way:
"What a privilege we have as members of the Seventh-day Adventist Church to plead with the Lord for revival, reformation, and the latter rain of the Holy Spirit as we proclaim the three angels' message (Rev. 14:6-12) in anticipation of Christ's soon second coming. We must go forward, united in our biblical message and heaven-born mission, looking to Christ in all we do."
Contrast that with Ellen White:
"Christ is the center to which all should be attracted; for the nearer we approach the center, the close we shall come together in felling, in sympathy, in love, growing into the character and image of Jesus."
So is it Christ, or is it mission and doctrine?
Or, as Gandhi asked, is it love, or is it guns?
I agree with Elder Gallimore in this:
"An attitude of rude criticism and defiance—from whatever source—against God's church can cause a lot of suffering, but in the end it [such an attitude] will not prevail."
Indeed. The resolution for fear is love, and John makes a practical application:.
Whosoever shall confess that Jesus is the Son of God, God dwelleth in him, and he in God. And we have known and believed the love that God hath to us. God is love; and he that dwelleth in love dwelleth in God, and God in him. Herein is our love made perfect, that we may have boldness in the day of judgment: because as he is, so are we in this world. There is no fear in love; but perfect love casteth out fear: because fear hath torment. He that feareth is not made perfect in love. We love him, because he first loved us. If a man say, I love God, and hateth his brother, he is a liar: for he that loveth not his brother whom he hath seen, how can he love God whom he hath not seen? And this commandment have we from him, That he who loveth God love his brother also. (1 John 4:15-21, KJV)
Whether or not Elder Gallimore discerns such unity among his peers in church leadership (he apparently doesn't, and is hardly contributing to it himself), unity in Christ is already a reality in many of the tens of thousands of congregations around the world, wherever the people of the Seventh-day Adventist church gather and welcome one another. Church leaders aspiring to defuse some of Satan's "hellish jubilees" through calls for unity would do well to look around and realize that the Seventh-day Adventist church is already unbreakably unified by the Holy Spirit. And has been since from the very beginning.
Less than a decade after her "hellish jubilee" comment about church leaders criticizing one another, and with Sister White's full support, the 69,000-member denomination created 15 Union Conferences to formalize her endorsement of operating the denomination with decision-making answerable to the local conferences and their congregations, rather than centralized through the General Conference. And it is this fully distributed leadership that has resulted in a church of 69,000 members becoming now a church approaching 20 million members, with a unifying spirit of welcome across a rich diversity around the world.
It appears that the Seventh-day Adventist Church is structured much like what Seventh-day Adventists are fond of calling the first General Conference session in Acts 15. It was on behalf of the congregational context for the church that leadership in Acts 15 streamlined doctrine and mission to reflect the unity of the Holy Spirit in radical diversity—some circumcising, some not circumcising. Within its deepest organizational structure, then, the Seventh-day Adventist church confirms in practical fashion the historical reality of our church in which orthodoxy and orthopraxy arise in congregations infused by the Holy Spirit, mediated through relationships with one another and with Christ—rather than awaiting mediation or endorsement by the General Conference officers.
In Acts 15 the apostle James accomplished this without taking a vote. James found and described consensus in Jesus. And even converts of "the sect of the Pharisees" welcomed it.
This is still what it means to be a visionary leader for Seventh-day Adventists today. Rather than having to be forced upon us by appeals to mission and doctrine, unity already exists within the Seventh-day Adventist church, as surely as it existed in Acts 15. It needs only to be recognized and encouraged by our leaders.
Elder Gallimore does not contribute to unity when, in a conference newsletter to his own laity, he is found "speaking evil of our brethren," who happen to be his colleagues in church leadership.
Just look around: unity is everywhere in the Seventh-day Adventist church, centered in Jesus Christ and lighted by a rainbow of experiences. It is up to our leaders to see that, not to force their own version of unity upon us.
---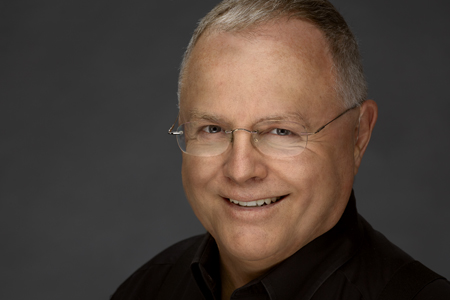 Bill Garber is a third-generation Adventist, and a member of the Adventist Today board. He's married to Shirley Schneider, and they split their time between Santa Cruz, CA and Berrien Springs, MI.