by Joni Bell  |  15 December 2022  |
Belief in the imminence of Jesus Christ's return marked the faith of the earliest Adventist believers. Jesus was coming soon! Imminently! Earth was in the final countdown!
That belief provided the energy for our preaching, our evangelism, our mission. Yes, He is coming, and He is coming soon! The world must know. They must get ready. They must be warned.
My questions
A reflection on that sense of imminence accompanying our founding vision creates questions for me about my faith today. Some might consider my questions threatening. I think otherwise. I think that a failure to consider the questions and deal with them will drive generations away from our faith movement. 
So here are my questions. 
How has the focus on imminence shaped our Seventh-day Adventist church over the course of its history? 

How has the vision of imminence impacted our personal faith? 

How do we relate today to that vision?
Imminent: "Likely to happen at any moment; impending." Just reading that definition makes my heart beat a little faster. Be on the alert! I mentally revisit all those events detailed in the final book of Scripture: Revelation. 
Generally speaking, we have arrived at some degree of certainty that frightening end-time events are coming. They will be set in motion just prior to the second coming. Will I be able to go through those horrific times and remain faithful? And what about my family? It's not that they don't know the prophecies or signs. 
Now I am frightened! I've got to do something, but what? 
Catastrophes & conspiracies
For some in my circle of Adventist friends it means gathering current catastrophes from the news and connecting them to scripture. Some voices in our faith body share such news, hoping to "wake us up" or scare people into a changed life. 
For some it becomes fertile ground for conspiracy thinking. Is that a good thing? Has it been helpful in the mission of our Adventist message? 
I can tell you the focus on imminence wasn't a good thing for my uncle Nate. I had to face that reality one Sabbath afternoon. It was an alumni week-end at the secondary school from which he had graduated. Uncle Nate had traveled quite a distance to celebrate the reunion with his classmates. My husband and I lived on the boarding school's campus at the time, so he was staying with us. 
After Sabbath dinner, a number of us sat down in our living room to talk. The conversation reminisced about years past and how lives had been spent. My uncle was well into his 70's. Soon the conversation turned to events making headlines in the world at the time, and someone commented the end had to be near. 
I was shocked when he expressed doubt about the nearness of Christ's return. He recounted his time in academy, now more than 50 years past, when the constant message had been "time won't last long enough for you to have a career, let alone a family."

Uncle Nate took this to heart and became a colporteur after his graduation, selling books door-to-door that would encourage "the lost" to get ready. Time went by. The bookselling ended, and he became a successful businessman. He married and had a family. A World War took place. Surely Jesus would come now. Then the Korean War. Vietnam. Men on the moon. 
He paused his narrative. It was so quiet in the room, I could hear the insects offering a chorus of sounds outdoors. He was weighing his words and deciding if he should just say what was on his heart and be vulnerable. And then he did. He just blurted it out. "I don't believe it anymore."
Why imminence?
Early in the 19th century the United States experienced a resurgence in religious fervor. The Second Great Awakening. A farmer in Low Hampton, New York, William Miller, predicted Jesus would return about the year 1843 or 1844. A significant movement followed. The focus was on Daniel 8:14, "Unto two thousand and three hundred days; then shall the sanctuary be cleansed." Understanding that a prophetic day equaled a year of actual time and convinced that the term sanctuary meant the earth, Miller posited that this text foretold the time of the second coming of Christ. When it didn't happen, the phrase "Great Disappointment" was coined. From this experience emerged a group, the Sabbatarian Adventists who in time would become the Seventh-day Adventist denomination.
Disconnected from here and now?
How has a history of focus on imminence affected our denomination? I observe that for many of us the emphasis on imminence has insulated us from what is happening in the here and now. It moves our attention away from the current issues affecting the human experience. Climate change, poverty, violence. Don't worry, we reason. Jesus is coming soon. He will sort it all out when He comes. Push those life concerns to the side and focus on "getting ready." 
Is that what Jesus intended for His church? In Matthew 25, Jesus commends those on His right hand for their care for the poor, hungry, sick, etc. Has our focus on the 2nd Advent empowered us to live out such ideals? If not, why?
Jesus demonstrated compassion for the poor and addressed our response to poverty and inequality numerous times in His life and teaching. The poor were at the center of His concern. Is our confidence in Christ's return fostering that vision and prompting us to volunteer, donate, mentor, support?
Yes, now I am preaching! Perhaps allowing my own frustration with idle waiting to flow out! Ok. Granted, maybe this is the confession of a troubled conscience.
How about our beautiful earth that Jesus instructed us to care for? What an incredible opportunity we have lost as creationists and Sabbatarians by not being at the forefront of environmental awareness. We have justified our complacency by reasoning that the earth will eventually be destroyed, so what does it really matter? But care for God's creation is emphasized throughout the Bible. I'm admonished to love my God with all that I am and to love others as myself. My decisions and actions must support a healthy habitat for all humanity. For me, that means a plant-based diet, recycling, pollution reduction, renewal energy, etc. Could it be this is why so many young adults familiar with our Adventist faith see a disconnect in the church from real life? Yes, He promised to return. And we are commissioned to care for the earth till He comes. 
Polite anger
Well, I have succumbed to preaching! I will also confess to politely concealed anger. This obsession with end-time prophecies that accompanies the belief in imminence becomes pride and certainty for some. Too many. They have studied it all out and are quite confident in the way they see it all climaxing. And if you don't see things exactly the way they do, it's heresy. 
Some of my unrest is traced to the notion of vulnerability. A preoccupation with imminence has made many among us susceptible to individuals claiming to know how and when Jesus might come. We all value reassurance when the world appears to be chaotic and falling apart. It is inevitable that some are drawn to anyone who gives encouragement. Too often, reason is dismissed, and we become vulnerable to the charismatic teacher or preacher who seems to have all the answers. Those more than ready to speculate around current events with charts and timelines. 
Yes, I do have significant concerns surrounding this part of our corporate life. The notion of imminence has become so integrated into our culture that we have come to identify it as our Adventist identity. It is hard to imagine being an Adventist without that sense of imminence. 
We voice that God will come in His time not ours, that there is an appointed time and no one knows the time. But in our souls, we cling to the idea of imminence. Imminence has become part of our central belief. Even eclipsing the simple belief that He will return. That is a problem.
Return to joy
The Advent movement began with belief in Christ's soon return. Can we examine the meaning of soon? Soon can be the 18 minutes it takes for my chocolate chip cookies to bake. If you are anticipating the birth of a child, soon could be any amount of time up to nine months. May I offer just a bit of theology here? It is interesting that the Greek word "tachu," which is translated "soon" or "quickly," means "without unnecessary delay." It does not mean immediately. There it is. He will come without unnecessary delay. In His time. This year? The next century? Or….? In His time.
So we hope for His soon return. Our Lord. Our reason for being is rooted in the joy of that relationship with our God. God, who has demonstrated His love, and given His life for us. I hope because of what He did. We are people of hope. 
Hope is to cherish a desire with anticipation; to want something to happen. When I cherish a desire with anticipation I can't help but bubble over with joy and expectation. I can't wait to tell you all about it. I want to share the good news. Jesus is coming again. 
Hope (desire with anticipation) in the soon (without unnecessary delay) return of Christ restores our mission to do God's work now. To be in the world serving. We joyfully receive the stewardship of the here and now. We serve. We care for others, we care for the Earth. 
My uncle Nate was discouraged because he had become preoccupied with imminence. I embrace an alternative view. Jesus is coming soon – in His time, without unnecessary delay. And now, today, I find joy in trying my best by His grace to be a steward of this Earth, to share His love with all who surround me. Because of who He is. Because of what He has done.
---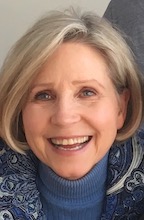 Joni Bell is a contented wife and homemaker with a dodgy past as a psychiatric nurse. She divides her time between Maine and Tennessee.