by Norma Osborn   |  13 October 2023  |  
To recognize the Conference on Women in Adventist History that is happening this weekend at Sligo Church in Maryland, we asked retired pastor Norma Osborn to remember her ordination—and address an important question.
It was September, and the year was 1995. Pastors and members of Sligo Adventist Church were determined to do something about the injustice of the vote of the General Conference Session in Utrecht, Holland, that effectively denied ordination of women to the pastoral ministry. 
It had felt like "putting women in their place"—which meant a woman's place was not in the pastoral ministry as an equal alongside men.  
Many in Sligo were frustrated. They responded with a pastoral ordination service at the church, regardless of what the General Conference had voted. It was a turning point for me, because I was asked to be one of those ordained, along with Kendra Haloviak and Penny Shell. 
A satisfying role, except…
Since July 1, 1987, I had been Pastor for Children's Ministries at Sligo. It was a time of great joy and fulfillment, and even then as I looked back at events that led up to my call to be at Sligo I could see how everything had worked together in an amazing way. 
Then one Sabbath as I left church (my husband and family had gone on to lunch, and I was to join them), I started sobbing. Was I where I was supposed to be? Was the person who had just questioned my legitimacy as a pastor right? I drove the long way around to lunch and at one point finally pulled to the side of the road, took my Bible and opened to the front page, and wrote: I'm here, Lord. Use me.
Looking back on my life, I am incredulous at where I have been, and I'm deeply grateful for the journey that has brought me to this point of my life. Much has been learned along the way. 
I didn't go into pastoral ministry because I would or would not be ordained. I went into the ministry because the call came. Many heartwarming experiences have occurred—as well as some that are not worth repeating. 
Ordination vs. calling
Still the ordination issue looms large—at it should, in my opinion. 28 years later, women are still wondering, "Should I go into the pastoral ministry or wait until the world church officially recognizes the calling of both women and men and receive equal credentials?"
During my early pastoral years, there were very few women entering the ministry. For those who did, the big issue was whether to take part, or to hold off until ordination was officially voted by the governing body of the world church. Among both pastors and members, this issue was divisive. 
It still is. We know there are churches where women pastors receive ordination, there are churches where women pastors are commissioned, and there are churches that will not accept women as pastors in their pulpit. 
There are still people who have never seen a female pastor. I have met girls and young women who were surprised when I introduced myself as a pastor, because they assumed it was a position given only to men. 
As a minister of the gospel who has been ordained and has had the privilege of serving as a pastor in the Adventist church for 25 years (now retired), I want to encourage women to be courageous and faithful in answering God's call. 
As you serve and are in the position to be acknowledged by your church congregation and governing leaders, here are some lessons I would share.
Change happens slowly
You have been given the call to follow God's leading in your life, even within the church that has been your community and at the same time your difficulty. The official church governing body finds change difficult. Systems, especially religious ones, tend to hang on to the past and resist that which may upset boundaries or long-held understandings. 
Even though we sing "We Have This Hope" about our future, it does not necessarily give us hope that change will happen very fast—if at all—on this earth. Change will only happen in our hearts, and spread slowly in our homes and communities. So humbly, and with the grace of God, live "in the now." Know who you are, know that God has called you, and the question of what to do will become clear. 
Community empowerment
When the time comes for your ordination, commissioning, or whatever it is called, it will be empowering. The knowledge that you have been given that blessing is important. 
Several months after my ordination service, Dr. William Johnsson approached me and said that I seemed more empowered as I served the church. He wondered what I attributed that to. I replied that it was because, wonderfully, I had been given an ordination blessing by the church members I served and the pastoral staff I worked with! They had acknowledged and recognized that God had called me to be in their midst. 
It's all very well to realize that God has called us—and we can say that's all we need. But it wasn't all I needed. I needed blessings from God's people on earth. Affirmation is a necessity for a life well lived. It is part of what holds us, supports us, and fosters our energies. It truly connects us.
Give and receive this blessing
As a church, as well as individuals, we have had the gall to withhold these blessings when we have had the power to give them. What right do we have to withhold those blessings—whatever those blessings may be? 
Be willing to receive and give blessings. It is a compelling and potent way to enrich a person in whatever they have been called to do. 
In my case, it was the members of the congregation I served that wanted to ordain me and needed to ordain me because of their understanding of what it meant to be part of a community that believed in justice and equality. Little did I know at the time how much this blessing would empower me. I served them and found that in return they gave me the blessing that empowered me for God's work.
Listen and trust
Sometimes we have to be in places God calls us to be even though we had never planned it that way. When that happens, listen to those you trust and who you know are persons of integrity. 
When I was given the call to Sligo church I wasn't sure whether I should do it. I loved teaching, and had known as a child I was going to be a teacher. My husband suggested that I should give ministry a try, since I could always go back to teaching if I wanted to. 
What an incredible move! It was what God was preparing for me all along! 
As I was trying to decide whether or not to take part in the (somewhat rebellious) service of ordination, I called Lawrence Geraty, my brother-in-law, to ask for his advice. Specifically, I asked him if it would do more good than harm to take part in the service. He encouraged me, using the example of Queen Esther, to remind me that sometimes we have to be in places God calls us to be even though we had never planned it that way. 
Working for justice
The women and men who have gone before us and still work beside us have taken on the task of working for justice and equality, and I am filled with gratitude to them. We need them, and I applaud them. 
When my son, a pastor in the Southeastern California Conference, was given the opportunity to be ordained, he was reluctant. Did he want to be ordained to a church that was so exclusive? Was this the church he would want his two sons to grow up in? Would he be accepting the discrimination of women, including his own mother, by taking part in an ordination service? 
I encouraged him—and he stood tall. He had women—Kendra Haloviak, Sandra Roberts, myself, and the women in his church—affirming his calling. 
The Adventist church has been good to me, and I value my upbringing and experiences. I find my community here, even though I may choose to believe differently on some points of doctrine. I choose to go to a church where I can grow spiritually, and that may limit some of my choices. 
That's all OK. God is still my anchor. Jesus is my Savior. The Holy Spirit is my comfort.
However you were called, whatever circumstances you are facing. whoever surrounds you, being called by God is an awesome calling. You will be blessed. You are blessed. 
---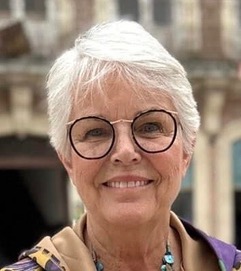 Norma Osborn is a retired pastor, who has served congregations in Maryland and California. She's married to educator Richard Osborn.