By Debbonnaire Kovacs, Dec 16, 2015     As Tiffany Hoekstra from Loma Linda University Children's Hospital Foundation told me, "I don't want to say positive—there was nothing positive about this horrible shooting! But I do think that from that tragedy there was a sense of community and wanting to support each other.
We were speaking of the record numbers, both in the sense of participants, and actual donation totals, from two recent fundraisers at LLUCH. Below are the two press releases from the hospital media about the two events, but first, a few comments from Hoekstra.
She said that the hospital has been a client of K-FROG 95.1 radio for years, buying advertising, publicizing events, and so on. So in 2001, when the station wanted to give something back to the community, LLUCH was a natural beneficiary.
"They are very supportive of a lot of charities within the Inland Empire," she said, "and the children's hospital affects so many in their own back yard." So Stater Brothers, a grocery store chain, and K-FROG joined together and for fourteen years have raised funds through a radiothon. In other years, this has been a two-day event, raising (recently) in the neighborhood of $275-280,000. This year, in just one day, they raised nearly $320,000.
This despite the fact that the shooting happened while they were on the air and "the phones went dark for a few hours. But then some people were calling in in memory of people who had died, and I honestly think it did have an impact," Hoekstra said.
This reporter suspects it's an impact that is opposite of what the shooters might have hoped for.
Hoeskstra is involved with the Quaid Harley-Davidson Toy Run, as well, and she said, "We had motorcycles from LA, from Orange County; we've never seen those numbers before. I think it was a direct impact with people wanting to come and support this community."
If any of our readers would like to add to the funds for the children's hospital, they may call the LLUCH Foundation at 909-558-5367 or go to www.gofundme.com/kfrogradiothon.
Read on for the specifics on each event, in press releases sent by Briana Pastorino, Media Relations Specialist.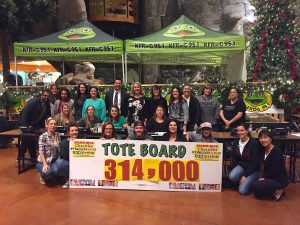 RANCHO CUCAMONGA, CA., December 14, 2015  K-FROG 95.1 FM has once again dedicated its airtime to raise funds for patients on the hematology/oncology unit at Loma Linda University Children's Hospital (LLUCH). The 14th annual Stater Bros. Charities K-Froggers for Kids Radiothon raised nearly $320,000.
At the end of the Dec. 2 event, which broadcast live from Bass Pro Shop from 5am-7pm, the total raised was a phenomenal $314,000. However, the outpouring of support continued in the days following as the community continued to make donations online, bringing the total up to almost $320,000.
In the wake of the tragic shooting in San Bernardino, some donations were made in memory of the victims. "There was still so much support from the community," said Tiffany Hoekstra from LLUCH Foundation.
Over the past 14 years, K-FROG has raised over $5.3 million for LLUCH through the radiothon alone.
"We are so incredibly grateful to Stater Bros. Charities for their tremendous support of this wonderful radiothon," said Jillian Payne, executive director, LLUCH Foundation.  "The K-FROG listeners really came through for our patients as well. Their support will provide hope and healing to children battling cancer through the holidays and all year long."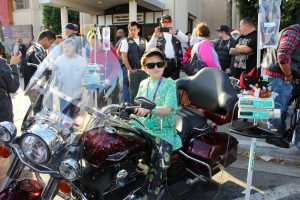 LOMA LINDA, CA., December 15, 2015 – Patients at Loma Linda University Children's Hospital (LLUCH) were greeted by a swarm of motorcycles on Sunday, Dec. 13, as riders from all over Southern California participated in the 23rd annual Toy Run presented by Quaid Harley-Davidson.
In what was probably the biggest crowd in the 23-year history of the toy ride, there were nearly 700 bikes participating, raising over $10,000 for the hospital and bringing in a massive truckload of toys for patients.
"As much as our community is hurting right now, this shows the amount of love and generosity that does exist," said Jillian Payne, executive director, LLUCH Foundation said to the participants during the event. "Every year we see this event grow, and we are so grateful for everything this group continues to do for the kids here."
Riders from bike crews across Southern California participated in the toy run, which started at Quaid Harley-Davidson in Loma Linda. Riders donated $10 and a new, unwrapped toy to participate. Proceeds from a BBQ lunch at the shop also benefited LLUCH. Participants caravanned from Quaid Harley-Davidson to the hospital, making a loud, enthusiastic entrance onto the property.
Patients were invited to sit on one of the bikes, and Zander Moncada did not hesitate to take advantage of the opportunity. The 11-year-old from San Jacinto confidently perched himself on the motorcycle, posing for photos. He said he likes motorcycles and was really enjoying the afternoon.
The Quaid brothers expressed their appreciation to the crowd as well as to the staff at the hospital for their dedication for the kids in the community.
"This place is special," said Gordon Quaid. "The work done here comes from the heart."
Photo credits, LLUCH Media Relations