by Sam Millen  |  24 February 2020  |
Last weekend I traveled to Boulder, Colorado, for my sixth One Project gathering. (There have been many more). You could say I'm a veteran by now, but only as an attendee. I'm not involved in any official capacity. IMHO (in my humble opinion), the One Project is the best thing that has happened to me spiritually in the last decade, and the best thing that has happened to the Seventh-day Adventist Church. Which is why I keep going.
This gathering was noticeably different. The chosen venue was Boulder's Adventist Church sanctuary. The signature round tables I had become accustomed to were missing. I must admit to a pang of nostalgia, as I knew I would miss the dynamic table discussions I had experienced as a highlight of my One Project journey. No matter how large or small the gatherings had been, after each speaker's reflection, the round tables had provided an intimate setting to make new friendships and enjoy connecting conversations. Those opportunities would now have to be saved for our mealtimes at Boulder's fine eateries.
The gathering officially started on Sunday morning with incredible music. The worship teams from the Forest Lake Church, Florida, and later on, the Kettering Church, Ohio, led us through a phenomenal experience which could never be adequately captured in print. The backdrop for the stage was an absolutely dazzling giant screen, used masterfully to enhance our praise and worship through bursts of light and color. Just as the cathedrals of old were designed to inspire worshipers with awe as they couldn't help but marvel at the splendor and grandeur, the event's producer, Rod Long (who had flown in from Australia with his wife, Zan), was able to use technology to elevate our thoughts towards God's brilliant radiance.
Jesus. All.
As has been made clear from the start, the vision for the One Project is "Jesus. All." The theme for this particular gathering was "The Great Disruption: Jesus' Unprecedented Confrontation with Politics, Theology, and Belonging." Alex Bryan, former pastor at the Walla Walla University Church and current Mission and Culture Executive at Adventist Health, lamented the present-day political climate in America and confronted us with a reality described by James Garfield, America's 20th President.
"Now more than ever before, the people are responsible for the character of their Congress. If that body be ignorant, reckless, and corrupt, it is because the people tolerate ignorance, recklessness, and corruption. If it be intelligent, brave, and pure, it is because the people demand these high qualities to represent them." (July 4, 1876)
At the end of the gathering, all of the speakers were given an opportunity to answer questions submitted electronically by the audience. Alex was able to clarify his position as non-partisan, but a higher calling for Christians to use their prophetic voice regardless of which political party is in power.
Alex was followed by Tim Gillespie, lead pastor at the Crosswalk Church in Redlands, California, who poignantly contrasted "theology" ("theos" is the Greek word for God) with what he called "meology." It was a powerful reminder of where our focus should be as individuals, and as a church. The challenges we face as a faith community and in the larger society around us cannot be overcome by us alone. What we need is God working through us to enlarge his kingdom.
Japhet De Oliveira spoke next. Japhet pastored the Boulder Church until recently, and is now the Administrative Director at Adventist Health's Center for Mission and Culture. Japhet was able to avoid the combustible political landscape in America by shifting our focus across the Atlantic and drawing on his experiences as a Brit with a darker complexion. After citing several cringeworthy examples of thinly veiled racism directed at him both within the church, and outside its walls, he appealed to us to take a closer look at our values. It is our values that will determine the direction we are going, both as individuals and collectively as a denomination.
Sunday
On Sunday afternoon, the next three speakers shifted the focus from politics to theology. Paddy McCoy, the young adult pastor at Kettering, questioned whether our doctrinal system as a denomination had become so "airtight" that (perhaps inadvertently) we haven't left any room for the Spirit, even though our preamble to the Fundamental Beliefs claims we will. With a stark image of a once beautifully ornate church sanctuary now dilapidated and abandoned on the screen behind him, Paddy urged us to follow what God is doing right now, or our churches will quickly become obsolete.
Following Paddy, Tacyana Nixon, the Teaching Pastor for the One Place Fellowship at Andrews University, started her reflection with a beautiful prayer song. Her plea to us was to evaluate the object of our faith. Do we believe in a god who is only a little bigger and smarter than us? Tacyana pointed out that her own husband happens to be (quite a bit) bigger than her, and perhaps a little smarter, she said with a gleam in her eye, but then quickly added in jest how she can change his mind in a split second. A god who always agrees with us and does our bidding, a god in our own image, is not a god worthy of our worship and adoration, and certainly not the God of the Bible who works in mysterious and unexpected ways.
The current pastor at the Walla Walla University Church, Andreas Beccai, ended the first day of the gathering with a visceral illustration painfully extracted from an awful dining experience he endured at a restaurant in Rome (Italy). We may have lots of theological expertise like the Pharisees and the teachers of the law in Jesus' day, but Jesus called them hypocrites and whitewashed tombs, "which look beautiful on the outside but on the inside are full of the bones of the dead and everything unclean" (Matthew 23:27, NIV). Unless our doctrinal offerings emanate from Jesus' love, they were likened by Andreas to the fancy garnishes trying to embellish his stale meal at the ill-chosen and illness-inducing eating establishment in Rome.
Monday
The final three speakers took to the stage on Monday morning. Their task was to focus on "belonging," and as expected, the echoes of sentiments shared the previous day were heard frequently. Lisa Clark Diller, who is the History and Political Studies Department Chair at Southern Adventist University, referenced the work of John Swinton, a leading voice in the theology of disability, as she challenged us to think about the barriers we (often inadvertently) create for those who don't fit a certain mold. In the end, we are poorer as a faith community when certain classes of people don't feel welcome. We miss the valuable insights and ministry only they can offer us. When we welcome and minister to all, all in turn can minister to us. The greatest example of this is the incarnation. God in Jesus Christ dis-abled himself in order to serve us, to minister to us, and to save us.
Following Lisa, Iki Taimi, Senior Youth & Young Adult Ministries Director at the Southern California Conference, shocked us with a startling statistic from the General Conference Office of Archives, Statistics, and Research. Since 1964, about 15 million members have left the Adventist Church, and young adults comprise two-thirds of that number. With a high-definition brick wall on the screen behind him, Iki echoed a thought previously shared by Tacyana regarding a god only a little bigger and smarter than us. Iki emphasized, "If we think our job is to protect God (behind our walls), he is a small god." Then dovetailing on Andreas' garnish illustration, Iki reminded us most of the 15 million people left simply because they weren't loved. He proceeded to share a tragic tale as an example we could all relate to.
Sam Leonor spoke last. Sam had been La Sierra University's chaplain for over two decades and recently assumed a new role as the Administrative Director for Mission and Spiritual Care in Adventist Health's Southern and Central California regions. Sam was my favorite presenter, not only because it's impossible not to like him, but because his message resonated deeply with me as a local church pastor. Here is Sam in his own words:
"I know in an audience this big many of you have already given up on church, or are about to, or many of you are already swelling the ranks of the, 'Okay I'm spiritual but not religious. I'm good here.' I know that. I also know that many of you watch church online, and I'll tell you this right now because I watch church online too, especially when I miss church, and I'm not there … I watch every weekend when I miss it. Online church can only arouse our need for community but can never satisfy it. Especially you young people here, you 60 college students. The time we spend online is only reminding us that we need community, we're built for community, but ultimately it cannot satisfy, which is why we need to be together.
Sam continued with this bold statement:
"I love church. Church raised me, and taught me to love Jesus. It gave me meaning, and vocation, and mission, and community. Marriage! A place to raise my kids. It's one of the reasons why we started this whole thing. The One Project. It was because we like church. One of the sharpest critiques we have gotten is that we don't. And that's one of the wrongest [his word] critiques."
Sam then quoted Timothy Gorringe, who writes,
"Faith in the resurrection is the ground on which Christians hope for a different future, a transition to a society less destructive, more peaceful and more whole. Living in this hope grounds the Christian ethic of resistance and calls ekklesia [the church] to live as a 'contrast community' to society."
In keeping with the theme of "disruption," Sam emphasized, "One of the most disruptive things we can do is life together – church."
Despite enduring many false allegations, the One Project has never apologized for causing disruption in the Adventist church. It has embraced that role fully. Not for the sake of creating chaos and drama, but for the sake of "Jesus. All." My only request to their leadership team is to choose a warmer location for the next North American gathering since I probably won't be able to make it to Sydney (Australia) in October.
---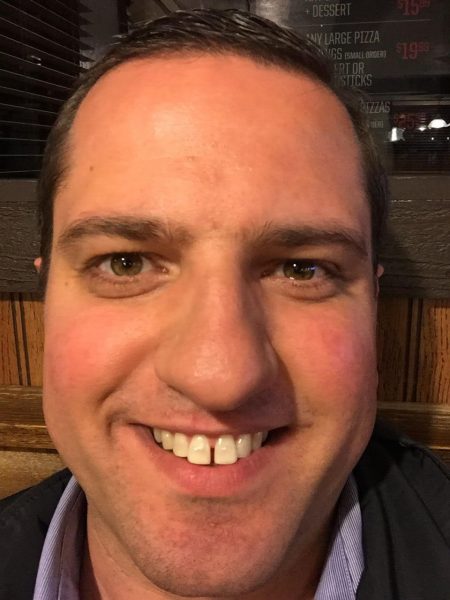 Sam Millen is the pastor at Anacortes Adventist Fellowship in Washington State.