by Samuel Jeudin & Christopher C. Thompson |  9 June 2022  |

One of the greatest failures of the Christian church is that we spend so much time preaching that we haven't cultivated the ability to listen. Given the depth and pervasive tragedies and injustices in our world, this failure borders on egregious, and in some cases is almost unforgivable. We have such a tremendous opportunity to engender dialogue that can lead to transformation in our families and communities. Yet we are usually intent on people's hearing us, rather than our developing an ear to hear.
Hip-Hop forces us to listen and (resisting the temptation to censor the artists and purveyors of the culture) engage thoroughly with the sentiments of those within the culture who have been dehumanized, disenfranchised, and often disqualified. Hip-Hop also provides us with countless opportunities for us to revisit and to recast Biblical principles in new light in order to better communicate with multiple generations who have no church affiliation.
At the end of his conscious, thought-provoking, critically acclaimed album entitled To Pimp a Butterfly, Kendrick Lamar recites an abstract and picturesque poem about the beauty, the uneasiness, the frustrations, the inner turmoil, and final triumph that come with every season of transition. He juxtaposes the lowly, unassuming caterpillar against the emerging and majestic butterfly. He compares and contrasts their modes of operation, and their overall outlook on their respective positions and predicaments in life:
The caterpillar is a prisoner to the streets that conceived it
Its only job is to eat or consume everything around it in order to protect itself from this mad city.
While consuming its environment, the caterpillar begins to notice ways to survive.
One thing it noticed is how much the world shuns him but praises the butterfly.
The butterfly represents the talent, the thoughtfulness, and the beauty within the caterpillar.
But having a harsh outlook on life, the caterpillar sees the butterfly as weak and figures out a way to pimp it to his own benefits.
Already surrounded by this mad city, the caterpillar goes to work on the cocoon which institutionalizes him.
He can no longer see past his own thoughts.
He's trapped.
When trapped inside these walls certain ideas take root, such as going home, and bringing back new concepts to this mad city
The result?
Wings begin to emerge, breaking the cycle of feeling stagnant.
Finally free, the butterfly sheds light on situations that the caterpillar never considered;
Ending the internal struggle.
Although the butterfly and caterpillar are completely different
They are one and the same
The Apostle Paul, like the butterfly, was locked up in chains and in the midst of a transition himself, having gone through a metamorphosis—a spectacular transition from a persecuting, cynical, and self-righteous rabbinical caterpillar to a persecuted but gracious and grace-filled butterfly. He had now been made aware of his personal charge of carrying the good news of a risen Christ to his world. In his letter to the Philippians, he is solely focused on the joy that can be experienced even through the uncertain seasons and transitions of life.
From the onset of his epistle, he reminds the saints at Philippi that God is always working on them, transforming them into what He wants them to be. In chapter 1 he says, "I thank my God every time I remember you. In all my prayers for all of you, I always pray with joy because of your partnership in the gospel from the first day until now, being confident of this, that he who began a good work in you will carry it on to completion until the day of Christ Jesus" (Philippians 1:3-6 NIV). Paul's mindset was like that of Martin Luther King Jr. on the eve of his assassination.
In Memphis for a demonstration on behalf of sanitation workers who were being unjustly compensated, Dr. King said in his closing remarks:
Well, I don't know what will happen now. We've got some difficult days ahead. But it doesn't matter with me now. Because I've been to the mountaintop. And I don't mind. Like any man, I would like to live a long life. Longevity has its place. But I'm not concerned about that now.
I just want to do God's will. And He's allowed me to go up to the mountain. And I've looked over. And I've seen the promised land. I may not get there with you. But I want you to know tonight, that we, as a people will get to the promised land. And I'm happy, tonight. I'm not worried about anything. I'm not fearing any man. Mine eyes have seen the glory of the coming of the Lord.
Paul also understood the difficulties that come with transition. Ever since he met Christ on that fateful road to Damascus, his world was turned upside down. When Jesus interrupted his course, his life crumbled like chocolate chip cookies having been soaked in milk; his life came crashing down like the walls of Jericho.
Let's count the ways. His eyesight went bad. He was expelled from his fellowship of Jewish theologians. He may have experienced the loss of a spouse. He was beaten and thrown into prison. He was stoned, shipwrecked, bitten by a snake, and taken before authorities. If anyone knew the school of hard knocks through transition, it was Paul.
As a matter of fact, just to show you to what depths the life of Paul unraveled after he met Jesus, let me remind you that this letter is written from Rome while he is in prison awaiting his execution. All this while trying to transform the world with the gospel. Surely along the way, he learned some key elements of the kind of mindset one must possess in seasons of transition and transformation. He said,
Brethren, I count not myself to have apprehended; but this one thing I do, forgetting those things which are behind, and reaching forth unto those things which are before, I press toward the mark for the prize of the high calling of God in Christ Jesus (Phil 3:13, 14).
Forget
Sometimes the best thing we can do is to forget. They say in sports, the athletes who have short memories are the ones who often have great and/or memorable careers. It was Michael Jordan, arguably the greatest basketball player to ever play the game who said, "I've missed more than 9,000 shots in my career. I've lost almost 300 games. Twenty-six times I've been trusted to take the game-winning shot— and missed. I've failed over and over again in my life. And that is why I succeed." And when the Christian develops this same ability or trait, she is able to keep it moving and go from victory to victory and from glory to glory.
When you're on the Christian journey and you're trying to make it to where God wants you to be, you have to have a short memory. You've got to learn to forget the times you've messed up. You've got to learn to let go of the times you've fallen short of God's glory. We punish ourselves for our mistakes often more than God does. I hate messing up, and I hate when things don't go the way I had planned for them to go. When I mess up, or when a plan fails, it often takes me days or even weeks for me to get over it and move on. Sometimes I play a situation over and over and over again in my mind and analyze what I did wrong and until I find my mistake, I don't want to deal with anything else. Sometimes when people try to encourage me through my mistakes, I inadvertently shoot down their attempts because all I can see is my mess-up. The Lord says, "For I will forgive their iniquity, and their sin I will remember no more'" (Jeremiah 31:34, NET). Micah the Prophet says, "You will once again have mercy on us; you will conquer our evil deeds; you will hurl our sins into the depths of the sea" (Micah 7:19). We have to learn to trust in the promises of God over our mistakes.
Reach
The word here for reach can also be translated as stretch. While in transition, we must believe that what God wants for us is attainable. In reaching and stretching toward the goal, we demonstrate that we believe it can be done even before we get there. There's a saying that goes like this, "Believe you can and you're halfway there." When we reach, we become partners with God who is constantly reaching out to us and seeking to help us reach new heights in both, our spiritual experience and our temporal lives.
Press
When all is said and done, we need to press forward. The Greek here means to run swiftly after something or someone in order to catch it. Paul himself was a fan of sports and used the imagery of the races that the people of Philippi liked to attend. The runners ran hard. They gave it all they had. They did not relent until they either won or crossed the finish line. In order to reach the goal that is placed before us, there must be no stopping and no turning around. Until we search for God and run after Him with reckless abandon, we will never understand what it is like have real joy amidst the trials and vicissitudes of life.
The Christian has got to keep it moving and press on! It will get tough, but you've got to press on. It will get dark, and you won't be able to see the end but you've got to make your mind up to keep running. The enemy will discourage you; he will put obstacles in front of you and blow out the bridges you've gone over behind; he will plant seeds of doubt in your mind; but through it all, you've got to press forward.
As we listen to Paul talk about the power of the gospel to transform lives, we must not miss the power of the gospel to complete the work of transformation of the collective community. God has not simply promised to transform each Christian, but also the church as a whole. In the same way, we can't help but see that Kedrick Lamar has a vision for the transformation of the black community as a whole. And certainly, while King talked about his own transition, he also envisioned a transformed nation that embraced the principles of diversity, equity, justice and harmony. Today it feels like we have a very long way to go to get there. So many minorities are fighting on several fronts just to feel safe, included and accepted as valued members of society.  Nevertheless, we press…because we know that the work of transformation does not happen, with one march, one protest, one piece of legislation, one scripture, or one poem.
This might sound surprising, but it's nearly impossible to listen to Kendrick Lamar without hearing these elements. He's not your typical recording artist. Rather, all of his music forces the listener to reflect on the weightier matters like the words of Dr. King and the timeless wisdom of Paul. Here's to more careful listening, meaningful dialogues, and transformative engagement on the front lines of our communities.
---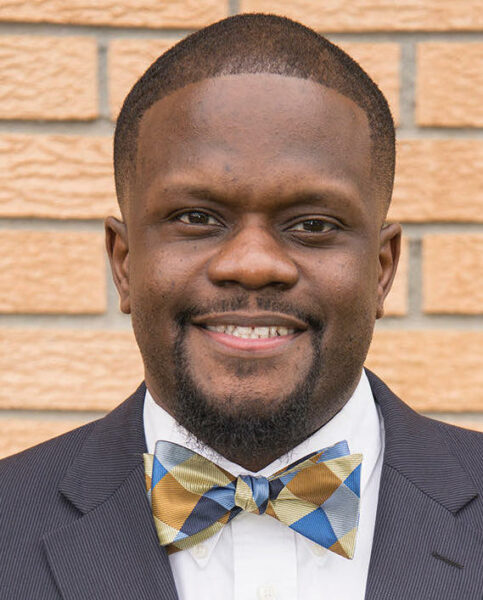 Samuel Jeudin is an Air Force chaplain, a music enthusiast, photographer, and certified "Hip-Hop Head." When he's not working with airmen, he's watching boxing or sharpening his own boxing skills. He and his wife, Angel, live in Texas.
Christopher C. Thompson writes about culture and communication at thinkinwrite.com. He's the author of Choose to Dream. When not writing, he's jogging or binge-watching Designated Survivor. He's married to Tracy, who teaches at Oakwood University.