by Warren Nelson
The last time
In December, on the way home from a wonderful trip to the Florida Keys, my wife of 42 years made a comment that detonated in my brain. As we lifted off from the runway in Ft. Lauderdale, she said, "Well, I guess that's probably the last time we'll see the Florida Keys!"
It was an off-handed remark, just a comment on the fact that we have a lot of other places we want to visit but, having just celebrated my 64th birthday, I realized that the Florida Keys are very likely one of a very many experiences I will never, ever have again.
And, this little existential exploration began.
Dealing with death
Having experienced a year's worth of loss that included my both parents, two aunts and my wife's uncle, I've gotten to experience, first hand, Christians dealing with death from the outside looking in. Some of it has been inspiring, most has been a "Huh?" experience and a few have been of "What are you thinking?" variety.
The list of cliches and comments that don't work is nearly endless and documented elsewhere, but probably most evident, is "Don't be sad, they're in a better place," in some form.
And, as anybody who is suffering a fresh loss knows, it is the furthest thing from comfort one could get.
Also at the top of heap are "prayers for healing," a fraught topic if there ever was one and worth its own article.
And the list could go on.
Christians deal with death in many way, some helpful to everyone, some helpful to themselves as they face loss, and some in ways that are, at best, useless and, at worst, damaging.
Adventists aren't the only Christians who have challenges with dealing with immediate consequences of loss. Many times our trust in the "healing power of God" leaves us completely unprepared when the event occurs. Prayers for safety in travel are are sometimes, apparently, answered by God with a resounding "No!"  And, finally, attempts at comfort are clumsy, at best, and our fear of our own mortally create a distance between us and the poor soul experiencing the loss of loved one.
Finding meaning in loss
Recently I came across the following story from two different sources. Both present the story in powerful but different ways.
This is not, unfortunately, a unique event, the loss of very young child to a horrible disease.
This Christian father's approach, creating a video game about his child dying, is by turns it is puzzling, heart-wrenching, funny and ultimately, an amazing story of an unresolved search for meaning in death.
It is not easy to read or listen to. But both versions deal with death in an open, honest way that is rarely found in Christian literature. Here are two links to the story. One is an article in "Wired" magazine. The other is an episode from a podcast titled "Reply All."
That Dragon Cancer: Playing for Time
This article from January 2016 issue of Wired magazine shares the story of an infant with a brain tumor. It's an astonish attempt by the father to use his computer game writing skills to make sense of this tragedy.
"If I look at the game objectively," Amy says, "of course it's all just to make his life matter. You wanted his life to matter so much, and he died young, and in a lot of ways his life will only matter if we make it matter." (This clip is trailer for the video game Kickstarter campaign)
The Cathedral
The January 7, 2016 episode of Reply All, a Gimlet Media podcast, tells the story from slightly different perspective. It includes audio from the final prayer service for Joel. He died later that night. In this excerpt from the podcast, Joel's parents, Ryan and Amy, lay out the fundamental problem;
INTERVIEWER: What's your strongest memory from that night?
RYAN: I think it's just realizing that he was going to die that day. And that, I don't know, it's that space of being with a bunch of people that desperately want the same thing that you want, and are crying out for that grace and that mercy to kind of invade a situation.
INTERVIEWER: Joel died later that night. It was March 13, 2014. And even though he had been terminal for more than three years, Amy said that at that moment, she was completely unprepared.
AMY: I feel like in a way because we were believing that he would be healed and because we were believing that even if he died maybe he would be raised from the dead, don't need to put that in your story because it's weird, and I so get that it's weird, but because we still believed that he could live, I feel like we didn't go through all the processes of getting ready for him to die the way that maybe you would if you were certain that this was it.
What to do?
In my experience there are no easy answers. Comfort in loss means something different in every situation. We all grieve differently. This means there are many right ways to comfort those in mourning and also many wrong ways.
Maybe we can start by tossing out our pat answers. . . it's kind of up to you.
---
About Commenting
The goal of writing these short essays to highlight the world I live in and to stimulate conversation and not, necessarily, to find answers or solutions. Hopefully, in these comments, we can share what worked in coming to terms with the loses we all have faced.
Adventist Today has a history of largely unmoderated comments. It provides a much needed "open" space for Adventists of all stripes to discuss the content provided here without "oversight." (See our Comments Policy here.)
Private Feedback
However, many folks are not suited to the "wild, wild West" that is our Comments section. They may not enjoy arguing for the sake of arguing or debating proof texts, however entertaining this maybe. So we are beginning an experiment with a new tool that will hopefully allow those who would like to comment directly to the author without the to and fro of the Comments section to do so.
Simply click this link and you'll be taken to a short survey form where you can leave a note to the author. Unless you give us specific permission to share it, it will remain private. If you request a reply from the author, we'll do our best to respond, but please understand that we all live with significant time restraints.
One occasion, we may update a post with excerpts from these notes. We won't do this without your express permission (you check the box) and they will always be anonymous even if you check the box.
We look forward to hearing from you in either venue!
---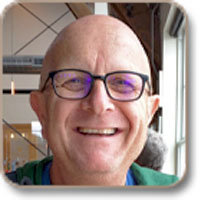 Warren "Butch" Nelson is a congenitally-curious, nap-loving, ultra-running, gadget-freak, people-loving husband, dad and grandpa. He writes from Washington state.