By Paul Perez  |  11 May 2021  |  
Being a man of 40 and deciding to return to school after 16 years is difficult. And, I'm a Roman Catholic which is, frankly, sometimes difficult too. The moment I utter the word "Catholic" I brace myself for the typical response: "oh." 
And this last was especially true when I found myself at a Seventh-day Adventist university.
A new start
I was at a point in my life where I was reaffirming my Catholic faith and re-establishing my identity as a Catholic.
My becoming a graduate student at La Sierra University consisted of a series of "oh" reactions. I should be clear that my expressions of "oh" were curiosities, not blind surprises or disappointments. But it was from these "ohs" that I began to develop a pattern of how I needed to mentally and spiritually adjust as a Catholic graduate student at an Adventist university. 
The first week of my first quarter at La Sierra University was definitely an adjustment for me. In my Language and Linguistics class, I noticed I was the only student without a laptop in front of me. I'm from a generation that learned to take notes with a yellow legal pad and a No. 2 Dixon Ticonderoga pencil. I saw hydro flask water bottles stationed next to each student too. My classmates brought in salads, small snacks, and to-go meals from the commons. All I had with me for class was my messenger bag and the essential class materials: notepad, pencil, and a few highlighters. It made me think that my Adventist counterparts were always hungry and I, the Catholic, was the one who was always fasting—even when I didn't have to fast! 
Then again, I was a returning student on a mission to bring my Catholic holiness to a whole new generation of young Christians—or was it the other way around? 
The Adventist lifestyle
As the weeks of my first quarter went by, I slowly began to learn about the Adventist way of life. Take, for example, the vegetarian food selection of the university commons. It was freshly stocked with nutritious food, but when I wanted something meaty, something with high protein, I found that there weren't any choices to satisfy my carnivorous needs. I mean, I love salads with fresh vegetables, as well as quinoa and pizza, but the expression on my face after surveying the available food choices was "oh." Maybe, I thought, it would have been better for me to eat off campus instead.
One fall day, after I taught my morning freshman composition class, I strolled into the Eagle's Nest Cafe, the campus spot for small bites, and discovered this sandwich by the name of the "Adam Bomb." I didn't understand the name or its connection to the university or its relationship to being an Adventist, but it was incredibly delicious, and I thought at that moment my "oh" would become "ah"—which is how I describe moments of wonderful new discoveries. The sandwich consisted of two thick Texas toasted slices of bread with grilled cheese, filled with a burger, lettuce, tomato, red onion, feta cheese, buffalo sauce, and ranch dressing. I had discovered a miracle. 
No longer was I fasting. Upon this discovery, Adventism was clinging to me—and this was just the beginning.
Spiritual life
One of the reasons I chose La Sierra University was the excellent and scholarly reputation of the English department faculty, and to gain experience as a college writing instructor. Graduate students were given the opportunity to teach freshman composition for up to two full academic years, and practice in being a college writing instructor was an incredible opportunity for me. 
Aside from grading written assignments and planning lessons for each class session, I knew my purpose was to bring my spiritual life into the classroom—which in my case was Roman Catholic. At the start of each class, I opened with a prayer. I was hesitant at first, because I was not sure how the students would receive it—though I did openly admit I was a Catholic on the first day of class. 
It was interesting to me that students attended chapel on campus. On a beautiful fall day on campus, I wandered down to Matheson Chapel, on the west side of campus between Calkins Hall and South Hall. I discovered that it was not a prayer chapel after all. I had an "oh" moment. I wondered why it was not furnished as a place of quiet meditation and prayer. 
My spiritual director Father Ralph from Saint Patrick Catholic Church had advised me that one does not need a chapel to pray in. God was always available to hear your prayers and be present with you at all times and anywhere. Father's holy advice proved excellent when I began teaching freshman composition for the university. 
I knew there were going to be differences in religious practice, but I was happy just to be a part of a Christian environment where prayer was universal. I also realized that we are all Christians, and I tried to bring Jesus into the space I created in my classroom. It was a joyous experience, because I always embraced prayer whether it be in the mental or vocal form. 
Spiritual people
Since I had been away from academia for quite some time, it was important for me to begin to fit my life to a new role. I consulted with Dr. Melissa Brotton, the English Department Chair, to help guide me in functioning better as a new graduate student, and this was a captivating "ah" moment. Dr. Brotton met with me during her office hours and the first thing we did together was pray. At this moment I was reminded of Matthew 18:20: "For where two or three are gathered together in my name, there am I in the midst of them." 
Dr. Brotton is a very spiritual person and she reassured me and guided me. I spent a complete hour with Dr. Brotton as we went over my goals, aspirations, past failures, and developed a rigorous plan for time management. This kindhearted, respected Adventist professor was a messenger that the angels arranged for me: Amen. 
It was in this one-hour session with her that I no longer felt like a foreigner wandering in the desert, or a Catholic graduate student out of place in an Adventist university, but instead a child of God.
Prayer, as I sharply realized, was indeed the key to surviving graduate school. 
More "Ah" moments
This "ah" was one of the many highlights of my university experience at La Sierra. There are too many to list, but here are a few more. I shared with my freshman composition class a holy card with words of Saint Thomas Aquinas. I impressed, I hope, my graduate cohort with my unapologetic claim and devotion to being Catholic. I even showed up to chapel, which wasn't required of me. 
After each moment, I did feel that my own hesitations, curiosities ("ohs"), and times of enlightenment ("ahs") were helping me become more like Jesus. In the words of Paul's letter to the Philippians, he "made himself of no reputation, and took upon him the form of a servant" (Philippians 2:7).
Spiritually, being among Adventists helped strengthen my own faith, and I began to integrate myself into the Adventist university world through my interactions with fellow students, my graduate cohorts, and my professors within the English Department. I began to come to terms with my journey as a Christian, and also to recognize that "we, being many, are one body in Christ, and individually members of one another" (Romans 12:5, KJV). 
There were Adventists around me (and there still are), and I wasn't one of them—I was the Catholic one. But through it all we were all united together for the love of Christ Jesus, and that was what made me appreciate, embrace, and call my fellow Adventist brothers and sisters my spiritual community. 
---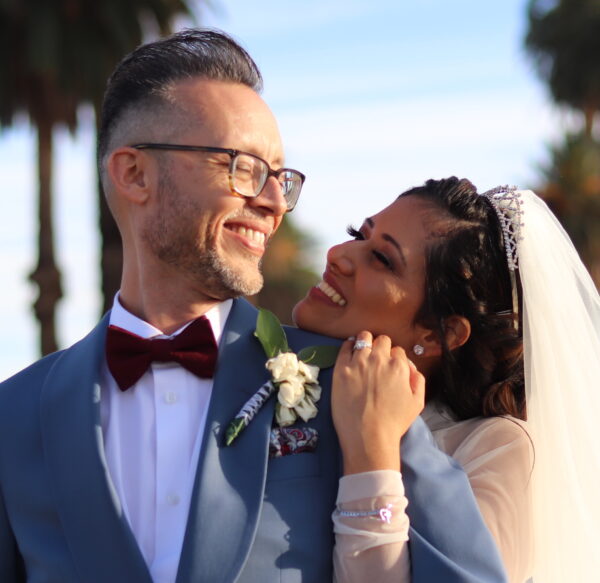 Paul Perez is a graduate from the Department of English at La Sierra University, completing his MA in English in December 2020. Paul enjoys jazz music, chewing Dubble Bubble gum, and praying the rosary. He married Michelle in November of 2020.