News reports from La Sierra University;the denomination's Office of Archives, Statistics and Research; the 10th Global Healthcare Conference; Washington D.C. and Loma Linda University:
A La Sierra University Facebook post this week congratulated Dr. Ginger Hanks Harwood for being chosen as Woman of the Year by the Association of Adventist Women. Dr. Harwood was a former associate professor of religious and theological studies here at La Sierra. The award comes in recognition of her scholarship, ministry, witness and teaching.
She and Madelyn Haldeman helped to found the "Women's Resource Center" at La Sierra University – an institution that serves women in ministry.
From a post this week on the Facebook page of the Adventist denomination's Office Of Archives, Statistics and Research: The first formal action for the collection of statistics took place at the fourth General Conference Session, May 1866, Battle Creek, Michigan. The first recorded statistical report was at the fifth annual General Conference Session and appeared in the Review and Herald, May 1867: 4,320 members, 160 churches, 28 ordained ministers, 10 licensed ministers. Today the Seventh-day Adventist Church has over 21 million members worldwide.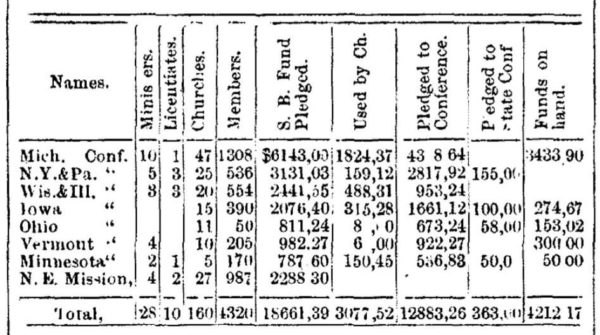 From Loma Linda University Health:
For the first time, Loma Linda University Health held its annual Global Healthcare Conference in a virtual format to continue its ongoing international initiative to support the development of the church's healthcare and educational institutions around the world.
Nearly 1,200 Seventh-day Adventist healthcare and church leaders from 81 countries registered for the 10th Global Healthcare Conference held online, November 2 to 5.
The annual conference provides an opportunity for professional development and networking among international Seventh-day Adventist healthcare staff and administration at hospitals and educational institutions.
This year's program included nine live sessions and a library of 170 on-demand videos accessible in four languages: English, French, Russian, and Spanish. Topics included clinical laboratory, COVID-19, finance, human resources, medicine, nursing, pharmacy, and quality improvement.
US Housing and Urban Development Secretary Ben Carson appears to have bounced back from contracting COVID-19 earlier this month. This week, the Adventist former neurosurgeon told The Washington Post his coronavirus symptoms went away hours after taking oleander extract. The newspaper called the extract an "unproven herbal supplement."
According to The Hill, "Matthew Heinz, a physician caring for COVID-19 patients, told ABC News in August that oleander extract can be dangerous.
"This is not a friendly plant … don't go near this plant," said Heinz, who added that he had to field calls about oleandrin poisoning while he staffed a poison control center hotline."
From Loma Linda University Health:
Adrian Cotton, MD, chief of medical operations at Loma Linda University Health, says this year's flu season has already led to an influx of questions from patients — especially since COVID-19 and the flu can bring similar symptoms.
"Physicians are already receiving questions about how we expect the flu season to look in the midst of the pandemic," Cotton says. "There's a lot we don't know yet, but we can look to the past flu seasons to learn more about what we can expect."
Q: WHEN SHOULD I GO TO THE EMERGENCY DEPARTMENT IF I HAVE THE FLU?
A: You should only go to the emergency department if you are extremely sick, have a high fever, are short of breath and can't catch your breath, are turning blue around your lips, and are extremely confused. Otherwise, try to stay home and call your primary care doctor.
Q: WHAT ARE THE SYMPTOMS OF THE FLU?
A: The main symptoms of the flu are having a fever, cough, being short of breath, having some muscle aches, and being fatigued.
Q: HOW DO I TELL IF I HAVE THE FLU OR COVID-19?
A: The symptoms of both influenza and COVID-19 are similar, but one of the symptoms that is frequently seen in COVID-19 but not influenza is a change or loss in sense of smell or taste. We should also be able to tell you if you have a cold, COVID-19 or influenza based on rapid testing available through your primary care doctor.
Q: WHAT ARE THE SIDE EFFECTS OF THE FLU SHOT?
A: A little discomfort in your shoulder, but that's about it.
Q: WHY DOES THE FLU GO AWAY IN THE SUMMER?
A: The flu is present year-round, but flu rates are higher in the winter due to people spending more time in close spaces and closer to one another.
Q: IF I GOT THE FLU SHOT LAST YEAR DO I HAVE TO GET IT AGAIN?
A: The benefit of getting the flu vaccine annually is the protection you build-up to the various strains of the virus. The vaccine isn't 100% accurate, but after getting it annually, you'll have a degree of protection if there are similar strains in the following years.
Q: IS IT SAFE TO GET A FLU SHOT IF I'VE HAD CORONAVIRUS?
A: Absolutely, and we strongly recommend that you get the flu shot if you had COVID-19 because your immune system is likely weaker.
Q: IF I GET THE INFLUENZA SHOT THIS YEAR WILL I BE ABLE TO GET A COVID-19 VACCINE?
A: The current recommendation is that once a COVID-19 vaccine becomes available, people wait at least 30 days in between getting the influenza vaccine and the COVID-19 vaccine.