Sent by Carole Derry-Bretsch, Feb 23, 2017     Adventist author Tamara Ellison will be signing her new book, Mended: Removing the Bandages, on March 18, in Loma Linda, CA. Read below for a note about the book and some extra news about the book signing, including offers for those who can't come.
Saturday, March 18
7:00 – 8:30 PM
Loma Linda Community Center
25541 Barton Rd.
Loma Linda, CA.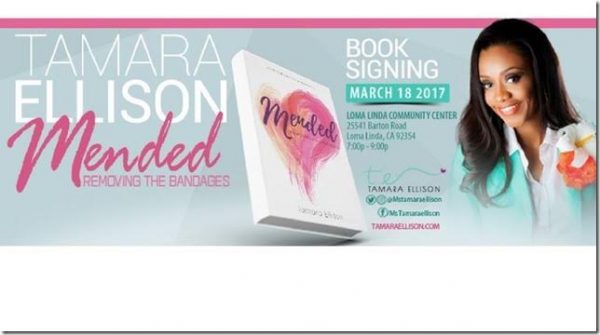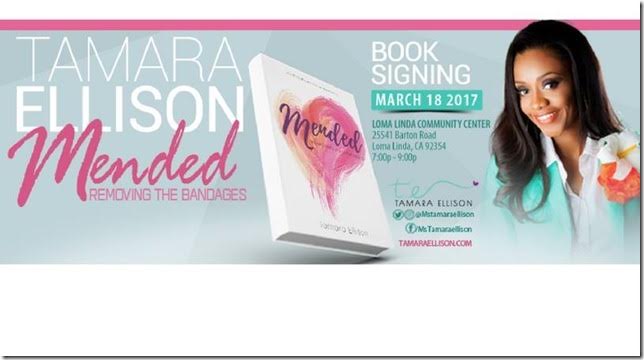 MENDED: REMOVING THE BANDAGES
Today's woman faces the daunting task of juggling all aspects of life. She is CEO, mom, spouse, chief, chauffeur, student, lover, peacemaker, and a shoulder for everyone to lean on. As she balances everything and everyone else, she is ignoring her emotional and spiritual needs. She doesn't have time to stop and handle the pain, so she slaps a Band-Aid on it and keeps going.
Mended is a powerful devotional that provides a moment of spiritual pampering that addresses many of the challenges that women are just expected to get over. Why settle for a Band-Aid when God is waiting to heal you where you hurt?
Mended creates a space in time where today's woman can focus on her emotional and spiritual well-being while providing a safe place to do so; in God's presence!
A note from Carole Derry-Bretsch, with extra news on the book signing:
As most of you know, since 2015, my heart has been with a very special lady named Kim Carter, and her Time For Change Foundation. We all voted for Kim, when she was a 2015 CNN Top 10 Hero.  I am so happy to tell you that the Time For Change Foundation is still going strong. Tamara, because of her heart for ministry, wants to do something special for the Time For Change Foundation.   SOOOO, Tamara is going to be giving 10% of all of the sales of her book to the Time For Change Foundation.  Kim has brought in around 900 homeless women and children, to her homes in San Bernardino. This generous gift will allow her to continue to bring women and children into her homes.
We know that some people will not be able to attend the March 18 book signing, due to living out of the area, or previous commitments.  So Tamara has made it possible to purchase the book between now and March 18.  Another special thing that Tamara is doing, is signing any book that is purchased between now and March 18, through her website.
While you are on her site, look at all the events that Tamara has planned.   And, sign up for her mailing list.  I just did.
Another way that you can help the Time For Change Foundation is to join the monthly special project that they have going for 2017. It is an opportunity for everyone to give a recurring $20.17 monthly through 2017. Won't you join me in making this monthly pledge? The women and children in the Time For Change Foundation homes truly need our help, and Kim can use the resources to bring more women and children in, and teach them about Jesus.