3 October 2022  |
Dear Aunt Sevvy,
Every time I go to my in-laws' house, my mother-in-law throws little passive-aggressive barbs my way about how I'm raising her grandchildren—most of them about food. Like she'll say to the kids over dinner, "Sorry, Grandma doesn't have all the prepackaged frozen foods you are accustomed to." Or she'll announce, "We're having a meat-free meal tonight—I hope that's OK with you after what you're used to at home." Or "Hey, settle down, you guys. You obviously were allowed too much sugar on the way over here." 
I want the children to love her (and they do—she has good qualities) but it must be clear even to them that Grandma disapproves of how the woman their dad married takes care of her family. My husband says, "Just ignore her," but I get tired of being the butt of her remarks. What should I do?
Distressed Daughter-in-law
Dear Distressed,
It should not be you, but your husband, who stands up for you in this situation. He should not be okay with his mother's making such remarks. This is his responsibility, and it is wrong for him to say, "Just ignore her."
If he can't or won't stand up for you, then you can try these two steps. 
First, you can talk directly and clearly to your mother-in-law. Approach her without judgment or defensiveness. State clearly that you and the kids love her and look forward to your time together, but some of the comments she makes hurt your feelings. 
Use I statements like, "I feel hurt when you say things to the children about my cooking." Listen genuinely and intentionally, because when people feel understood they are more likely to be open to listening to your side. It is possible she doesn't understand the kinds of pressures you're facing as a mother in this hectic modern world. Most of the young mothers I know are working full time and managing a household. Serving perfect homemade dinners to your family every night is mostly a thing of the past. You yourself may feel like you're failing—but actually what you're doing is really hard. Perhaps your mother-in-law has forgotten just how difficult it is. 
Here's the next step: if she won't listen, create some boundaries; then calmly, and lovingly, stick to them. State your boundaries clearly to her. Boundaries aren't about being mean or cutting people off. They're about changing behavior. If you can't change your mother-in-law's behavior through talking, you can change yours. 
Boundaries are something like this: "If you make a negative comment about my cooking, or about how I care for my children, I will take my children home." Then stick to it. If she makes a negative comment, even once, follow through—take your children and go home. Do it a few times. Hopefully she will learn quickly.
Again, it helps a lot if you have your husband on board for this. 
These two steps are easier said than done. Dealing with the complications of family dynamics is never simple. You and your husband have some decisions to make. 
Aunt Sevvy
---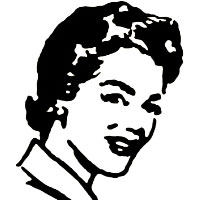 You can write to Aunt Sevvy at DearAuntSevvy@gmail.com. Please keep questions or comments short. What you send us at this address won't necessarily be, but could be, published—without identifying the writer. Aunt Sevvy writes her own column, and her opinions are not necessarily those of Adventist Today's editors.
To join this conversation, click/tap here.