By Debbonnaire Kovacs, Jan 26, 2017
Someone said (I haven't been able to find the reference) that to learn patience, one should cultivate the friendship of trees. I've written on this topic before, using as an example an old maple at my home.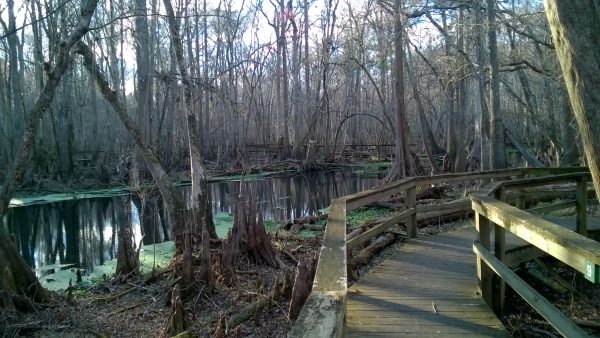 This week I am basking in Florida sunshine in High Springs, at Florida Conference-owned Camp Kulaqua, and I have met another great example.
First of all, this camp is marvelous (and big enough to get lost in) with cabins, "mini-lodges,' and space for tents or RVs. It has a Nature Center, as do most Adventist camps, and also a zoo, with a lion and peacocks, among other things. I haven't seen that yet, since it won't be open until Sabbath afternoon.
But what I love best is Hornby Springs, which has a lake or large pond big enough to swim in, though only under lifeguard supervision, and continues in a slow-moving waterway that they tell me reaches nearby river. This waterway moves through a cypress swamp and there is a boardwalk that rambles up one side, crosses a bridge, and goes back down the other. On the way, you can meet Big Dan, which has his own spot on the camp map.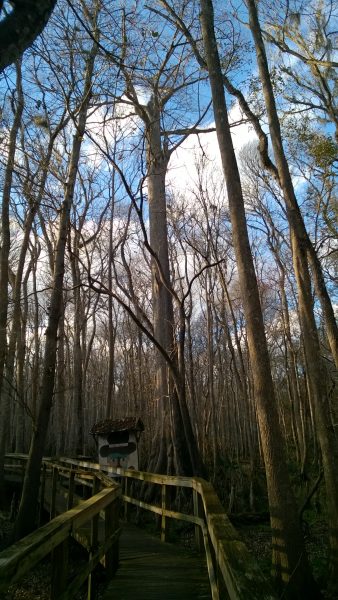 Big Dan is a cypress that they tell us was "born" in 684 BC. I assume this is an estimate, since you can't count a trees actual rings without cutting it down. On his sign, which is getting shabby and which you can't read in this picture, are drawings of tree rings, with arrows pointing to how big Dan was at the time of certain world events. The American Civil War, the founding of the Seventh-day Adventist denomination, and the latest European discovery of America by Columbus are all on there. So are several far older events. The oldest marks when Daniel and his three friends were taken into Babylonian captivity in 604 BC—at that time, Big Dan was already 80 years old!
I often try to imagine the stories a tree could tell if it could talk. I sat in the company of Big Dan and wondered about early Natives, later Spaniards, then French and English colonists, and lastly, the Adventists, who bought the camp in 1953 and have been coming here ever since to listen to the Word of God.
Yes, that Word, of course, the Bible, but also a different word. The word in the created world. Just today I saw a quote from Ellen White's book Education, p. 102. She said that Jesus took his listeners outside where they could "hear the voice which speaks in all created things," and help them to interpret the spiritual meaning of what they heard.
I'll be Big Dan would have some stories. I can tell some of them: grow where you are planted; endure through high and low water; send down deep roots; drink in both sunshine and rain and don't falter in lightning. And…be quiet. Listen. Know that the Creator is God, and not we ourselves.
After visiting Big Dan, I lay on the dock by Hornby Springs for a while, and just watched the sky.
And I felt content.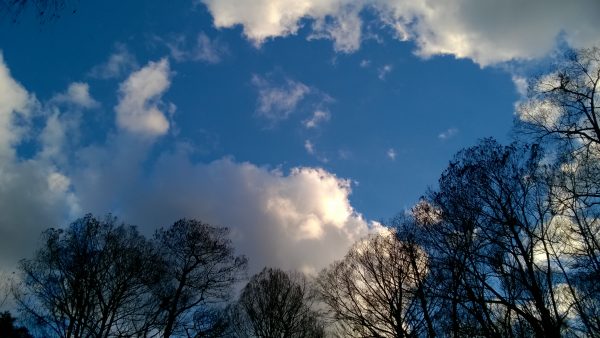 ---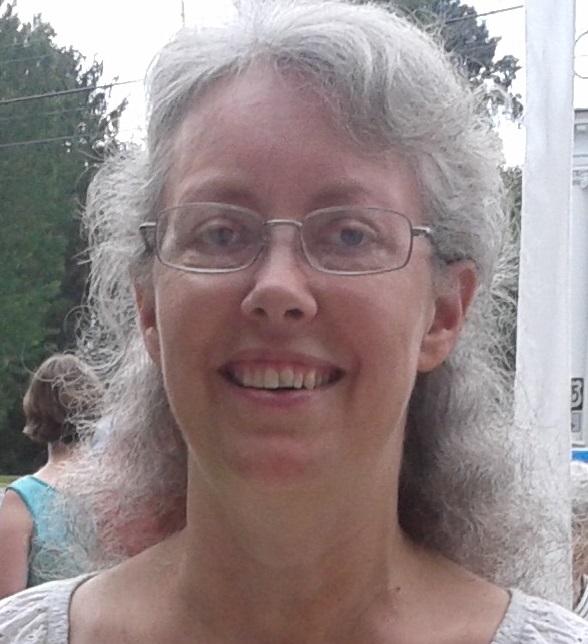 Debbonnaire Kovacs is a speaker and the author of 28 books and over 700 stories and articles for adults and children. To learn more about her work or ask her to speak at your organization, visit  www.debbonnaire.com.