By Debbonnaire Kovacs, Jan 26, 2017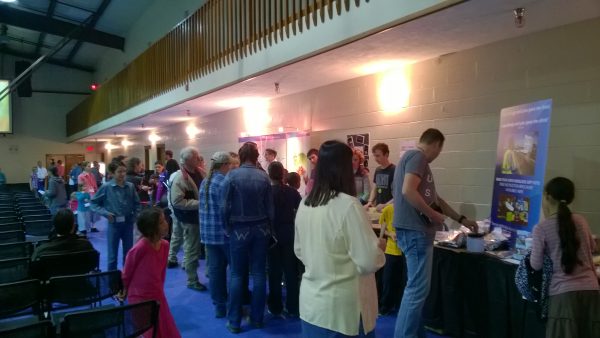 I am at the 2017 conference of the Adventist Agricultural Association, and one of the things that impresses me most (besides the warmth and sunshine in High Springs, Florida; I'm a refugee from a rainy Kentucky winter) is the diversity. Most are Caucasian, but there is a fair number of African Americans, as well as some Latino, Asian, Native American, and some that look perhaps Indonesian or Filipino. I've heard several accents that differ from most American ones, from Europe, New Zealand, Australia, and the Caribbean. The youngest are babes in arms, the oldest are gray-haired, and there are many families with school-aged children. There is a large contingent of conservative people in long dresses or overalls, and a few that look almost Amish in attire.
A few of the many I've personally met include two older ladies from Jamaica and the Dominican Republic, two young homeschooling families from Georgia and Tennessee, and a thirteen-year-old who has his own business. In fact, there are enough young entrepreneurs here that they've announced they're going to have their own meeting later today.
The attitudes are cheerful and friendly on every side. I know that some of the brightness and cheer is on the part of northerners grateful to get away from snow and cold, but mostly it's because we're all here to talk about what we love—gardening and agriculture. There are market gardeners here, and others who make their full living from the land in some way. There are woodworkers, metal workers, and my cabin mate, if you can believe it, is a spinner of fibers, like me. (What are the chances?) There are quite a few people who know little about gardening or agriculture but would like to learn how to begin, and some who are gardening now but want to make the jump to full, sustainable country living.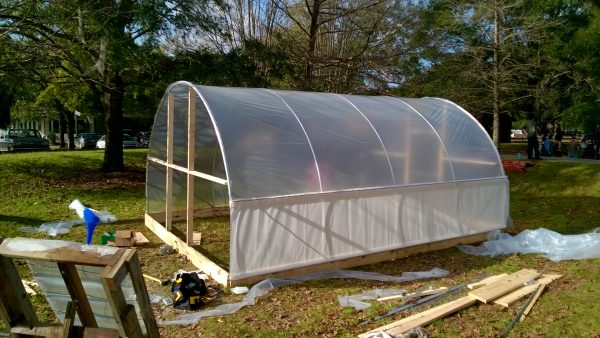 The diversity carries over into the class offerings. Of course there is a beginner course called Gardening 101. There's one called "Preparing to Make the Jump," for those who want to move to the country. There are classes on medicinal plants, beekeeping, the future of agriculture, and trace elements. There are workshops in soil fertility, beekeeping, and building hoop houses. And many more!
Some may wonder why we need another organic gardening network. My answer is, we need lots more of them! In my local town, Berea, Kentucky, we've started two urban farms and a local group called Sustainable Berea. There are always new groups—ones for kids, ones for families, ones for city folks who only have balconies or porches to grow things on. This is a broad, and broadening, need everywhere. Studies abound in the positive influences of growing things, or just being around green, growing things, for children, youth, adults, and elders.
This one is for Adventists (though of course you certainly don't have to be Adventist to join). So the diversity of classes moves in that direction, as well. There is a class called "Grandma White's Tree Planting Method," teaching how church co-founder Ellen White planted her trees. There are some on church- or school-sponsored gardens, homeschooling and gardening, and Milton Adams of Simple Church fame will be teaching how to combine home churching and home gardening. There is also teaching on how to use your garden as an essential part of the education of your children—not to mention the ongoing education of yourself.
You will see several features here in coming weeks, including one on a tiny Adventist church which had dwindled (like all too many) into a handful of retirees…and what happened when those retirees started praying for a new kind of growth; one or more on youth entrepreneurs, and as many other leads as I can gather. For today, I'll just share a taste of what I've learned myself.
Wednesday was full to the brim with eight choices of all-day intensive seminars. I took the one in online marketing, presented by David L. Sharpe, who has decades of experience in his field, and is now the Technical Director for the Center for Online Evangelism. And it made me more willing to do "marketing" than I've ever been, because along with all the nuts and bolts how-to's and practical advice on website building and maintenance, Sharpe taught us that marketing is not about the seller or website owner, it's about the website visitor, who is the hero in her own story. "You can go to hundreds of websites," Sharpe said, "and you'll see, 'Welcome to my site, here's my wonderful product, which is the best thing ever, and I've been in business for x number of years…' nobody cares! You are not the hero. Your site is about finding out the needs of your customers and trying to meet them. It should show the human value your product provides—how you hope to help and benefit them."
Speaking for myself, I can honestly say my heart was touched by this workshop.
It's still early in the conference, so I can't talk yet about the classes on medicinal herbs, and growing small and large fruits and microgreens which I plan to attend.
I had to leave early from a class going on right now on seed saving so that I could do my Adventist Today responsibilities, including writing this article. The presenter, Bob Gregory of Berea Gardens, says that like much of the industry in this country, only a handful of multinational corporations have bought up almost all seed producers, and we are losing genetic diversity as a result. This, of course, is no news to those who have been involved in sustainable practices and creation care for years, even decades, as many here (myself included) have been. But AdAgrA and its conferences (this is the third) are definitely filling a need, as can be seen by attendance. I was told that for their first conference they expected perhaps 150 people and got 3-400. For their second, they expected 400 and got 600, rising to 1500 on Sabbath. This year we have between 600 and 700, with Sabbath attendance expected to at least double.
In other words, AdAgrA is finding out the needs of its members and meeting them.
Amen!