By Debbonnaire Kovacs, with Dr. Mable Dunbar, July 6, 2017
Sometimes when a church prays, they're not ready for what comes. I have personally seen more than one church pray for new members and then end up chasing away the ones who come, because they are not just like the congregation, and don't exactly fulfill the congregation's imagination of what they thought God should send. Spokane, WA's West Central Multi-Cultural Seventh-day Adventist Church (WCMCSDA) is not one of those. Instead, they opened doors, arms, and hearts, and as a result, now have a revitalized church.
In the words of Dr. Mable Dunbar, the church's communications director and wife to the pastor, Colin Dunbar, "Our church is known in the community as a welcome place for every race and our African members are recruiting other refugees to join our church family. How wonderful it is to go to church each Sabbath and be surrounded by brothers and sisters who come from different countries, speak different languages, and practice different customs, yet worship the same God in Spirit, Truth and Freedom."
How did they get that way?
Dunbar told me that the church already included several nationalities: African-American, West Indian, Canadian, and English, for example. But they had very few children and youth, so they began praying specifically for children and young people. She said, "We were in earnest with the Lord because we realized that a church without children and youth would eventually die."
God took them at their word. Almost two years ago at this writing, they "were blessed to welcome over 75 African Refugees. They came from various refugee camps and represented about 10 families and 6 cultures with 50 children and young adults. Our prayers were answered!"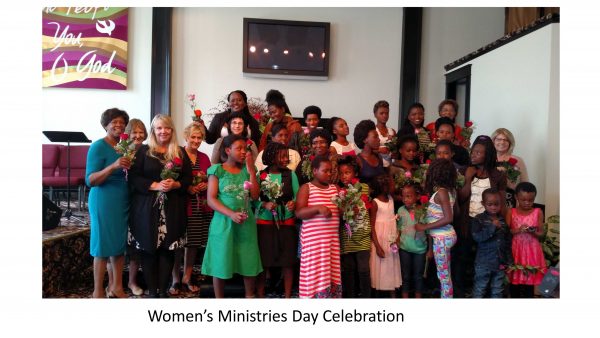 A church could easily be overwhelmed with such a big answer to prayer. As is usually the case, the blessings came packaged with challenges. Few of the refugees spoke English. Dunbar reports that in their quest to help the people begin to adjust to life here in the States, the church got busy. "We decided to face the challenges and began various programs and activities: began English speaking classes, free clothing distribution, free food distribution, assistance with furniture and appliances, transportation to church, purchasing SS quarterlies and religious materials in their language, providing translation equipment, job search assistance, etc." Dunbar said.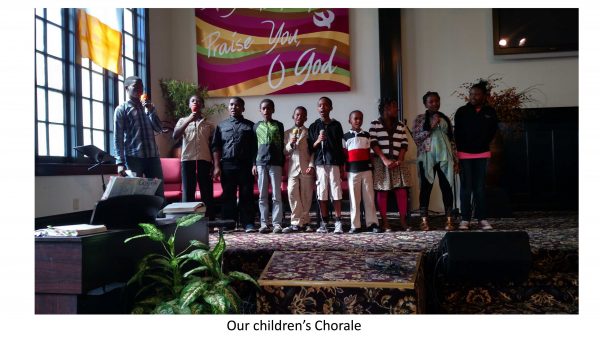 As a result of the congregation's prayers and hard work, she reports, "Now our church has taken on a vibrant spirit of community, fellowship, and evangelism. Our refugee brothers and sisters are actively participating in every program of the church, including holding church offices such as First Elder, Head Deacon, Head Deaconess, Pathfinder Leader and singing in the choir. Music has become an integral part of our worship. Our evangelistic outreach programs are generating more baptisms and Bible studies. Every second Sabbath we have a bi-lingual worship service [as shown in the featured image] and our African women contribute to our weekly potluck featuring African Cuisine. It has been amazing to see how quickly the children learn English and are helping their parents understand the American way of life." She added that the church has also "adopted two ministries founded by two members: Maasai Development Project (Kenya) and Women's Healing and Empowerment Network (Spokane, WA). Both ministries seek to help heal and empower women, children and hurting families."
If you think you recognize the names Colin and Mable Dunbar, you are probably right. They are well-known as standing tall in the fight against domestic abuse, among other things. They are the co-authors of No More Excuses, a book on preventing and dealing with domestic and other violence in churches. Mable is a Licensed Professional Counselor, and Certified Cognitive Behavioral Therapist, and a family mediator. Colin, also a Ph. D, has worked in the denomination for years in ministry, publishing, Sabbath School, church growth, as well as coordinating lay and prayer ministries. He is also a certified grief facilitator. Learn more on his website here.
In their present posting at WCMCSDA, they are as energetic as they have always been in giving their all to empower and uplift all God's children. In fact, Mable told me that she sees her mission as a fourth generation Seventh-Day Adventist who believes in our fundamental beliefs as "fulfilling the mission of Christ as stated in Luke 4:18: to preach the gospel (good news of salvation) to the poor, heal the broken hearted, help to recover sight to the blind, and set at liberty those who are bruised."
Most of her church members would agree; but not all. She shared with me, "Challenges remain. Some found it difficult to accept our new members. So they decided to attend other sister churches. There are still cultural barriers that we need to understand and work through. We need more financial resources to help bear the weight of church operations while our new members become financially grounded. In spite of the challenges, we are determined, that through God's grace and mercy, we will allow the Holy Spirit to use us to reflect the citizenship of heaven in our church because we are all ransomed by the blood of the Lamb, 'and with Your blood You purchased for God persons from every tribe and language and people and nation' Rev. 5:9 (NIV).
"We want to be a church family where all of God's children, whether Jew or Gentile, African or American, Black or White, Male or Female can worship together, fellowship together, work together, build up the kingdom of Christ together, and inherit eternal life together. 'After this I looked, and there before me was a great multitude that no one could count, from every nation, tribe, people and language, standing before the throne and before the Lamb. They were wearing white robes and were holding palm branches in their hands' -Revelation 7:9 (NIV).
***
By the way, if you are in the area, WCMCSDA will be hosting a cantata based on the prophecies of Daniel and Revelation on Sabbath, July 22, at 6:30 pm. You may see another story here about this organization, The Lesser Light Collective, which has written other Bible-based cantatas, including one based on Revelation called The Lamb Wins.
---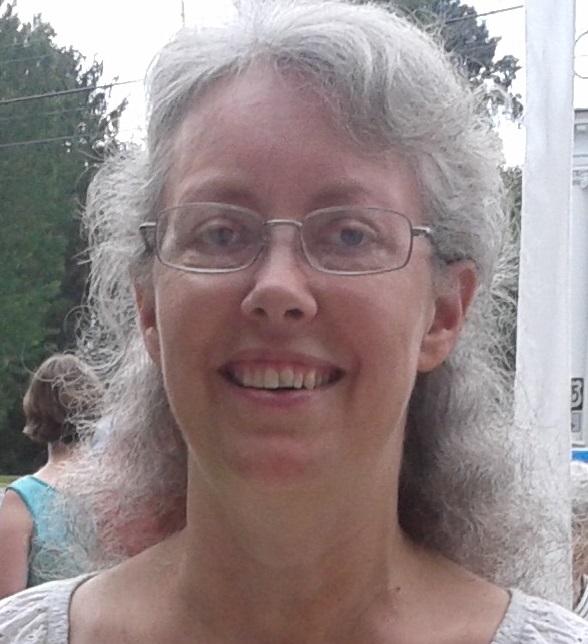 Debbonnaire Kovacs is a speaker and the author of 28 books and over 700 stories and articles for adults and children. To learn more about her work or ask her to speak at your organization, visit www.debbonnaire.com.