by Jim Walters  |  7 January 2023  |
Ellen White was born into a devout shouting Methodist family, and coped with poor health and limited education. Nevertheless, Ellen rose to become a canonized authority in world Adventism, and that 22-million-member church now holds her writings—in practice, if not in doctrine—equal to the Bible.
Consider two examples of how lowly Ellen has become St. Ellen:
At the most influential Adventist church in the Philippines a tally of the number of sermonic references to Ellen White and to the Bible was recently made: Ellen White references outnumbered Bible references 10-to-1.[1]
At the last General Conference (GC) session, in St. Louis, June 11, 2022, President Ted Wilson preached the closing Sabbath sermon, and the volume of Ellen White reference material outnumbered the Bible nearly 2-to-1.
The elevation of Mary
There's a precedent for such a transformation of a religious woman.
Consider St. Mary, "the Mother of God."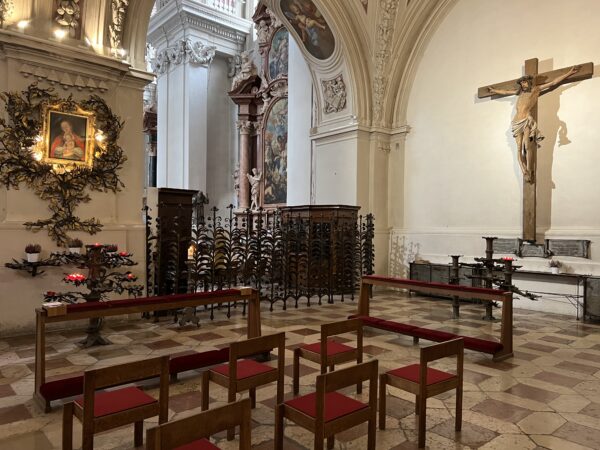 I recently visited St. Stephen's Cathedral in Passau, Germany, and despite the grandeur of the organ (the largest church organ outside the US), I was most struck by the worship setting in a back corner of the huge interior. One could choose between 90-degree adjacent images: St. Mary with child or the crucified Jesus.
St. Mary was the obvious favorite.
The St. Mary painting is luxuriously framed and surrounded by branches of golden leaves from which six spotlights shine; the crucified Christ is a larger, simple sculpture and lighted from afar.
Both images have decorative holders for lighted red candles—nine for Mary; three for Jesus.
Six seats for worshipers are set in the common area serving both images. Six face St. Mary; zero face Jesus. (See the accompanying photograph.)
The adoration and worship of Mary has a 2,000-year history. Mary miraculously conceived the Son of God. A related theory characterized her as sin-free from when she herself was conceived—an idea known as the Immaculate Conception. To many, she's a saint above all saints and angels, a near God-like figure. "No man goeth to Christ but by His Mother," counseled Pope Leo XIII (1903-1914).
The elevation of Ellen
We Adventists don't elevate Ellen White as God-like. But popular Adventism has elevated Ellen White's writings to Bible-like status, with some believers elevating her writings above Scripture. Now, very few Adventists would admit to prioritizing Ellen over the Bible. But consider common church practice: using the White-lens as the unquestioned authoritative interpretation of Scripture in effect places St. Ellen above the Bible.
In this commentary I consciously distinguish popular Adventism from analytical Adventism—and Adventism has always had analytical adherents.
For example, James White stopped publishing his wife Ellen's visions in 1850 to avoid the charge of visionary fanaticism. Then, because of popular demand, he resumed running accounts of her visions in 1856. He believed his wife had the prophetic gift—no question—but he surely didn't view her writings as inerrant, in the way they would later be seen.
After James White's death, the next generation of top church leaders included A.G. Daniells, a friend of Ellen who became the longest-serving General Conference (GC) president, and W.W. Prescott, a scholarly man whom Ellen had invited to aid in a significant revision of The Great Controversy. Both men deeply admired Ellen and believed in her prophetic gift—but they, like husband James, accepted her human side. Daniells and Prescott were also greatly concerned about how less informed Adventists were increasingly advocating ideas about Ellen's writings they saw as unhealthy—and hence, in part, the 1919 Bible Conference was convened.
The 1919 Bible Conference
1919 is arguably the most important year in the established Adventist church.[2] Here the denomination's leaders—officers, educators, editors—grappled with several issues, but of highest importance for Adventism today is their consideration of how Ellen White and her writings should be understood.
But the candid discussion was viewed by two attendees, linotype operator Claude E. Holmes and minister Judson S. Washburn, as not just inappropriate but as essentially heretical. These men personified a growing popular mindset that held Ellen's writings as inerrant.
Holmes published a scathing criticism of the 1919 conference in his pamphlet "Have We an Infallible 'Spirit of Prophecy'?" (1920). Holmes told Ellen's son Willie, "I love your mother's writings. They are scripture to me."[3] Washburn called the 1919 meeting "the most terrible thing that ever happened in the history of the denomination."[4] F.C. Gilbert significantly contributed to the escalating popular view of Ellen in his Divine Predictions Fulfilled (1922), in which he portrayed Ellen's writings as having to be either inerrant, or false.[5]
Holmes and Washburn defended what they called the "old view" vs. Daniells and Prescott's "new view."[6] The "old," popular view was characterized by "selectively picking and choosing certain quotes, [and it] emphasized a much more literalistic and perfectionistic way of reading," says the GC's Michael Campbell. It "focused on outward behavior."[7] Holmes and like-minded Adventists succeeded in denying A.G. Daniells' re-appointment to the GC presidency, and their view of an inerrant Ellen gained great momentum.
Several related developments followed, in establishing St. Ellen:
"Canonizing Ellen White"[8] was aided by publishing her books in a distinctive maroon binding—hence the "red books."
A trifecta of new compilations were published in 1923—Testimonies to Ministers and Gospel Workers, Counsels on Health, and Fundamentals of Christian Education. All were maroon, used Bible-like paper, and included Bible indexes that aided proof-texting the prophetic gift.[9]
A significant index to Ellen White's writings, often keyed to Bible verses, was published in 1926.
Inerrant, infallible
The Holmes/Washburn view of an "inerrant," "infallible" Ellen White gained considerable currency after White's death and Daniells' failed 1922 presidency bid. "[F]or the next half-century, Adventism almost universally took a fundamentalist, ultra-conservative shape," asserts Gilbert Valentine.[10] The Daniells/Prescott view was downplayed (evidently, in part, by the principals themselves[11]), and when Spectrum published its 1979 blockbuster issue containing the 1919 transcripts, the church was shaken—or at least many analytical members were.
I had just finished my doctoral dissertation—and I was theologically blown away. My struggles with Ellen White were the very issues addressed in 1919. Where had those transcripts been for 60 years? Evidently what I'd been led to believe—that they somehow had been lost—was false. In fact, acquiescence had trumped truth.
The 1919 Bible Conference was a pivotal event. Those who knew Ellen White best had lost control of the narrative. Second- or third-string Adventist thought-leaders crowned St. Ellen as the inerrant shortcut to truth. The great majority of Adventists rallied to this fundamentalist construct—and still do.
And that's OK—or is it?
Saints Mary and Ellen
There's a reason that the six seats in the Passau cathedral face St. Mary, and not the crucifix. Mary, cradling her infant son, is a more accessible, user-friendly path to God. Examined rationally, it doesn't make sense to choose mother Mary over our suffering, crucified Savior. But we humans aren't only rational; we're also full of feeling. God made us that way.
And overall, we humans are less rational than we are feeling. (Psychologist Jonathan Haidt reminds us that, finally, we all follow our hearts; the head secondarily supplies reasons.[12]) At the German cathedral it happens that apparently more worshipers feel like lighting a candle before St. Mary–and that's understandable, and finally OK.
There's a reason that most Adventist preachers in the Philippines—and even some GC presidents—use and preach Ellen White more than the Bible. The Bible is old and the cultures it addresses are ancient, and interpreting its meaning for today is complex and controversial. Whereas Ellen White wrote a relatively short time ago, and her culture and concerns are so much more like ours. And if God has inspired all His prophets, why not choose the one closest to our time, especially our own special prophet for us His special people?
Catholicism and Adventism—like all of religion, at its core—address people as they are, and meet deeply felt needs. Our Adventist faith isn't merely an affair of the mind, as vital as that is for some of us. It's also an affair of the heart—and popular Adventism has brought new meaning and hope to tens of millions around the world.
Adventist members have always had different ratios of heart to mind, and that's why St. Ellen and Ellen-the-thoroughly-human-prophet appeal to different mindsets—the popular and the analytical. At a deep level they're complementary. The analytical believer is likely better able to appreciate this fact.
---
---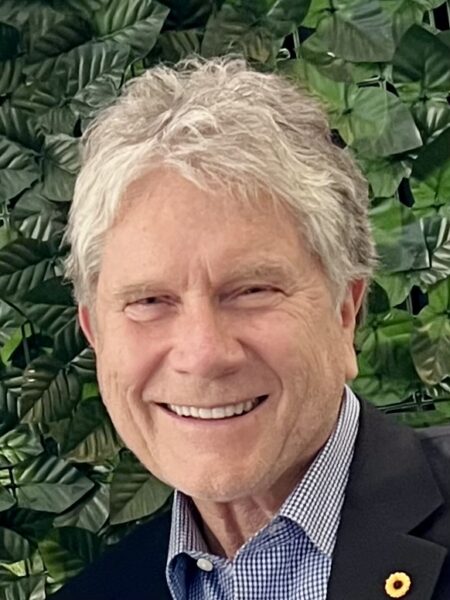 James W. Walters is professor emeritus of ethics at Loma Linda University.