By Debbonnaire Kovacs, March 26, 205    When Virginia Davidson's dad retired he became interested in woodworking. He had built a beautiful table for his home, and now wanted to build one for Virginia's home. The problem was, Virginia lived in a small house with her husband and children. There was only room for one table, and it needed to be one you could play on, sew on, make a mess on, and not ruin it. "I didn't know what to do! Of course I wanted something Daddy had built, but I didn't want to ruin it. And I didn't want to hurt his feelings. I didn't know how to tell him I didn't want a table."
Then she had a vivid dream. "I was back home in Mississippi, standing in the kitchen, and Dad said, 'I'm ready to make you that table.' I said, 'I'd love to have something you built, but I'd rather have a desk.' I immediately woke up, and immediately, I'm telling you immediately, the phone rang. It was Dad, and I knew what to say. Dad said, 'Okay, you design it, and I'll build it.' "
The desk became a drop-front secretary with leaded glass doors. Her father asked her, "Do you know how to do that?" Make leaded glass for the doors, that is. Virginia had been making art with Plexiglas for a while, and had now begun to do sandblasting on windows, but her dream was to work with glass. "No," she told him, "but someday I will!"
Her father offered to put in plain glass in the meantime, but she said no, what is intended to be temporary usually becomes permanent. Virginia, a true artist, could see just how it would look in her mind's eye, but her mathematician husband hated looking at that unfinished desk. So when she had a chance to take a beginning course in stained glass for only $75, he was eager to pay for that. "I made my first student piece for my mom (she still has it), and then I did the doors for my hutch."
Here's the result: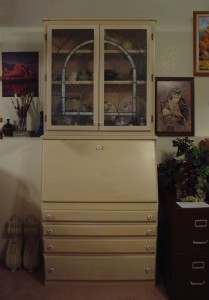 And a closeup of the doors: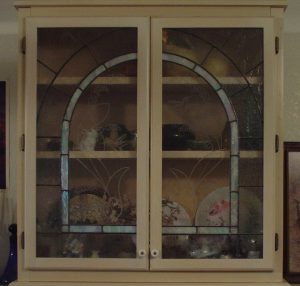 That was the beginning of a stained glass business for Virginia Davidson, but it was a long way from being the beginning of her art. Growing up in a very conservative, very loving Adventist family, Virginia says she's been an artist since her early days of eating crayons. However, going to a self-supporting school in Wildwood, GA at 14 years old, she was firmly taught that only what is practical has value. If it can't be eaten, worn, or lived in, we don't have time for it. We must spend our lives working only for the gospel. She makes it plain that she is sure not all the leaders at the school believed that precisely, but it was what she came to believe. She gave up her art.
She could not, however, stamp out the artistry God had built into her. She began redirecting her impulses for beauty into the clothes the girls were taught to make for themselves. Later, after she finished the three-year Wildwood program, when she worked in the print shop, she was able to do a little with graphic design and attempt to make posters look appealing.
It was during this time that she knew "I had to do more with my art." She began to take a weekly art class from nearby Southern University. Prior to that time, she says, the individual details in her art were as perfect as she could make them, but that class taught her to see art with new eyes—to see the whole picture. She began doing abstract and impressionist art. Her Wildwood housemother "labored with her", saying that her art was too complicated.
It was Ellen White who, in Virginia's words, "came to my rescue." The chapter on "Talents," in the book, Christ's Object Lessons, spoke powerfully to her. Two quotes in particular, from pages 328 and 329, were the core of her awakening and reassurance:
"The special gifts of the Spirit are not the only talents represented in the parable. It includes all gifts and endowments, whether original or acquired, natural or spiritual. All are to be employed in Christ's service. In becoming His disciples, we surrender ourselves to Him with all that we are and have. These gifts He returns to us purified and ennobled, to be used for His glory in blessing our fellow men. … The development of all our powers is the first duty we owe to God and to our fellow men."
Virginia was overjoyed. "All MY powers! And that included art! Doing something with it was my duty—my FIRST duty, no less. So by God's grace and for His glory, that's what I tried to do," she wrote to me.
Virginia still had a long road to travel. From her 20s in a print shop at Wildwood, or teaching at Stone cave Academy, an affiliate of Wildwood (where she met her husband), through her years as a mother, doing sewing and alterations, she continued to learn and grow, not only artistically, but spiritually.
One of the things she credits with serious spiritual influence on her is Graham Maxwell's audio series, Conversations about God. She says that series "helped me value not only my own self ([it's the only thing I truly have!–the only gift I can give to Him), but also understand the freedom which is the foundation of His government in the universe. That, strange as it may seem, gave me the permission I needed to develop my art into the stained glass business…that and the exhilaration of having written "Proverbs to Live By." [Adult Sabbath School Quarterly in the 90s] Why would "Proverbs" have made any difference? It's practical. It's about cause and consequence, it's about choice and freedom and responsibility. In that context, the line from Desire of Ages on p. 446 gains even more significance: 'Subjection to God is restoration to one's self,–to the true glory and dignity of [humanity].' It wasn't GOD who wanted to take away my art! It was my own misunderstanding of Him, due to the misrepresentation of Him by well-meaning people who, though honest-hearted, were still wrong."
The owner of the largest independent realty in western Colorado, for whom Virginia did regular sewing and alterations gave her her first stained glass commission. From there, things began to take off. You can see some of Virginia's art this week here and of course, much more on her website.
Recently, she has become known for her lapel pins and brooches of the ampersand, representing "he power of "and"–men & women serving together in ministry, created equal, called & gifted as equals, ordained as equals." Spectrum recently did a story about her and the ampersand at https://spectrummagazine.org/article/2014/12/17/how-humble-ampersand-became-powerful-symbol-womens-ordination "Women," says Virginia, "are not like men, and the church will suffer until both are working together."
From being a Wildwood student who, she says, was taught to obey unquestioningly, not think for herself, to being a woman who is known for her support of such issues as women's ordination is a long journey indeed. But Virginia Davidson's journey is far from over. She is eager to see what next adventure God has in mind for her.
She quotes another passage from Ellen White: "Before the student there is opened a path of continual progress. He has an object to achieve, a standard to attain, that includes everything good, and pure, and noble. He will advance as fast and as far as possible in every branch of true knowledge" (Education, p. 18). She said everything good and pure and noble! And that includes art! Hallelujah!–God wants me to do art!!! So I do."
Amen to that!