From News Release, May 14, 2015:   Nearly three hundred people attended a free health fair hosted by Seventh-day Adventists at the Exchange Health Clinic in St. Ann, Jamaica on April 28, 2015, reported both the Jamaica Observer and the North Jamaica Conference (NJC) of the Seventh-day Adventist Church.
Participating health professionals represented a number of institutions—the St. Ann Health department, Broadbent Jamaica Limited, the Registrar General's Department, H.E.A.R.T Trust NTA, Adventist Health Professionals and First Regional Co-operative Credit Union Limited.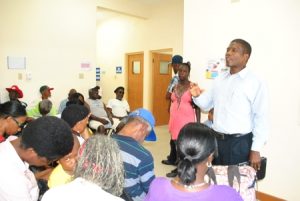 Pastor Karl Archer, who serves as NJC president and Health Ministries director, welcomed the attendees by saying, "I don't want you to just think about getting physical healing because God wants to also apply spiritual healing to your lives today. God wants his children to experience total healing, which includes the spiritual, mental and physical. And that is our main purpose here today, to help you on the path of being healthy and happy."
Many people gathered at the clinic location up to three ours before the event was scheduled to begin. When organizers Daniel and Felisha Miller from the Exchange District of Seventh-day Adventist Churches saw the crowd, they decided to begin an hour early with the only doctor who was present.
"It was more than we expected", said Daniel Miller. "We had a modest goal of forty persons to be seen by the medical doctor. However, we exceeded that goal as our doctor saw sixty. Many expressed how happy they were with the care and attention they received."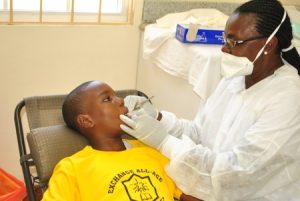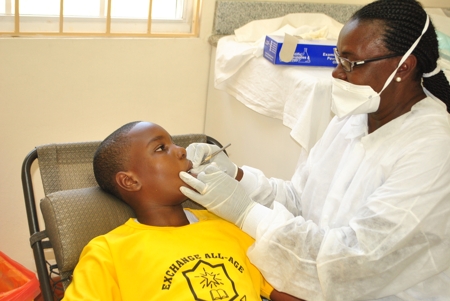 Those who were waiting were offered soup. They visited informational booths and listened to a presentation from the H.E.A.R.T Trust NTA representative.
Individualized care was given to each person in the comfort of a private, air conditioned room. Services included health checks, Pap smears, optical screening, dental cleaning, blood pressure checks, diabetic testing, diabetic foot care, and HIV and Sexually Transmitted disease testing. There was also a prayer room.
"Persons came in with belly problems, head problems, back problems—all kinds of problem" said Phuwna Taylor, prayer coordinator for the Exchange Adventist Church. "We prayed for each person believing that with the medical attention today, God can heal and answer prayers. We also gave the children old Sabbath School quarterlies (Bible story books) and Christian literature to the adults."
Sylvia Oddman was satisfied with the care she received at the clinic. "I did my blood sugar test this morning and it was good. The doctor even told me that I don't need to go back on my medication based on the result. This is good news and I am glad for this clinic because I wouldn't have known this today," she said.
Miller said the church will likely provide another free health fair. "Based on the success of the event, many are demanding that we do this again. We will be looking at the possibility closer towards the end of the year."