By James Ponder and Debbonnaire Kovacs, Feb 15, 2017     When the Loma Linda University Children's Hospital Foundation was formed in 1994, several women, notably Nancy Varner, Dixie Watkins, and Eloise Habekost, wanted to enlist the community to raise awareness and support for the hospital. After researching other children's hospital guilds in Southern California, they came up with the "Big Hearts for Little Hearts Desert Guild," so named in honor of Loma Linda's worldwide renown in pediatric heart surgery and care. In 1999 the Loma Linda Guild began. Today, two additional guilds are active in Palm Desert and Riverside.
Every year the guild holds an annual membership luncheon. This year the event featured a child pianist whose own short life was saved by a Loma Linda everyday miracle. Here is the story by James Ponder of the Loma Linda public relations team. All photos were supplied by LLUCH public relations.
Membership luncheon gathers big hearts eager to help little hearts
by James Ponder

Former LLUCH patient and piano sensation Ben Phipatanakul performed at Loma Linda Guild's annual membership luncheon, held Wednesday, February 1 at Redlands Country Club. [Ed. Note: He played "Amazing Grace" and "The Prayer."] Ten-year-old Ben and his twin sister Emma were born at LLUCH. Unfortunately, Ben had a duplication cyst in his bowel and required surgery the very next day. After spending his first two weeks of life in the NICU, Ben reunited with his family at home. Ben was honored to play the piano for the guild that supports the hospital that gave him a head start.
The theme of this year's luncheon, "Healing One Heart at a Time," underscored the role the guild plays in supporting the life-saving work of LLUCH. Ben's father, Wes Phipatanakul, MD, an orthopedic surgeon at LLU Health, and Donald Moores, MD—who performed Ben's live-saving surgery—discussed the importance of the hospital in serving the needs of children from the Inland Empire and Desert regions.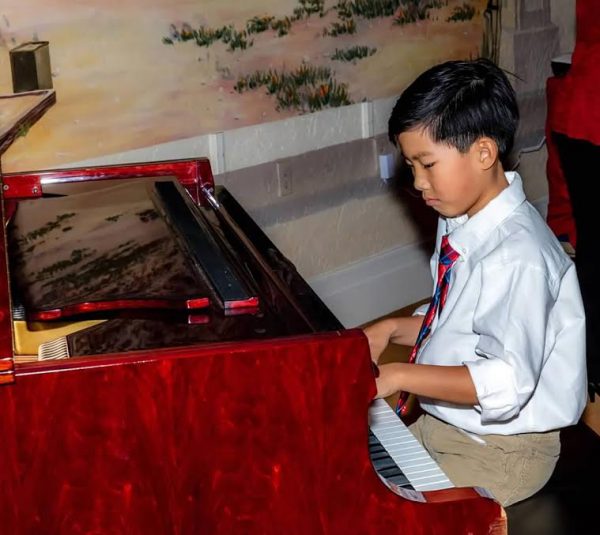 According to Lynn Sleeth, who became president of the guild on January 1, the annual luncheon represents an opportunity for interested parties to meet the officers and members of the guild, learn about their charitable activities on behalf of vulnerable children, and explore different avenues of involvement and support. "We look forward to this every year because it allows us to share some of the needs of the children of our community and talk about what the guild is doing to provide for them," Sleeth observed.