by Christopher C. Thompson | 13 April 2018 |
I learned to love children's literature in Dr. Bishop's Methods of Teaching Reading course at Southern Adventist University. When my son was born, it gave me a good reason to keep buying children's books.
A recent library trip with my son yielded yet another jewel. We read the book several times before we returned it, but after we took it back I just went to Amazon and bought a copy for us to own. The book is entitled It's an Orange Aardvark! I recommend you go purchase it right now. It's that good. Spoiler alert: if you don't want to know how the book ends, avoid reading the last section of this piece. But I want to talk about it here because it teaches some very important lessons.
The Story
The story is about an inquisitive little ant who simply wants to explore and see what's outside. The very first illustrated page depicts thunder and lighting coming from a cloud, signaling the start of a rainstorm. Below the cloud is a tree stump. As it turns out, the tree stump is the home of a colony of ants who are startled by the noise. One of the ants in the group wants to see what the noise is, but the other ants are a bit apprehensive. Well, really it's just one ant. The explorer ant is drilling holes in the stump so that they can see outside. And every time he drills a new hole a color shines through the hole. The apprehensive ant screams at the top of his lungs about the danger that is signaled with each shining color. It's not just orange you see. "It's an Orange Aardvark! Aardvarks turn orange when they're hungry for ants."
Almost half the book is made up of the wild imaginations of the apprehensive ant who uses all manner of persuasive explanations for why they ought to stay secluded in their little stump. The ideas get louder and more and more ridiculous as the story progresses. The sad thing is that other ants in the colony seem to buy it. I think the story speaks to group dynamics a whole lot. It also speaks to leadership and how vision works. But I think it teaches us something very important about fear.
The Problem
I am convinced that at the heart of our inaction and ineptness is a deep-seated fear. As a matter of fact, I believe that we live in a time and a society that is greatly characterized by fear. There are so many habits and behaviors that are based on and centered around fear. Let me be clear. There are some things you should fear. You should be afraid to drive off a cliff. You should be afraid of a nuclear bomb that's about to explode. So I'm not talking about a lack of judgment or a reckless lifestyle. I'm talking about the things we fear that are ultimately inconsequential to our actual ability or well-being. I believe that if you fear rejection, failure, etc., you have constructed a prison for yourself.
I've met many people who ask for my advice about publishing a book. I haven't written a bestseller… yet. But you know why they ask for my help? You want to know why they haven't written the book? Fear. Ask a teenager to give you their phone for a week. They'll have a panic attack on the spot. I believe it stems from a fear of missing out, being on the out, not being "liked," etc. Every single day we turn on the news waiting to see who's gonna be the first to push the red button. We don't think deeply about it, but I believe that deep down it's our fear of some terrorist attack or nuclear bomb that keeps us riveted.
I think that's the part that bothers me most. I'm most concerned with our culture of fear. We are collectively fearful and we agree that it is most efficient to operate out of that fear. Ask any church board why they didn't purchase that property across the street. If they're honest they'll tell you it's because they were afraid that they wouldn't be able to pay for it, or that some other inexplicable disaster would ruin the plan. And it's usually that one little, loud, annoying, apprehensive ant that sways the group.
I started talking about this online a little while ago and some friends pushed back. They talked about the reality of police brutality and childhood trauma. I accept that. Some fears are based on history and experience. I've always feared the police. I talked about that here before. I know what it feels like to be pulled out of your car and have handcuffs slapped on far too tightly. The officer ended up apologizing and letting me go. I'd thought I was gonna die that night. I was terrified.
Also, most people would be surprised to learn that I have suffered from anxiety for most of my life stemming from childhood trauma. I remember when I first felt that anxiety as if it were yesterday. I was sitting at the lunch table at Beaufort High School with the homies from the hood. I raised my fork to eat and my hand was visibly shaking. One of the guys across the table noticed it and remarked, "What the #*@& is wrong with you?" I sidestepped the question and everyone went back to their meals and conversation. I was freaked out by it. I had no idea what brought it on and it'd be years before I understood what it was. If you can relate to either of these sources of fear, please know that on some level I understand. That's not the stuff I'm addressing here, though.
News outlets cultivate fear with click-bait headlines and sensational features of the most devastating events. Incessant streams of content on numerous social media platforms add to the anxiety by insisting that we keep scrolling to stay in tune with what's happening right now. And with scandals like the ones involving Cambridge Analytica and election tampering there are increasing concerns about our privacy; how social media platforms collect our information and what they do with it. Racist sequestration and insulation deny the opportunities for meaningful dialogue and compound the existing fears across cultural lines. There's no shortage of examples.
I believe that fear is actually an affront to God. This is not the godly fear that flows out of our reverence. Nor is it common sense acknowledgment of real imminent danger. I'm talking about the debilitating irrational, overcomplicated and confused, convoluted mindgames we play on ourselves as a result of the lies we believe from our enemies and the enemy. In short, fear is the fruit of a deceptive seed sown by the enemy of our souls.
If we are not careful, we will be easily lumped into mass mob of mania. We must guard against the mass-mania from mass-media. We must root out the bad seed that was sown in our hearts and minds. We must find our fearlessness.
The Promise
With the mass-mania we are tempted to forget this one simple axiom that I heard a trusted mentor say just this morning: God can be trusted. Not only can God be trusted, but "he has given us great and precious promises. These are the promises that enable you to share his divine nature and escape the world's corruption…" (II Peter 1:4 NLT).
Jesus promised his disciples, "Truly, truly, I say to you, he who believes in Me, the works that I do, he will do also; and greater works than these he will do; because I go to the Father" (John 14:12 NASB). I often wonder how we read that text. Not that I'm anticipating walking on water, but this is a tremendous promise that the earthly ministry of Jesus could in some way be eclipsed by the miracles we perform. And to be honest, that even felt sacrilegious to type, but I think that's the tension I'm wrestling with here. We're afraid even of God's promises.
God has promised to "supply all your need according to his riches in glory by Christ Jesus," and also promises to do so "exceedingly, abundantly above all that you can ask or think" (Phil. 4:19, Eph. 3:20). "Look at the birds in the air. They don't plant or harvest or store food in barns, but your heavenly Father feeds them. And you know that you are worth much more than the birds" (Matt. 6:26 NCV). So how is it even possible that we fear lack or loss?
But more than power and providence, God has promised us divine presence saying, "I will never leave you nor forsake you," "I am with you always, even until the end of the age," and "greater is he that is in you than he that is in the world" (Heb.13:5, Matt. 28:20, I Jn. 4:4).
The Solution
When Moses died, it was likely the smoothest and most deliberate transfer of power the world has ever seen. Moses had been grooming Joshua for years, training and empowering him for the moment when he would have to take the lead (Ex. 17: 9-10, Num. 13:16-17; 27:19-20). But even after forty years of training, Joshua was still reluctant. So God gives him one more pep talk. "Have I not commanded you? Be strong and courageous. Do not be afraid; do not be discouraged, for the LORD your God will be with you wherever you g." (Josh. 1:9).
It's been said that there's 365 "do not fear," "do not be afraid,"and "fear not" commands in the Bible. One for every day of the year? I've never counted them, but there are a lot of them. Possibly because God wants us to be fearless. Possibly because "anything that is not of faith is sin," and because "without faith it is impossible to please God" (Rom. 14:23, Heb. 11:6). We must acknowledge and take courage in this simple truth that God can indeed be trusted.
The only plausible solution to our fear is faith. Imagine for a moment a life with less fear. Now imagine a life that is fearless. Not foolish…fearless. Think about it. What could you accomplish if you weren't afraid? What could God empower you to do, if you didn't shrink with fear? Amazing thought, huh? I believe we are cheating the world of the miracles God would perform through us because we submit to our fear. This is not the divine plan for our lives. So here are three super simple solutions I have to help you overcome your fear. I want you to repeat them to yourself.
Have faith.

Trust that God will protect, provide and prevail for you.

Do it anyway.

Courage is not the absence of fear, it's the defiance of it.

Do it again.

You do it again, and trust that God will too.
God desires that we would live according to our faith, and not imprisoned by our fears. We are commanded to be faithful, to be wise, to be productive and to be courageous. "For God has not given us a spirit of fear and timidity, but of power, love, and self-discipline" (II Tim.1:7 NLT).
The Resolution
In It's an Orange Aardvark! one of the things I love about the visionary ant is that no matter what weird, wild details the apprehensive ant came up with, that little curious ant just kept drilling holes into the wood. Everytime he drilled one he saw a bright new color. Each time the apprehensive ant would concoct a terrifying misinterpretation of what they were seeing, but each time the visionary ant just kept drilling. Finally, the visionary ant went out to check the scene, and then came back and exclaimed, "It's okay. Come on out! It's a rainbow."
While we are tempted to shrink and cower for a lack of courage, God is calling us to step outside of what we normally see to take hold of a preferred future. If we would press pass our fear, I believe that what we'd find on the other side is the fulfillment of God's covenant promise for us, over us and inside of us; for the good of others and the glory of God. So do yourself and the world a favor. Stop being afraid.
"The enemy is fear. We think it is hate; but, it is fear."
-Gandhi
---
---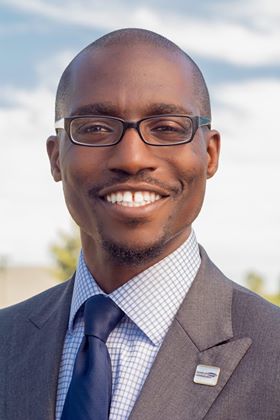 Christopher C. Thompson works in the Orlando, FL area as Communication Director of the Southeastern Conference of Seventh-day Adventists. He and his wife Tracy have one son, Christopher II.