14 April 2020 | An Adventist church in Milton-Freewater, Oregon, played an active role in a multi-denominational Easter program that took place at the town's M-F Drive-In Theater.
The event featured praise singing and an Easter message. There were two services. In between there was an Adventist wedding for the office manager at Milton Adventist Church, Marja McChesney, who was marrying Gene Burns. Balloons and streamers were attached to the newlyweds' car.
Milton Adventist Church pastor Lloyd Perrin was part of a group of four pastors from different churches in the town that planned the Easter Sunday event making special accommodations for coronavirus restrictions on gatherings.

The group was granted permission by state and local officials to hold the April 12 event at the drive-in theater as long as those that attended did not exit their vehicles. Car passengers listened to the programming on 90.7 FM. In total, there were about 500 cars at the event and an estimated crowd of 1,000.
"It was a blast… people were just celebrating that they could be there," said Perrin, describing the event to Adventist Today.
The Adventist pastor said that in lieu of Amens, those that attended the event would honk their car horns, often led by a siren or sorts from an ambulance driver who was also at the event.
"People would just honk their praise," said Perrin.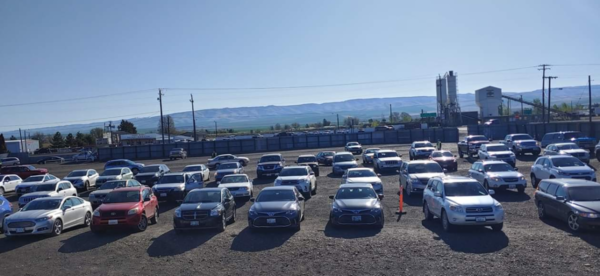 In addition to Perrin's representing Milton Adventist Church, Pastor Steve Lyons of the town's First Christian Church helped plan the service. Milton described Lyons as the "spark plug" of the event. Pastor Owen Frost of State Line Community Church also helped plan, as did Pastor Shane Nelson of First Community Church Milton-Freewater and Pastor Tim Sanchez of the town's First Baptist congregation.
"Everybody saw it driving through (town)," said Perrin, describing the celebration.
Perrin spoke to his conviction that Adventists be more involved in celebrating Easter.
"We need to get with it," said Perrin, describing Easter as "the biggest religious holiday of the year."
Photos courtesy of @TimoandRobin Sanchez – Facebook.