By Jiggs Gallagher, November 14, 2016:     Most organizations ignore their 13th anniversary. Not the happy church family at Crosswalk Church, an innovative Adventist congregation in Redlands, California. And they did it in a big way, with an outdoor festival on a Saturday night, featuring food and drink, a pop band, a bounce house for the little kids and a dunk tank for the pastor and other leaders!
Crosswalk is one of a number of new Adventist congregations formed in the 1990s and early 2000s that use non-traditional music, worship style and a more community-oriented approach to reach out to younger adults. It traces its beginnings to a Wednesday night group for young adults at Azure Hills Adventist Church in nearby Grand Terrace in the early years of the new Millennium. The group appropriated the name of a popular daytime soap opera, "The Young and the Restless."
The evening group grew to more than 700 at one time, meeting in the church's fellowship hall, and was beginning to be the tail that wagged the dog at Azure Hills. Pastor Tami McGrew, an associate on the Azure Hills staff, was the first leader for the Y&Rs. Then Senior Pastor Morris Venden urged the group to seek some kind of formal recognition within the sisterhood of churches in the denomination's Southeastern California Conference.
Pastor Alger Keough, church administrator at Azure Hills since 1999, remembers the process. "There was a two-year planning period where the local conference was involved," he said in a recent interview. Pastor "Michael Knecht arranged rented space for the group to move out of Azure Hills. At that time, the new church had a membership of about 225."
By 2003, when the church began to thrive on its own, Knecht considered establishing a network of Crosswalk churches across the United States, with similar worship styles. But that dream didn't come to fruition.
Pastors came and went over the years. Pastor Tim Gillespie became the full time senior pastor of Crosswalk Church in 2014, just over two years ago. There were perhaps 250 members and a somewhat larger Sabbath attendance. But things really picked up under the new leader.

Photo:   Pastor Tim Gillespie.
"We have grown to 649 members, and attendance at Sabbath services that sometimes exceeds 1,000," Gillespie said at the anniversary celebration. An adjunct religion professor at both La Sierra and Azusa Pacific universities in addition to his pastoral duties, Gillespie said he is undertaking an academic study of the church's mission and service area.
"We want the study to identify what forms of outreach are needed by our members, those who attend casually and others who might need our services and caring in the community," Gillespie said. "This … study will be underway soon."
Jesse Richards is a 10-year member of Crosswalk, and he was one of some 150 volunteers manning booths and serving at the celebration. "The church is like our family," he said. "Some of us actually take vacations together. And these are people we didn't know before joining the church."
Richards said what originally attracted him and his wife was the innovative children's Sabbath School programs. "They have slides and swings and puppet shows that keep kids involved and active. For the first time, our children began to enjoy going to Sabbath School. And we began to enjoy the whole church experience."
Crosswalk members sponsor yoga exercise classes, a Wednesday night Bible study and Thursday night health programs. One group of members is working with 45 homeless people in the community to help them receive medical and legal services.
The church is located in a business park, on a street aptly named Corporate Drive, off Redlands Boulevard on the town's eastern side. It is just a few blocks from the city limits of the City of Loma Linda.
The anniversary festival in late October included older children doing face painting on the cheeks of younger ones; music from a five-piece band called "Just Around the Bend," and lots of vegetarian party food for sale, such as "street tacos" and burritos. Several booths were peddling juice drinks and fruit and vegetable smoothies, as well as pizza. A food truck sold desserts and treats to the hungry crowd. Volunteers staffed a tent selling t-shirts, caps and other materials with the church's name and logo, as a fund-raiser.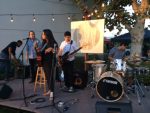 Photo:   Just Around the Bend band performs at the anniversary celebration outside on Saturday night.
"We are a community that seeks to love one another with radical inclusivity through tangible acts of compassion, mercy, worship, forgiveness and grace," the Crosswalk web site states. "This is the ongoing journey of every faith community that identifies with the name of Jesus. Ours is no different, however, we believe that we are called to this particular location, at this particular time, in order to learn to love those we call our neighbors and friends in this area. A few things you should know about our worship time together: 1. Dress however you want. Some will come in ties, some in shorts. Either way is great. 2. The music can get LOUD. We don't apologize for the enthusiasm of our praise. However, if you find that it is a bit loud, we provide earplugs so that you can enjoy with a bit fewer decibels. 3. Sign your kids in, or if you just go to the Worship Service, fill out a Connection Card during the service and drop it into the offering bag. That puts you on the email list, as well as lets us get in contact with you about building a stronger relationship with the Crosswalk Community. 4. Enjoy the services, the kids programs, the refreshments, and the community. We are glad to have you with us!"
If church is meant to be a joyful, affirmative experience, the members and leaders at Crosswalk have cracked the code and found the secret to attracting people who enjoy their worship experience.
Jiggs Gallagher is a senior editor for Adventist Today and teaches journalism for California State University. The featured photo with this article is of one of the tents in the parking lot where food, juice, fruit smoothies, T-shirts, caps and other wearables with the church logo were distributed.