20 fire companies helped with fire that nearly totally destroyed 185-year-old Adventist church.
In fire's aftermath, the church's property has been vandalized and looted.
A GoFundMe account has been set up to help with the rebuilding of the church.
31 December 2021 | The fire that happened at the Jefferson Avenue Seventh-day Adventist Church in Rochester, New York, United States, was so intense it burned through the roof and the stained glass windows.
Just before 6 p.m. on Christmas Day, the Rochester Fire Department fire crews were called out to the historic 185-year-old church. They found heavy smoke coming from behind the church, reported news station WHAM.
A Second Alarm fire was declared within three minutes of arrival, due to size of building and amount of fire. Due to the fire's large size and deteriorating conditions in the building, fire crews inside the building were ordered to evacuate.
A Third Alarm fire was declared, bringing additional units to supply water and resources to help extinguish the fire. But it wasn't enough.
A Fourth Alarm fire was declared for additional units to help with more water supply.
At least 20 fire companies were at the scene of the fire. Officials said one firefighter was injured, according to news station WGRZ.
News station WHEC was told no one was inside of the church when the fire erupted.
The cause of the fire is still under investigation.
More woes seem to have befallen the church in the fire's aftermath.
"Ruthless and heartless opportunists have seen fit to further destroy, damage and steal from our adjoining properties," read a Dec.31, 2021 post on the church's Facebook page.
"I recognize [we] live in a crime and sin-filled world/area but how could anyone make up in their minds to do such a thing?"
Still, church leaders are sending the message that they will rebuild.
"We remain faithful that we will restore it and we will restore it to better. We know that everything happens for a reason. While we're grappling with why, or what the reason is for this, we still have faith in God that He will restore and restore us to even better than what we were before," said the church's Communication Director Angela Tucker-Hill to a WHAM reporter.
A GoFundMe account has been set up to help with the rebuilding of the church.
And though the edifice may have burned down, the church is not the building; it's the people, said the pastor of the church, Hanson Drysdale.
"The church is not within the four walls. This is the church; the church remains militant," Drysdale told WHEC.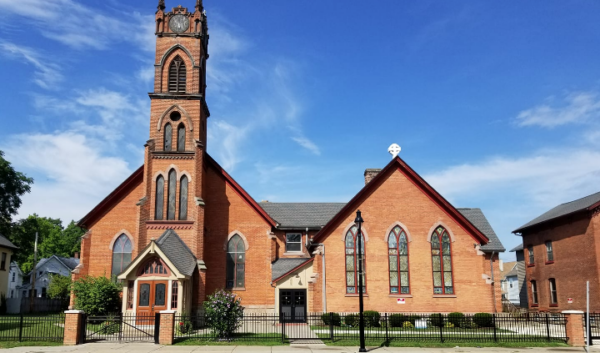 ---
(Photos: ABOVE— The Jefferson Avenue Seventh-day Adventist Church is seen in a photo from the church's Facebook page before a fire on Christmas day gutted it. TOP—The Christmas day fire destroyed much of the historic 185-year-old church. Photo via the church's GoFundMe page.)