By AT News Team, May 4, 2015 (Updated May 5): The man who might become the first Adventist to be president of the United States officially announced his campaign today in Detroit, where he grew up in a single-parent family and a low-income neighborhood. Dr. Ben Carson is a noted brain surgeon and an active member of the Seventh-day Adventist denomination.
Carson entered the Detroit Music Hall to a standing ovation before sitting with his family to listen to musical performances by the Selected of God Choir and Veritas. "You only get one shot…. This opportunity comes once in a lifetime," Selected of God chanted, covering the song "Lose Yourself" by Detroit rapper, Eminem. The remaining songs were more traditional religious and patriotic selections.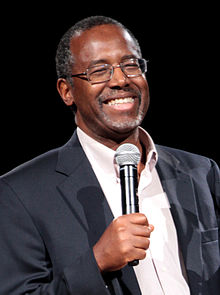 After introducing his wife Candy, their three sons, and the sons' spouses, Carson introduced himself by saying, "I'm Ben Carson, and I'm a candidate for president of the United States." Carson, who is considered by many a long-shot for the presidency, is running as a Republican candidate.
Carson told his story of growing up in poverty in Detroit and Boston. "I remember when our favorite drug dealer was killed," Carson quipped. He used personal anecdotes to segue into themes ranging from hope to debt, from recent events in Baltimore to his own qualifications for the presidency.
Despite these difficult family circumstances, his mother worked two and three jobs at a time, from 5am to midnight, in order to keep the family off of welfare, he said. Carson returned to the theme of independence throughout the speech, stressing that the United States must not become a socialist state. However, he also noted that interpersonal interdependence is important within communities.
Speaking about social services, Carson clarified, "I have no desire to get rid of safety nets for people who need them. I have a strong desire to get rid of programs that create dependence in able-bodied people." The audience responded with enthusiastic clapping and cheering.
Carson often references the U.S. Constitution in his political discourse, and that was the case again in Detroit. "I'm not an anti-government person by any stretch of the imagination," he said. "I think the government as described in our constitution is wonderful. But now we have gone far beyond what our constitution describes."
Carson returned to another favorite theme—his status as an outsider to politics. "I'm not politically correct. And I'm probably never going to be politically correct because I'm not a politician. I don't want to be a politician because politicians do what is politically expedient. I want to do what's right."
Carson called people to think independently of political parties, even his own. "Stop being loyal to a party or to a man, and use your brain to think for yourself." Later he added, "I'm not even asking everybody to vote for me. I'm just asking people to listen to what I'm saying and listen to what politicians are saying, and make an intelligent decision based on your intellect."
In the weeks ahead, Carson said he will give a speech focusing on economic issues; however, he did address aspects of the topic in today's presentation, including the unemployment rate, the national debt-to-GDP ratio, corporate taxation, tax holidays, and national infrastructure.
Christian faith is central to Carson's view of politics and American history. In 2014 he said he would enter politics if he felt God calling him, and he has repeatedly talked about the importance of Christian faith for making the U.S. a strong nation. Speaking about his administrative plans, Carson began by referencing God's providence: "I want to tell you what we're going to do if God ordains that we end up in the White House."
In addition to religion, business is also at the core of Carson's political vision. "We are going to change the government into something that looks more like a well-run business than a behemoth of inefficiency." Therefore, when Carson selected his leadership team, he chose businessman Terry Giles first to run the exploratory committee and then to form a campaign team with significant business experience.
Carson announced the campaign leaders, beginning with chairman Barry Bennett. Doug Watts is the director of communications. Logan Delany is the campaign treasurer. Deana Bass is the national spokesperson. "We're going to be doing different things than you've seen before because it's not political," he noted.
Speaking to his qualifications for the presidency, Carson argued it is true that he does not have experience making the problems that he sees in Washington. Rather, he believes he does have sufficient experience from his career and from participating in the nonprofit and business sectors. "I do have a lot of experience solving problems, complex surgical problems that have never been done by anybody before," he said, referring to his experience as a neurosurgeon at Johns Hopkins University. He continued, "I do have corporate board experience with 18 years at Kellogg and 16 years with Costco as well as a biotech company. Candy and I do have experience starting a national nonprofit scholars fund."
Carson concluded his remarks by saying, "We are one nation under God, indivisible, with liberty and justice for all. God bless you, and God bless the United States of America." Finally, the Selected of God Choir and Veritas stepped into the spotlight to sing the lines, "Glory, Glory, hallelujah. Our God is marching on. His truth is marching on."
Update: Shortly after Carson announced his candidacy, the leadership of the Seventh-day Adventist Church in North America released the following statement via the Adventist Review:
As the 2016 United States election cycle begins, the Seventh-day Adventist Church is aware of the increased interest in the presidential candidacy of Dr. Ben Carson.
Dr. Carson's story is well known to most Adventists, and he is a well-respected physician.
The Adventist Church has a longstanding position of not supporting or opposing any candidate for elected office. This position is based both on our historical position of separation of church and state and the applicable federal law relating to the church's tax-exempt status.
While individual church members are free to support or oppose any candidate for office as they see fit, it is crucial that the church as an institution remain neutral on all candidates for office. Care should be taken that the pulpit and all church property remain a neutral space when it comes to elections.Church employees must also exercise extreme care not to express views in their denominational capacity about any candidate for office, including Dr. Carson.
We also want to remind our church members, pastors, and administrators of the church's official position on the separation of church and state. The church has worked diligently to protect the religious rights of all people of faith, no matter what their denominational affiliation.
"We should therefore work to establish robust religious liberty for all and should not use our influence with political and civil leaders to either advance our faith or inhibit the faith of others. Adventists should take civic responsibilities seriously. We should participate in the voting process available to us when it is possible to do so in good conscience and should share the responsibility of building our communities. Adventists should not, however, become preoccupied with politics, or utilize the pulpit or our publications to advance political theories." (From an official Seventh-day Adventist Church statement, adopted by the Council of Interchurch/Interfaith Relations of the Seventh-day Adventist Church in March 2002.)
The Seventh-day Adventist Church values Dr. Carson as we do all members. However, it is important for the church to maintain its long-standing historical support for the separation of church and state by not endorsing or opposing any candidate.[1]
Related Articles
Ben Carson Not Allowed to Speak at Baptist Event Because He is an Adventist (Apr 27, 2015)
Ben Carson Apologizes for Comments on Homosexuality (Mar 5, 2015)
Adventist Doctor Continues to Build a Campaign for the U.S. Presidency (Feb 26, 2015)
Adventist Doctor Said He Will Decide about Run for U.S. President by May 1 (Dec 4, 2014)
[1] Adventist Review, May 4, 2015, https://www.adventistreview.org/church-news/story2602-adventist-church-in-north-america-issues-statement-on-ben-carsons-u.s.-presidential-bid.