Attaching Your Kids to God: Adventist Authors Discuss Ramifications of Attachment Development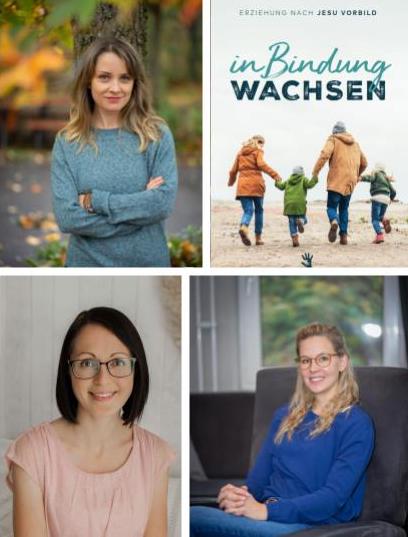 "Many children get stuck at one point or another in the formation of the attachment stages and thus also in their maturity development. Thus, immature children become immature adults."
"We now know that our children do not maliciously lash out, but cannot control their strong emotions. We know that children are not capable of intentionally angering us at all, but are controlled by their impulses."
"If we force our children to suppress their emotions, the negative consequences of this will inevitably show up sooner or later."
26 July 2022 | Growing in Attachment — Education Based on the Example of Jesus (German: inBindung Wachsen) is the first book published on the subject of attachment-oriented upbringing from a Christian perspective, reported the Adventist Press Service Germany (APD), the news agency of the Seventh-day Adventist Church in Germany. The three authors—Junita Horch, Marina Hoffmann, and Julia Wanitschek—co-founded the popular podcast inBindung and are educators themselves. In an email interview with Adventist Today, the authors discuss the importance of attachment development, how to use it to develop a relationship with God, and why it's important to cry sometimes.
What is the attachment-development approach? 
The attachment theory goes back to the US-American-Canadian developmental psychologist Mary Ainsworth and the British pediatrician, child psychiatrist and psychoanalyst John Bowlby. It states that people have an innate need to form close and deep relationships with their fellow human beings in which they experience deep emotions.
Why is it important? 
For the mental and also physical health of all of us, it is absolutely important that we form secure, loving, and deep bonds with others. Our brain, or more precisely the amygdala, is constantly searching for this connection because attachment ensures our survival.
Accordingly, experienced or even feared separation is our greatest threat. Unfortunately, many parenting methods are based on triggering a sense of disconnection in the child in order to get him or her to behave as desired. Attachment-based parenting has the approach of maintaining the connection with the child precisely in those situations where the child makes mistakes. This is because growth and maturation only happen in an attachment context.
How did you all become interested in it? 
While reading (not only) Christian literature on parenting, we noticed that very often methods are used that are aimed at changing the child's behavior, without taking a closer look at the reason for unwanted behavior. Much of what we read also did not match the image we have of God. Through book recommendations and social media channels on the topic of attachment, we then came across the attachment theory approach developed by Gordon Neufeld (a Canadian developmental psychologist). We were immediately excited, because here we had finally found a scientific foundation for a kind of education that we see as godly.
What do the authors think is the most important thing to know about attachment-development? 
Our attachment behavior develops primarily in the first six years of life. Gordon Neufeld thus describes six stages of attachment. The next higher level can only be reached if the previous one has been "saturated." This process is increasingly vulnerable the higher the respective attachment level.
Many children get stuck at one point or another in the formation of the attachment stages and thus also in their maturity development. Thus, immature children become immature adults. The world is full of immature adults who have not been able to heal, or only partially heal, the deficits from their attachment development.
We as parents can—by studying the topic as well as dealing with our own immature part—create the conditions for our children to encounter favorable conditions to develop a healthy attachment behavior.
What are your Top 3 tips for parents? 
1.) Build a relationship with your child through attachment by saturating their attachment needs (for example, the need for closeness or significance), especially during their first six to seven years of life.
Parenting by means of punishment and reward works, but it will not last: at the latest when the power imbalance between parents and children equalizes in the teenage years and you have not built a real bond, there is nothing left on which to base your relationship.
2.) Before you react to an undesirable behavior of your child in an impulsive and rash way, ask yourself: What is the reason behind this behavior? Does my child need the reprimand/punishment that is on the tip of my tongue right now, or am I more likely to achieve better behavior by satisfying the need that my child has right now and wants to show me with their inappropriate behavior?
3.) Prioritize yourself as a parent: Only parents who are balanced and whose energy reserves are full can respond appropriately and lovingly to their children. Therefore, consciously plan times/activities, etc., where you can recharge your batteries as a parent.
What do the authors think is the most exciting recent development in child psychology and brain research? 
One of the most important discoveries is the immaturity of the child's brain. Since the prefrontal cortex is not yet integrated in children under seven, the child lacks important skills such as impulse control, thoughtfulness, empathy, change of perspective, moral maturity, and more. We now know that our children do not maliciously lash out, but cannot control their strong emotions. We know that children are not capable of intentionally angering us at all, but are controlled by their impulses. This changes the way we look at children—toward more understanding, compassion and grace.
There are many things that are absolutely fascinating and have given us many "Aha!" moments.
Unfortunately, this knowledge has not yet reached the wider society. We often expect two-year-olds to behave according to the developmental level of a nine-year-old. However, this cannot be expected from a neurological point of view.
What is the most important thing to help children develop a relationship with God? 
Parents shape their children's image of God. The way we treat them (especially during the first seven years of life) is the way they think God treats them. If we treat them as human beings with dignity and not as machines that have to function, if they can really feel our love and it is not just lip service, then they automatically become mature people capable of love.
This enables them to also love their Creator with all their heart. They then know how it feels to be loved unconditionally and can transfer this to God. They can feel His love and naturally develop the desire to enter into a relationship with this loving God. And from our example as parents, they also learn what this relationship can look like.
What is the most important thing in raising emotionally and mentally healthy children? 
We can only raise emotionally and mentally healthy children if we ourselves are emotionally and mentally healthy. It is also essential that we give space to our children's feelings and allow them to mature at their own pace. If we force our children to suppress their emotions, the negative consequences of this will inevitably show up sooner or later.
If, on the other hand, we show them a healthy way of dealing with their strong feelings, they will gain access to them and learn to regulate them and express them in a socially acceptable way.
Crying is the main way children process the frustrations of life; parents should therefore take special care to allow their children to cry and not try to suppress it with phrases like, "Big boys don't cry!" or "It wasn't that bad; there's no need to cry!" Crying is an essential part of mental hygiene and helps to build resilience.
inBindung Wachsen is published by Advent-Verlag Lüneburg, the official publisher of the Seventh-day Adventist Church in Germany. For more information on how to purchase the book, visit Advent-Verlag at www.advent-verlag.de, or Facebook at www.facebook.com/adventverlag, or Instagram at atwww.instagram.com/adventverlag/
---
(Photo: Junita Horch, Marina Hoffman and Julia Wanitschek (counter-clockwise, from left), have written "inBindung Wachsen (English: Growing in Attachment)," the first book published on the subject of attachment-oriented upbringing from a Christian perspective. Photos courtesy of Advent-Verlag.)