Good news! The deadline for the reduced AT1 hotel rate at Embassy Suites Washington Square has been extended from September 11 to September 22 at 5 p.m. PDT.
Space is limited at this rate, so please reserve your room today! 
Reservations can be made by calling 503.644.4000 and requesting the Adventist Today 2019 ATI Conversation group rate or the group code XAT.  Reservations can also be made by following this link.
The hotel group rate is $151 per night ++ for single, double, triple, or quad occupancy and includes complimentary parking, internet in sleeping rooms, and cooked-to-order breakfast.
Rates are available for the dates October 2 – 6, 2019. Check-in: 3:00 pm. Check-out: 12:00 pm.
The hotel allows for cancellation 24 hours prior to your arrival with no penalty.
Contrary to some reports, we have not sold out of tickets for AT1 so go ahead and register today by clicking here.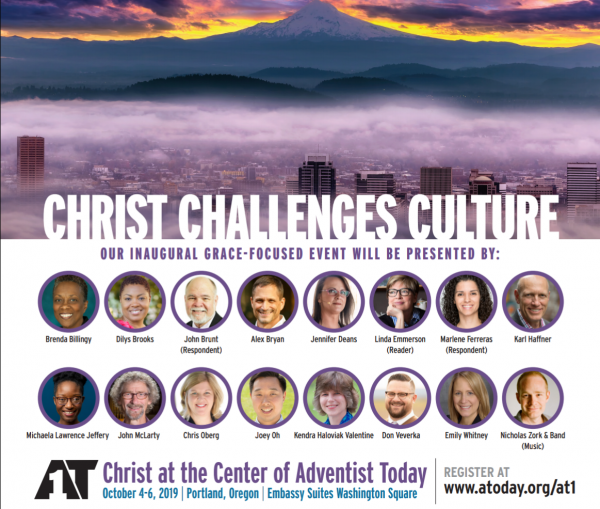 While some of the most compelling speakers in our faith community will be presenting, this gathering won't be your average Adventist event. It isn't controlled by the church bureaucracy. It is organized by lay people that have a fresh vision for a positive, progressive future for the church.
Our theme is "Christ Challenges Culture" and our goal is to embrace a grace-centered, clutter-free approach to faith, living as Jesus would in today's complex environment.
Here is our list of speakers and the topics on which they will be presenting:
Alex Bryan, former senior pastor, Walla Walla University Church and current administrative director for mission identity for Adventist Health – Motives – Matthew 5:8
Karl Haffner, senior pastor, Kettering Seventh-day Adventist Church – Lust – Matthew 5:27-28
John McLarty, former executive editor for Adventist Today, current senior pastor, Green Lake Church in Seattle – The Rich – Mark 10:21-25
Michaela Lawrence Jeffery, senior pastor, Athens Georgia Seventh-day Adventist Church – False Testimony – Matthew 15:18-20
Chris Oberg, lead pastor, La Sierra University Church – Lifestyle – But ye are to be perfect, as your Father in heaven is perfect – Matthew 5:48
Emily Whitney, spiritual discipleship pastor, Summit Northwest Ministries in Post Falls, Idaho – Sabbath – Mark 2:27-28
Jennifer Deans – senior pastor, Living Faith Seventh-day Adventist Church in Sterling, Virginia – True Christians – John 13:34-35
Brenda Billingy – senior pastor, Metropolitan Church, Allegheny East Conference & NAD Ministerial – The Final Exam – Matthew 25:34-40
Kendra Haloviak – professor of New Testament Studies, H.M.S. Richards Divinity School, La Sierra University – Homeless – Luke: 9:57-58
Dilys Brooks – campus chaplain, Loma Linda University – Anger – Matthew 5:21-22
Don Veverka – Community Relations Manager, Whitman Place – Grief – John 11:18-35
Joey Oh – pastor, Loma Linda University Church – Complacency – Matthew 12:30
John Brunt – author, New Testament theologian and former pastor at Azure Hills Seventh-day Adventist Church in Grand Terrace, California  – Respondent
Marlene Ferreras – assistant professor of Practical Theology, H.M.S. Richards Divinity School, La Sierra University – Respondent
Linda Emmerson – instructor of philosophy, Walla Walla University – Reader
Here's the weekend schedule
Friday – October 4
5:00 pm – Attendee Check-in
7:00 pm – Opening Plenary Session
8:30 pm – Vendor Showcase
Saturday – October 5
7:00 am – Vendor Showcase
8:30 am – Plenary Session
10:00 am – Break / Vendor Showcase
10:30 am – Plenary Session
Noon – Lunch Provided & Fellowship
2:00 pm – Plenary Session
3:30 pm – Break / Vendor Showcase
4:00 pm – Plenary Session
5:30 pm – Vendor Showcase
Sunday – October 6
7 am – Vendor Showcase
8:00 am – Plenary Session
10:00 am – Break / Vendor Showcase
10:30 am – Plenary Session
Noon – Travel Safely
Parents Room
For families with young children there will be a dedicated room with an audio feed of all programming.
Airport transportation
The hotel is 17 miles from the airport. Major car rental companies are an option, as are UBER & LYFT. Sorry, there is no shuttle service.
Exhibitor Space
For information on renting an exhibitor space call us at 800.236.3641 or email atoday@atoday.org
8′ Rectangle Table — $550.00