From ANN, April 14, 2016:     A memorandum of understanding between the Greek Mission of the Seventh-day Adventist denomination and ASI Europe means that Adventist Help, a bus-based medical clinic, is once again ready to help refugees.
Last year around 100 medical and non-medical volunteers assisted on the Greek island of Lesbos, providing immediate practical help to some of the more than 500,000 people who made the treacherous trip across the Aegean Sea from Turkey. In phase 2, the bus has moved to a new refugee camp located one hour north of Athens. Adventist Help will be responsible for all medical services in the Oinofyta camp.
"This is a brand new camp set up on the premises of an abandoned factory, designed to host tents for 2,000 refugees," states Michael-John Von Hörsten, a medical doctor who was very active during phase 1 of the project. He has been connecting with other volunteers, the charity, 'Do Your Part', and the Greek government.
The memorandum, signed by Mission president, Claudio Gulyas, and ASI Vice-president, Claus Nybo, on Thursday, 7 April 2016 means that the Greek Airforce who run the camp have now given ASI a key for the camp gate and main building.
Markus Alt, a Swiss national, will act as Project Coordinator for Phase 2 of the Adventist Help project and is already onsite. He is excited that they will have access not just to the bus, but also a nearby medical facility that has space for 38 doctors, though currently the Greek state can only pay for three, and one of them is a dentist. "There is a full-size lab, an x-ray department, eye, ear, heart, dental, gynecology and many more services there, ready to use," Alt states. His great need is volunteer helpers as refugees start to arrive in the next few days.
One of the hallmarks of Adventist Help, according to Nybo, is the identity of the project´s core group, "Adventists who keep their corporate and individual identity while mingling with other volunteers, the local community and displaced persons as ones who desire their good, meeting their needs, embracing and sharing God´s love in practical tangible ways, through genuine, self-sacrificing friendship as well as high quality health services and other acts of genuine care."
In this new phase they hope to add health awareness programmes, an area that may involve local Adventist church members. The Greek mission is committed to encouraging local volunteers to participate in project activities such as medical care, nursing and food distribution, as well as overseeing any hiring of local staff.
While the program will be under constant review, the MOU runs until the end of 2016 and is renewable on an annual basis.
The choice to move from the coast to a new refugee camp comes in the wake of the recent agreement between the Turkish government and the European Union, leading to a decrease in the number of refugees arriving in boats, balanced with the closing of the Balkan route leaving many refugees stuck in Greece.
If you would like to volunteer of help Adventist Help then please contact them via their website: https://adventisthelp.org/contact/.
Because the Balkan borders have closed to refugees seeking safety in Europe, the Adventist Development and Relief Agency (ADRA), the humanitarian arm of the Seventh-day Adventist denomination, has turned much of its attention to refugees and migrants stranded in Greece, and those seeking legal asylum.
ADRA's emergency response team (ERT) was deployed to Greece in March. Staff members from ADRA Slovakia have been distributing hygiene kits to refugees in Idomeni, as well as providing psychosocial support to many in the camps who have been traumatized by their experiences.
The ADRA network is also implementing a larger project across three camps to continue hygiene kit distribution and psychosocial counseling, but also to include distribution of fresh food and information leaflets.
With borders currently closed, Greece has become the front line of the European crisis. There is a growing bottleneck for refugees and migrants traveling from Turkey, with close to 100% crossing by sea to Greek islands. From there, most travel by ferry to mainland Greece and continue their journey to Idomeni on the border with Macedonia, where they remain because they are no longer allowed to cross.
The refugee camps in Greece were built as a short-term solution for those traveling through to other destinations, and the deplorable conditions are not suitable for the length of time that families are now staying. The UNHCR estimates as many as 44,000 are trapped here, and 60% of those still arriving by sea are now women and children who suffer the most from long queues for food and inadequate shelter and hygiene.
An agreement between the European Union and Turkey has added much uncertainty to the volatile situation as boats have now started returning small numbers back to Turkey.
ASYLUM SEEKERS
New refugees are not able to cross Balkan borders, but many remain in those countries seeking legal asylum. The numbers are much smaller than the tens of thousands that ADRA staff were dealing with on a weekly or daily basis.
A few examples of ADRA's current work in these countries:
ADRA Macedonia has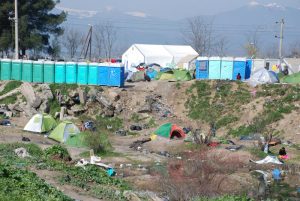 established a children's play zone, where little ones can play with toys and with their parents, often mothers traveling alone with children.
ADRA Slovenia is working diligently in local centers where asylum seekers are residing. There are many gaps in providing for this group because of the rapid shift in refugee strategy.
ADRA Serbia's information center in Belgrade is providing essential assistance to asylum seekers, helping connect them to local services and items they need.
Adventist News Network (ANN) is the official news service of the denomination's world headquarters in Washington, DC. Featured image: Adventist Help receives keys to the Oinofyta camp in Greece. Photo credit: ANN/tedNews.