From ANN and APD, April 28, 2015:   Seventh-day Adventist doctors and aid workers sprang to work in Nepal after a 7.8 magnitude earthquake killed more than 4,400 people on April 25.
Tremors and victims have been reported in India, Bangladesh, and Tibet. The Nepalese government has declared a state of emergency, and countries around the world have offered assistance.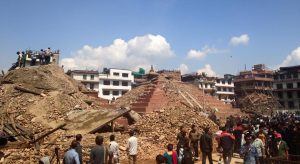 Emergency workers are still gauging the full impact of Saturday's earthquake and some 100 aftershocks, including a 6.7-magnitude tremor on Sunday afternoon. The epicenter was about 50 miles (80 kilometers) from the capital, Kathmandu.
"The human suffering breaks our hearts and moves us with deep sympathy for the thousand of families who have experienced loss," said Ted N.C. Wilson, president of the Adventist world church.
"May this be an opportunity to show Christ's ministry of love and compassion in all that we do as we see more of these disaster happening signaling the nearness of Christ's return," he said in a statement.
The Adventist Development and Relief Agency (ADRA), the humanitarian arm of the Seventh-day Adventist Church, said its local office has deployed workers to assist people with food and shelter, and its international headquarters in Silver Spring, Maryland, decided on Sunday to dispatch an emergency response team.
ADRA is mobilizing 2,000 tarpaulins and tools, and 2,000 jerry cans from Dubai, said Natalia López-Thismón, ADRA International spokesperson. "We will be focusing on shelter for those who've lost their homes," she said. "We will likely be partnering with GlobalMedic on water, hygiene and sanitation projects."
ADRA said on Twitter that its Nepal staff was safe and property was undamaged. "At this time, we ask for your prayers for the people of Nepal and for our team on the ground," said Thierry Van Bignoot, ADRA's director for emergency management, in an e-mailed statement.
The Adventist Scheer Memorial Hospital in Banepa, 9 miles (15 kilometers) east of Nepal's capital, Kathmandu, was overflowing with patients.
The quake, which lasted about 10 minutes, flattened entire neighborhoods in Kathmandu, but the Scheer Memorial Hospital appeared to have emerged unscathed other than a minor crack on one of its oldest buildings.
"Thank God the hospital is safe. They are really overwhelmed with patients," said Alvin Cardona, whose father, Fernando, is a pediatrician at the hospital. Cardona, who is in the United States and has spoken with his father in Nepal, said both of his parents were attending Sabbath worship services in an Adventist church when the quake struck.
The Adventist hospital, a three-story facility licensed for 150 beds, has been inundated with people seeking medical treatment and has been forced to tend to many people outside its walls, Cardona said.
"They've been taking care of hundreds of patients on the outside," he said. "They are also setting up temporary shelter for people that lost homes."
The disaster is putting a major burden on Scheer Memorial Hospital, which traces its roots back to Dr. Stanley and Raylene Sturges, the first Adventist medical missionaries to Nepal in the late 1950s, and is named after Charles J. and Carolyn Scheer, whose son Clifford C. Scheer funded most of its construction.
The hospital's equipment, furnishings, and supplies are provided by CARE, a major international humanitarian agency, and the Seventh-day Adventist Church, but it says that its day-to-day operations are largely a matter of faith.
"Scheer Memorial Hospital is running on faith," it said in a statement published on its website before the quake. "Each day there are miracles big and small that allow us to keep our doors open to the community and those who need our help the most."
Umesh Pokharel, president of the Nepal Section, an attached field of the Southern Asia Division, said no Adventist believers are known to have been injured in the quake, which struck around midday Sabbath, April 25, as Christians of all faiths worshiped across the country.
"So far no Adventist has been killed," Pokharel told the Adventist Review on Sunday. "However, many Christians were buried while they were worshiping on Sabbath and died." In Nepal, all Christians worship on Saturday because it is a nonworking day unlike Sunday, when the country works.
Pokharel said four Adventists churches were partly destroyed. "But there may be more," he said.
The Adventist Church has 8,859 members worshiping in 106 congregations in Nepal, according to the latest figures from the General Conference's Office of Archives, Statistics, and Research. The Hindu-dominated country has a population of about 28 million.
Pokharel said many areas have no electricity and no water, while telephone and other communication networks have been disrupted and roads are badly damaged. "People are in great pain and panic," Pokharel said.
Pokharel was worshiping in a church in Newari, a village in the Kathmandu Valley about 12 miles (20 kilometers) from the capital, when the earthquake hit.
"We saw houses collapsing with our own eyes," he said in a report to the Southern Asia Division. "All people came out of their homes, crying and asking God to forgive them for their mistakes and to save them."
He said geologists had warned local residents and the Nepalese government for years to prepare for a possible earthquake in the Kathmandu Valley so the disaster did not come as a complete surprise. But countrywide rescue operations were complicated by a lack of prior preparations, funds and coordination between the government and other agencies, he said.
People across Nepal slept outdoors or in cars as a precaution despite cold and rainy weather on Saturday night. "We all stayed outside under the open sky and felt many aftershocks," Pokharel said.
Pokharel said he is seeking to restore contact with all church workers in Nepal and to make sure they have food, clothing, tents, blankets, and medicine. "The Nepal Section needs immediate help to meet these needs," he noted.
At the same time, church members in Kathmandu were preparing to reach out to neighbors with assistance and information about quake preparedness.
"Kathmandu is in an earthquake zone, and the church feels that we need to initiate an awareness program," Pokharel said. He asked for church members worldwide to pray for Nepal.
His call was echoed by T.P. Kurian, communication director for the Southern European Division, who has been in close contact with the Nepalese church.
"We request all to pray for the people of Nepal," Kurian said. "Also they need aid and support to recover from the effects of the earthquake."
ADRA has launched an urgent fundraising drive for Nepal, asking people to donate at ADRA.org.