From ANN, September 10, 2015:   An innovative Adventist youth program in the Seventh-day Adventist Southeast Asia territory (SSD) has recently earned praise from local government leaders in Vietnam. One Year in Mission (OYIM) Vietnam volunteers received a certificate of governmental appreciation for two community projects in ward 9 Phu Nhuan district. The award was given during an August 27 ceremony in Ho Chi Minh City, formerly known as Saigon.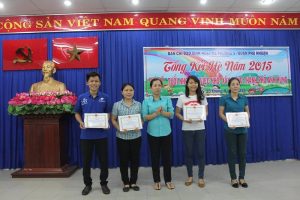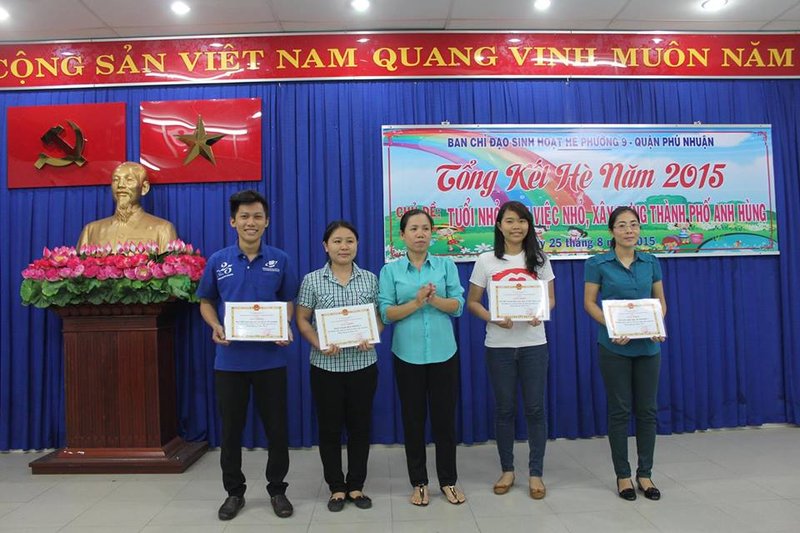 Ward 9 (sub-district) leaders cited the group's community activities during the recent summer months as positive contributions to the well-being and health of residents.
OYIM volunteers partnered with the ward to clean railway and outdoor market areas for one project. The second project was a health day complete with free haircuts and back massages.
In addition to these two projects, the group has partnered with other wards and organizations to meet community needs over the last year. Activities included school supply distribution to disadvantaged children, a clean-up day, a dental health day and free motorcycle washes in this city of approximately 3.5 million motorcycles.
The volunteers also work with hospitals, charities, and other entities in Ho Chi Minh City and throughout Vietnam. For example, they partnered with a local Buddhist place of worship known as a pagoda for a school supply distribution project.
During a video report about this event, OYIM Vietnam coordinator Le Bao Ngan (Keiko Le) shared that the purpose of their activities is to "not only bring meaningful action and warmth to…children but to inspire young people to do good…daily."
Another way these volunteers seek to empower and inspire youth is through creating positive social gatherings such as free guitar lessons. These night-time lessons enable youth to gain a new skill while enjoying an uplifting and fun environment.
"It's just a small way but we hope that the [OYIM Vietnam] movement will help young people become more involved and inspired to impact society," said Le.
Originally developed by the General Conference in 2013, the OYIM initiative was then introduced in each division. The Southern Asia-Pacific Division now has OYIM country coordinators in 11 of its 14 countries with a wide-ranging network of volunteers.
Vietnam is a Communist country bordered by China, Laos and Cambodia. Reports indicate that approximately 8% of its more than 91 million people practice Christianity. Officially recognized by the government in 2008, the Seventh-day Adventist denomination has more than 11,000 members and 15 churches in the country.
The Adventist News Network (ANN) is the official news service of the Seventh-day Adventist denomination.