Updated March 19:  AT News Team, March 16, 2015:   Before Tropical Cyclone Pam hit the archipelago of Vanuatu on March 13 and 14, the Adventist Development and Relief Agency (ADRA), the humanitarian arm of the Seventh-day Adventist Church, was prepositioned to assist in recovery. Despite this preparation, devastation caused by winds averaging 167 miles per hour near the eye of the storm is making it difficult for ADRA and other agencies to respond.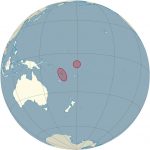 The biggest challenge aid agencies like ADRA are facing at the moment is downed cellular networks on all the islands, but plans to respond are moving forward as humanitarian organizations meet to coordinate the response.
ADRA Vanuatu has been traveling around Port Vila, the nation's capital, to check on current conditions and reported that trees and power lines across the roads were blocking passage to main roads, reported ADRA New Zealand. The team also reported a "pre-organized evacuation centre that started to get ripped apart during the night, so people had to be moved to another site in the middle of the cyclone."
ADRA Vanuatu has still not heard from 10 staff members, 5 in Pentecost and 5 in Malakulo. Across the island state, dozens are feared dead, reported the New Zealand Herald. Thousands of people are now homeless, though specific numbers are not yet tallied on the country's 65 inhabited islands. Vanuatu has a population of 267,000, with 47,000 in Port Vila, which was hit hard by the storm.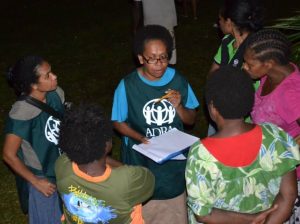 "This going to be a long-term recovery and rebuilding process for Vanuatu. Agriculture, houses, and infrastructure have been destroyed," reported Mark le Roux, ADRA Vanuatu Country Director reported after meetings with local partners and aid agencies. "This will be a severe and long-lasting crisis for Vanuatu."
ADRA volunteers and staff members have already started visiting evacuation centers to conduct training on how disease spreads. In some evacuation centers there are up to 300 people per toilet, and there are no hand-washing facilities.
"There is a very real threat of disease spreading in a situation like this," explained LeRoux. "And there is a shortage of medical staff because some doctors have not been able to report to work."
An old section of the hospital in Port Vila has been flooded out with patients being moved to a new wing of the hospital. Field staff reports that there aren't enough beds and that generator power was lost due to flood waters.
Donations can be made to ADRA's disaster fund (link).
UPDATED March 17, 2015:
ADRA is playing a key role in securing the health and sanitation in 10 of the 20 evacuation centers in Port Vila. ADRA has made plumbed water available at nine of the 10 evacuation centers with the last evacuation center's tank being refilled by the fire service.
The number of latrines in the evacuation centers is still inadequate, with as many as 300 people using one toilet. ADRA is continuing to provide hygiene information sessions in 10 evacuation centers. Field staff has already distributed hygiene supplies to families in the centers, including soap and other prepositioned materials.
"Ensuring good hygiene is critical following a disaster like this," said Mark le Roux, ADRA Vanuatu Country Director. "Disease can spread quickly and with health services already stretched the situation can turn deadly."
ADRA's plan of action includes installing additional latrines, building temporary bathing facilities, and continuing hygiene messaging daily.
ADRA has also deployed a team of volunteers to help with cleanup efforts in the urban areas of Port Vila. Although the power outage continues, the weather has remained clear, allowing residents to start cleaning up and gathering what is left of their homes.
Logistical issues in response to the Cyclone Pam's devastation are hampering the ability to respond on other islands. "Communication between the islands is still down," reported le Roux. "We still don't have a good picture of the cyclone's impact on many of the islands."
UPDATE March 19, 2015
At least four Adventist church buildings in the capital city of Port Vila were completely destroyed, has reported the South Pacific Adventist Record. Many of the estimated 30,000 Adventist adherents in Vanuatu have been made homeless, although so far church administrators have not reports of deaths among members.