by Rebecca Barceló  |  8 August 2023  |  
On July 28, I checked into my hotel at the Hurst Conference Center in the Dallas-Fort Worth Metroplex, grateful for the lobby's air conditioning amid the oppressive summer heat. "I'm sure not in Denver anymore," I murmured to myself, heading up to the 4th floor to find my room. The hotel was nice and I instantly felt at home. I had two hours to unpack, remove the smell of airplane, and get some work done before heading down to Session One of the Adventist Young Professionals (AYP) Convention. 
I had never attended an AYP Convention before and didn't really know what to expect. Would all of the attendees be super-conservative? Super-liberal? Would they all know each other and I would be the odd one out? Maybe it would be a bunch of 20-year-olds and I would be the only one in my 30s? Or maybe it would be a bunch of 40-year-olds still calling themselves "young professionals" and I would be the youngest? So many questions.
Heading down to the convention ballroom, I passed the exhibit hall with what looked like 10-12 ministries, universities, or young adult churches showcasing their products and services. A few booths caught my attention and I made a mental note to come back and browse when I got a chance. I headed to the line forming toward the ballroom where check-in tables were set up, complete with gift bags, t-shirts, custom YP stickers, and name tags. Pretty nice swag! I thought to myself, picking up my registration packet. 
The ballroom was set up with round tables surrounding a middle stage where the band was. I eyed the drumset and the bass player, "Yessssss, okay so we're going to jam out. Cool." Having no idea where to sit, I picked a table near the stage where a girl was sitting by herself. I figured I might as well start making some new friends if I was going to be here all weekend on my own. 
"Hey, is this seat taken?" I asked.
"No, help yourself," she said with a smile. "I'm just waiting for some other friends to show up, but they can sit on this side." 
We started chatting while the band warmed up, talking about what we did for work and how we found out about AYP. She asked me where I was from. 
"I'm actually from Denver," I answered. 
Her eyes got wide. "No way! I'm moving to Denver in a month for work!" 
"No way!" 
"Yes!!" She continued. "I've been so nervous because I don't know anyone there in the Capitol Hill area where I have my new apartment, or in Denver in general!"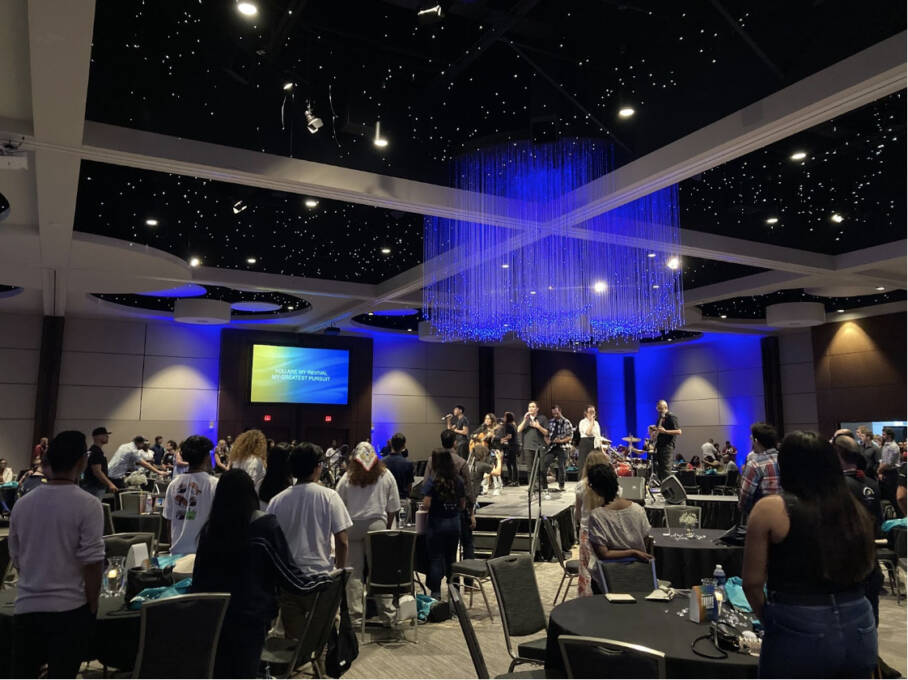 I laughed. "Well, you lucked out because I live in Capitol Hill and I'll show you around when you get there. I'll be your new 'bestie' and show you everything. You'll be fine!"
The band started up and I marveled at this first chance encounter as we began to sing the words up on the screen. Okay, God, that was kinda cool, I thought, feeling more open to whatever the weekend had to offer. Despite my extroverted nature, I hadn't been around this many people for a long time, and it took a minute to relinquish the social anxiety that had come with Covid and living on my own. I told myself to take a breath, let go, and not worry about controlling anything that happened this weekend. Just go with the flow. 
After a few songs led out by the Benbrook Adventist Church Praise Team, our speaker for the weekend, Benjamin Lundquist, took the stage. His leadership ministry, "Rise and Lead," has a large following online and I knew about some of his stuff on Instagram and his podcasts, but had never really followed him. He introduced himself, shared some context about his family and the work he's passionate about, and then jumped right into the subject matter for the weekend: "Our Primal Questions." Huh. Okay, not where I thought we were going with this. Intrigued, I listened, trying to guess the direction of his talk. He introduced the book he would be using over the next several sessions called The Seven Primal Questions, by Mike Foster.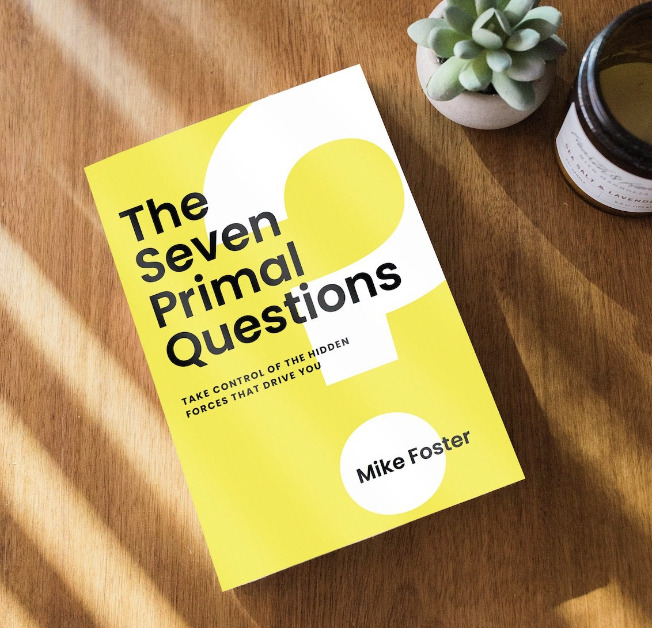 Lundquist shared the premise of the book, that we all have unanswered questions from our childhood that have stuck with us over the years – questions such as: "Am I wanted?" "Am I loved?" "Do I have purpose?" and more. Each person has a primary question, based on occurrences that have happened throughout their life, that tends to become the theme of everything they do. "The search for a 'yes' to your question affects what you do for work, the relationships you pick, and even whether you decide to have a relationship with God," said Lundquist. 
The silence in the room was palpable. 
He continued. "Once you find that God is the only true 'yes' to that question and that he is the one who will most fully and consistently meet that need for you, you come to find your identity in him. At that point, the beautiful thing is that, whatever question has pained you or brought you heartbreak or made you feel that you're not enough, then turns around and becomes your superpower to the world. If you were never included, you're the first one to include others now… because you know how it feels. If you didn't feel safe, you make sure that those within your care are protected and feel safe. If you didn't feel loved, seen, or understood, now you go out of your way to listen to others so that they can feel loved, seen or understood." 
I scribbled some notes and subtly wiped away a tear rolling down my cheek. This was a lot to think about, and I would need to process later in my hotel room. 
"Take some time this weekend," Lundquist concluded. "Talk to others around you and ask 'what is your question?' Get to know each other and support each other."
I looked around at my table of new acquaintances and wondered how exactly that would go down. I imagined the conversation, "Hey, I'm Rebecca. So, what's your deepest, darkest, primal question?" I chuckled to myself, imagining their faces.
"I'm kind of hungry," my seat-mate whispered, interrupting my thoughts.
"Yeah, me too!" I whispered back. "Let's Yelp some restaurant options around here."
Just then, final announcements were made from the central stage. "We've ordered a whole bunch of Costco pizza for the lobby, so if you all want to hang out and get to know each other more after the session, feel free. The lobby is yours!" 
"Yesssss, good looking out!" I whispered.
With about 380 young adults milling around the hotel lobby, it was packed and buzzing with excitement! I met a 24-year-old who works in corporate accounting, a 28-year-old pastor from Canada, and a 35-year-old who is a dentist for nursing homes. A couple folks from the booths were 41 and 42 – experienced writers and marketers sharing their wisdom. I learned that part of the AYP philosophy is for each group to not just learn from the group above them, but mentor and pour wisdom into the group below them. After some pizza and some good conversations, I called it a night and headed up to my room. 
The next morning, breakfast was provided at 8 a.m., and I came down to the dining area full of good smells, laughter, and loud, vivacious conversations. My new friend told me that she and some other people had been up since 7 a.m. for a prayer session in the prayer room! "Props to you," I told her, sitting down at her table with some eggs and oatmeal. "But, the Lord heard my prayers this morning just fine from my pillow!" 
After breakfast, we had some time to roam through the exhibit hall, and I was pleasantly surprised by all of the new creative products and ministries that were showcased. One guy named Jai created a whole strategy card game called "Eden's Conflict" that "transforms the abstract concept of spiritual warfare into a step-by-step learning experience." He said that he's passionate about creating a spiritual experience for gamers, since he is a gamer himself, and found that there wasn't much in evangelism for his type of demographic.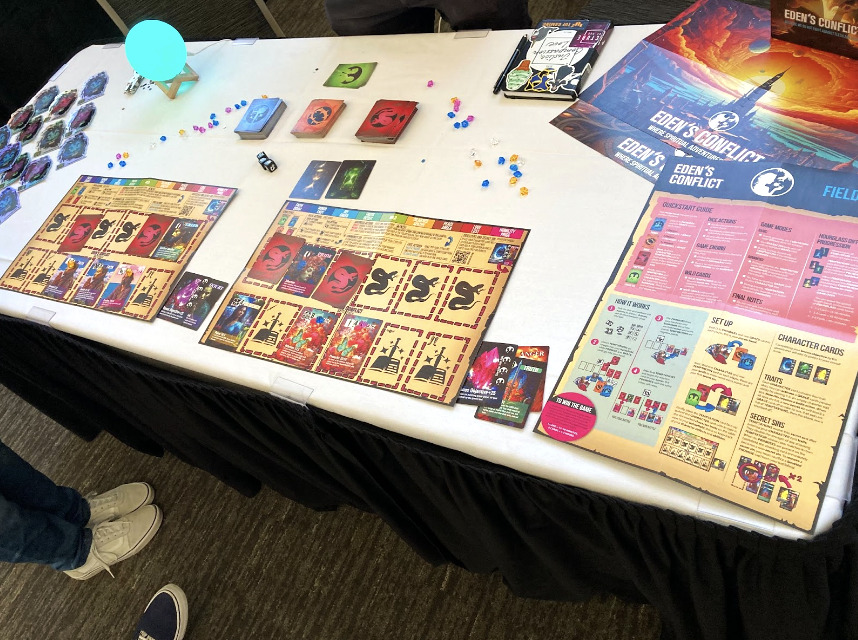 I was going to head into the ballroom, when I got wrapped up in a conversation with some people discussing Friday night's session. 
"Yea, I think my primal question is 'am I safe?'" one guy said. "My family life was chaos growing up, and I never felt that there were boundaries or structure to keep me safe." 
"So do you find yourself looking for that in your work?" one girl asked.
"No, I think I've looked for it more in my relationships," he responded. "I tend to care a lot about whether I'm safe to be myself, or whether my partner will stay or leave. And then I tend to try to make sure that people I love are safe. Kind of like a protector."
I sat down with them and got involved in the conversation. We talked about work troubles, primal questions, things we felt God was asking us to give up, sexual ethics, dating apps, and learning to find our identities. An hour and a half blew by. Next thing we knew, we heard the closing song being sung in the ballroom. 
"Oops, didn't realize we'd been out here that long!" someone said. 
We headed into the ballroom, only to find the hotel staff preparing the room for a catered lunch. After some preparation, we sat down to a beautiful several-course meal, with vegetarian and vegan options… and of course, dessert.
After lunch, the afternoon involved a rotation of workshops in different meeting rooms on the topics of spiritual health, purpose and calling, building community, identity in Christ, and relationships. A couple of other workshops were hosted by Kettering, ADRA, AdventHealth, and the Texas Conference Young Adult Department. 
In the evening, another meal was served in the ballroom and Lundquist spoke in Session Three about "Self Leadership." He described it as "taking extreme ownership of your life, practicing life-giving habits, connecting to mentorship, and taking good care of yourself physically, spiritually, and emotionally." He told several stories of times where he had been at the peak of his career, but actually not taking care of himself or practicing good self-leadership, and the consequences of those actions. "You cannot lead people to where you have never gone yourself," he concluded. "Self-leadership is not selfish. When you lead yourself well, you can then be more present for others."
Once the session concluded, we had a couple of other group mixers, and then the workshop rooms were opened up to become activity rooms for the evening. There was a board game room, a conversation room, a jam session room, among others. I stopped paying attention after I heard "jam session room" and headed there to sing with the band.
That night, I met some other folks from Colorado, watched a huge, spirited game of "Mafia" happening in the lobby, met a cool girl who worked for the Poynter Institute, and had some more deep conversations… all while snacking on the appetizers that AYP put out in the hallway. 
Sunday morning, I packed up and headed down to breakfast, bright and early at 8 a.m. After grabbing my eggs, oatmeal, and… Morningstar veggie patties(?) (I guess AYP gave the hotel a heads-up!), I headed over to a table in time to hear a 26-year-old nurse talking about his fiancee and their long-distance relationship. 
"Yeah, we're trying to figure out our careers and whether she would come here or I would go there. It's hard. Hopefully we can be together by the end of the year," he said to the group. 
I mentioned that I had been in a long-distance relationship for awhile in my 20s too, along with some things that had helped us get through it. We talked throughout breakfast. 
When it was time for Session Four, I headed in early to make sure I got there for the praise session. Participants were invited to come up close to the stage, and we surrounded it, packing in close together. We sang several of the weekend songs again and ended with the theme song before Lundquist came up to close out the series. As we sat down, he spoke about "Purpose and Calling." He shared that each person's life is made up of many life assignments, and that each of those smaller life assignments will contain a) a growth opportunity, b) people entrusted to your care, c) and momentum that you will need to steward well. He also addressed the anxiety that often comes with trying to figure out what you're called to. 
"If you're following Jesus as your first, and most important calling, then your second calling to the world will naturally come. He will provide it for you, so you can relax. He will provide the opportunities for you." 
The conference ended with a song, acknowledgements to the team, and then the big announcement about where AYP's 2024 Convention would be held next July. I was impressed to see that the website had already shifted to 2024, the schedule was already created, and a survey link had already been emailed to my inbox asking for feedback about my 2023 experience. I did my rounds in the ballroom, saying goodbye to some new friends and taking pictures for the gram. (Because if it's not on the gram, did it even happen??) We connected on social media, via email, etc. and promised to connect again in the future.
Heading out to the airport, I couldn't help but feel a deep sense of gratitude for everything that had happened throughout the weekend. I was grateful for the opportunity to find people my age, with my struggles, with my faith, all trying to glean life wisdom and authentically support each other's journeys. While I had to risk the social anxiety to attend a gathering with new people, new events, and new experiences, I found the AYP Convention to be practical, relevant, and surprisingly, exactly what my soul needed.
---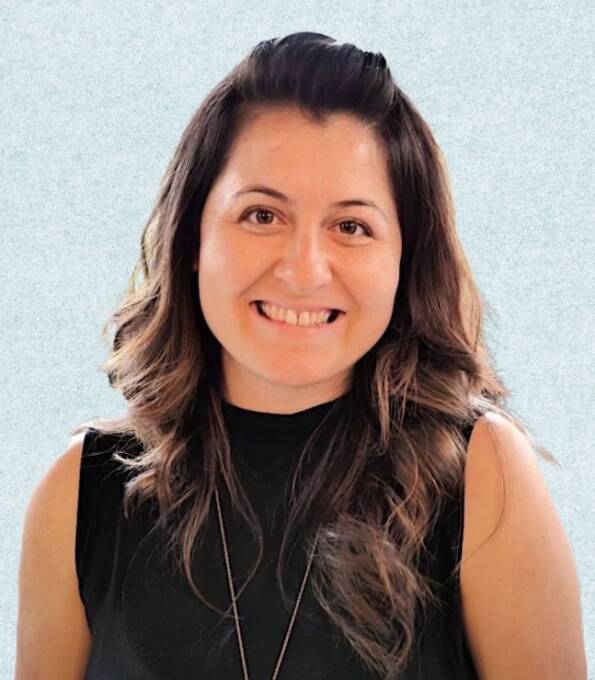 REBECCA BARCELÓ works in Denver, Colorado, for The Conflict Center, a nonprofit organization that provides community workshops and training in practical social/emotional skills. She graduated from La Sierra University with a degree in Communication, PR & Advertising and is currently completing an M.A. in Theological Studies at Andrews University.
To comment on the Adventist Young Professionals conference, click/tap here.