By Debbonnaire Kovacs, July 27, 2016
In February 2016, through a rather miraculous series of events, my sister and I were able to take a two-week vacation in Peru with travel expenses paid. As the faithful Adventist Today writer that I am (you can read a smile into that; I don't suppose emoji are appropriate here) I immediately decided to try to find some stories for AT. I only ended up with one, but it's a good one.
Between the two of us, our Spanish was sufficient to the task of having a wonderful time without resorting to planned tours except for a four-day trip to Machu Picchu and the Sacred Valley—(and even then we became personal friends with the agent who carried on her business in a tiny office on the street and set up our tour for us.) In Lima, we used taxis and maps to get around, and if sometimes we were taken to a different place than we thought we had asked for, well, every place was always enjoyable.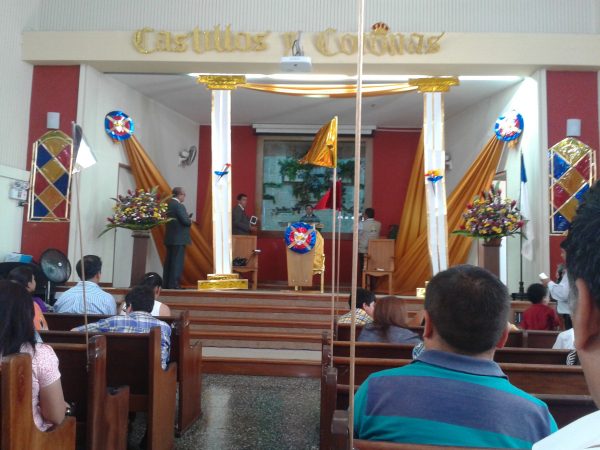 On our first Sabbath in Lima, we attended the Brasil Avenue Seventh-day Adventist church. It was the first time for both of us to attend a church in Latin America, and we were struck by both the similarities and the differences. It was bigger than I expected; it probably seated around 500, and was mostly full. The sermon and remarks, and even the songs, tended to be familiar, but it was a little startling (though nice) to be hugged and kissed by uniformed greeters. They also pinned little cards onto our lapels, each bearing a tiny ribbon rose and a Bible verse. The church was decorated with flair and imagination as if it were a palace or castle, and we learned they had just had Vacation Bible School. The banner above the dais reads "Castles and Crowns."
While there, I hoped to find someone who knew something about Universidad Peruana Unión (Peruvian Union University, or UPeU.) Instead, we found Luis Espinoza, whose English was as good as our Spanish, and who offered to take us there the following Tuesday. This was much better than I had expected. Although the campus we would visit is called the Lima campus, it is located inland, some distance away.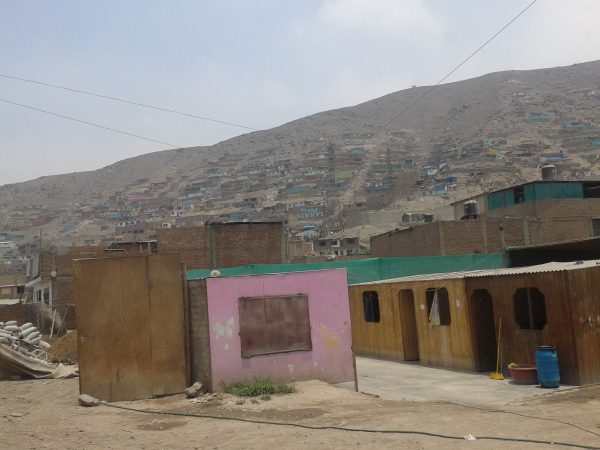 On Tuesday, Luis picked us up in his car and we headed inland and up. (In Peru, everything inland is up.) My sister and I were not staying in a particularly touristy area, but still, as we reached the outskirts of Lima, we began to see the true poverty of the majority of the population. Shanties of thin wood climb every hillside like this. At the coast, things are at least greener, but between the coast and the Andes there is an arid strip of desert upland, so these houses don't even have enough water.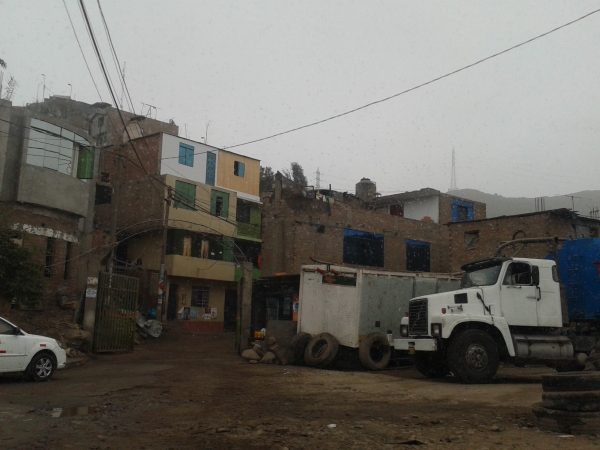 We soon left the main highway and began traveling on a series of what I can only call mountain tracks. The trip from Miraflores, the area of Lima in which we were staying, is only about 30 km (18.6 m) but it took us nearly an hour and a half to get there. As we reached the area where UPeU is located, the poverty seemed even worse, or perhaps it was only because it was closer. Luis told us that one of the university's main goals is to reach out to the community, to try to help people improve their lives, and to employ local people as much as possible.
When we reached the campus proper, we were surprised to see how beautiful it is.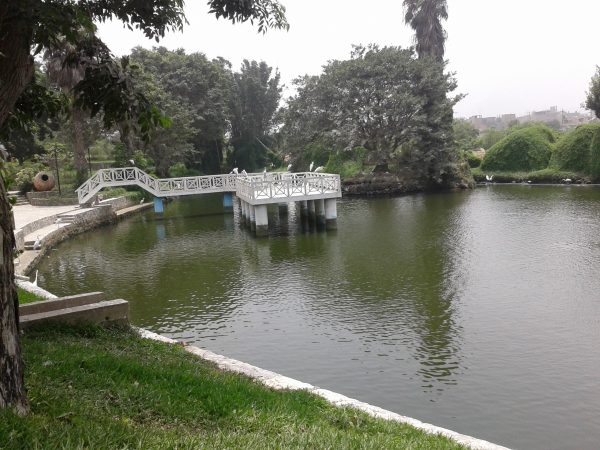 UPeU had its beginnings in 1919 when the Industrial Institute was founded in Miraflores. According to a special report during the 2015 General Conference session, "Years later, after moving an hour east and being eventually chartered as a university in 1983, the now Peruvian Adventist University has one main campus and two branches across the country, with over 13,000 students and a combined offer of 43 degree programs."
I am pretty sure that when we were greeted at the office we were given brochures for most of those programs! One which particularly impressed me was for Human Sciences and Education. Its heading read, "To love is to educate; to educate is to transcend."
The program of which the university is most proud, though, is their medical school. I had already read in an Adventist News story that in 2012 the denomination inaugurated its fifth medical school here, the first in the northwestern region of South America. The same article said, "The school's founding dean, Dr. Carlos Alfonso Balarezo, is a Peruvian national who has served as chief of surgery at Riverside County Regional Medical Center in Riverside, California, United States, and as an associate professor of surgery at nearby Loma Linda University's School of Medicine. He also holds the title of Master of Peruvian Surgery, a distinction awarded by the Peruvian Surgical Society and held by only three people." The article goes on to quote Dr. Balarezo as saying the school's emphasis on preventive care would "differentiate us from other medical schools here."
Analia Ferreira, (whose official title I neglected to obtain and can't find, for which I apologize!) spoke English, Spanish, and Portuguese, and took us on a tour of the medical school. She said they have the best microscopes in Peru. They are two-part, so that teacher and student may look together, and are connected to a computer.
She said that most of their students are Peruvian, but that they have been working to bring in more foreign students. She believed there were about 100 at the time, a few of whom were American.
"One American," she explained, "came to do a mission for her convent. She learned more about our school and is now taking nursing from us."
Ferreira added that students work, many of them as colporteurs, and can actually work their way through an excellent medical school.
She said some students come from Loma Linda to get practical experience because there are fewer laws about what they can and can't do with patients, though of course they are never without supervision from doctors. The university would like to have more students from America, though they must be able to speak Spanish.
She introduced us to Dr. Vallejos, who is in charge of cadavers. (My sister's highlight was when she got to touch a cadaver with a gloved finger. I declined the treat.) Dr. Vallejos spoke no English, but between the five of us (Luis was with us on the tour) we managed to learn quite a bit. One very interesting discussion revolved around the preservation of cadavers. Dr. Vallejos said that in the Andes, people have been preserving potatoes for centuries, and can keep them a long time. He somehow uses these methods to embalm his bodies. Elsewhere in Peru, he told us, they have to change cadavers twice a year. Here, he said, their bodies were fresh for four years. They have one cadaver for studying muscles, one for studying nerves, and so on.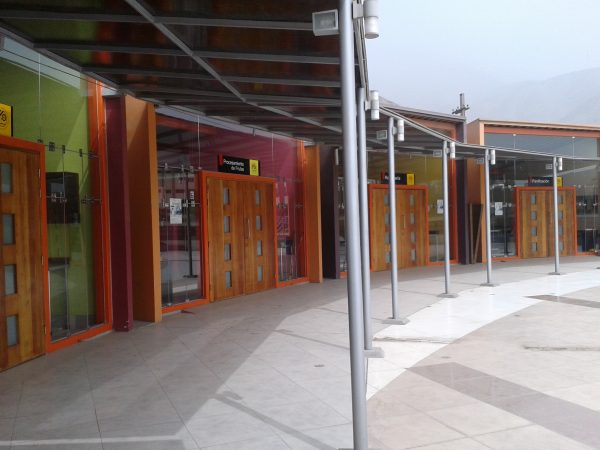 Ferreira then took us to an interesting sort of plaza, where Home Economics are practiced, a different area of expertise in each classroom in the row. Every student, she said, must take one class per semester in such subjects as sewing, hair cutting, cooking, desserts, baking, processing fruits, massage therapy, and craft. She said they take the Adventist health message seriously, and seek to educate all their students in healthful living.
She also told us that the rules at UpeU are fairly strict. "We take strict care of hours and activities. It makes the parents comfortable, but the young adults crazy!" she said with a laugh.
As always when I am in a different country, I often found myself definitely out of place and learning new things (which is the whole point, after all) …until I make contact with the great Adventist family: diverse, rich in its many cultures, sometimes irritating (like every family), but nearly always welcoming.
Learn more here.
---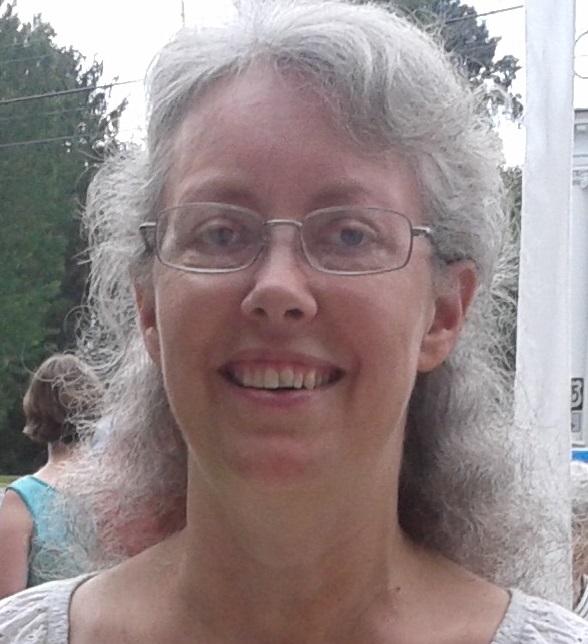 Debbonnaire Kovacs is a speaker and the author of 25 books and over 600 stories and articles for adults and children. To learn more about her work or ask her to speak at your organization, visit  www.debbonnaire.com.