By James Hoffer, posted April 13, 2016 by D Kovacs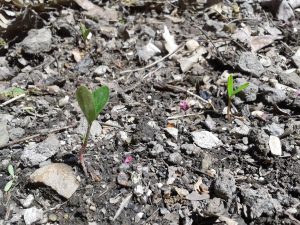 I had a dream the other night,
It seemed so very true;
I stood beside my garden plot—
Some planting I would do.
I took a tiny little seed
And planted it with toil;
I placed it in the hole I'd made
There in the fertile soil.
What pleasure to cooperate
With heaven's all-wise plan!—
As I would hoe and rake and weed,
While God sent sun and rain.
Before too many days had passed
A tender shoot appeared—
A promise of abundant fruit
When harvest time should near.
Alas! Just 'fore maturity
A strange thing came about:
The plant decided on its own
To follow its own route.
Ignoring wiser thoughts and plans
It wriggled from its berth,
And one by one its roots drew out,
Till dying, fell to earth.
All in the name of freedom 'twas,
God's better plan to doubt;
The only source of life and joy
The little plant shut out.
Now plants don't have minds of their own,
Nor feet to walk untrue;
Too bad that thus plants show more trust
Than human beings do.
If plants could walk, would they submit
To that which God ordains?
Are plants then, more intelligent
Than humans who have brains?
How wonderful to trust in God—
In truest sense be free,
Fulfilling in one's very life
Eternal destiny!