By S M Chen, posted Dec 23, 2015
(with apologies and profound gratitude to Abraham Lincoln, 16th President of the USA)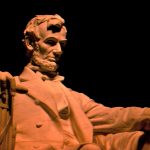 More than one hundred score years ago, when the fullness of time had come, our Father brought forth on this planet a new order, conceived of the Spirit, and dedicated to the proposition that, despite the Fall of man (and death being his just reward), he might yet have life eternal.
Now we are engaged in a great conflict between good and evil, testing whether our planet can long endure. We are met on a great figurative battlefield of that cosmic conflict. We have come to dedicate a portion of our time, wherever we are, at this special time of year, to the One who gave His life that we might live.
It is altogether fitting and proper that we should do this.
But, in a larger sense, we cannot dedicate, we cannot consecrate, we cannot hallow this ground, planet Earth. He Himself, who lived and died, who struggled here, has consecrated it far above our poor power to add or detract.
The world will little note, nor long remember, what is written here, but it can never forget what was done here on our behalf.
It is for us, the living, rather, to be dedicated to the unfinished work which they, followers of the One, who labored here before us, have thus far so nobly advanced.
It is rather for us to be here dedicated to the great task remaining – that from the memory of the honored dead (although He is risen) we take increased devotion to that cause for which they gave the last full measure of devotion; that we hereby resolve that He shall not have died in vain; that our planet, under God, shall have a new birth of freedom, and that people of Earth (which exists of the people, by the people, for the people) shall not perish, but have everlasting life.
[Art credit: This was taken from a publicity poster for The Nativity Story.]