by Rich Hannon  |  20 July 2023  |
It is official Seventh-day Adventist doctrine that God made the heavens and earth recently, in "six literal days that together with the Sabbath constituted the same unit of time that we call a week today." (Fundamental Belief #6) Not all church members accept this, but I think most do. These adherents can be loosely sub-categorized into two groups: 
those who believe based on their understanding of inspiration alone, and

those who wish to factor in scientific findings to underpin their belief. 
Those who opt for the first choice (1) presumably consider scripture (and possibly Ellen White) to be so unmistakably clear about creation being recent that any scientific evidence should be subordinated, or even considered irrelevant. I think many, if not most, of these believers are somewhat aware that the (overwhelming) majority of geologists/paleontologists do not believe in a young earth. Consequently, they ought to experience some dissonance about their position, as the same God is necessarily behind both revelation and nature. 
This first group would also do well to recognize that, even if the Bible is infallible, their personal understandings derived from that source are not. Such realization does not make a young earth view wrong, but it means that this position cannot be considered a certainty. Yet I think many who hold this view have made that logical leap.
Those preferring choice two (2) ostensibly do consider whether science supports their belief. But this group can, I think, be divided again into: 2a—those who are actually persuadable based on what science concludes, and 2b—those who aren't. That is, 2b believers would appropriate science if it supports what they already wish to affirm, but if it doesn't, then science gets rejected because the conclusion they derive from inspiration takes precedence. 
So really, group 2b isn't essentially different from group one, except that if science supports their view, they then have intellectual cover for what they are going to choose anyway. 
The problem with 2b is that they might say (if only to themselves) that they factor in science—except when "push comes to shove."  And obviously, there's some slippery ethics at play with this sort of logic.
Young Earth Creationism
It is unsurprising—and totally reasonable—that Christians who have some scientific training and want to believe in a young earth would seek to test that hypothesis. Over the years organizations have formed to address this, notably Answers in Genesis and the Institute for Creation Research. 
But their work and written articles aren't generally accepted by conventional geologists. Some Young Earth believers attribute this to bias, feeling that the "academy" is thoroughly compromised by atheistic presuppositions. 
But this charge of bias is itself very problematic. Geology, as almost universally taught and practiced, has a huge amount of corroborating evidence underpinning the conventional theory. Young Earth Creationism (YEC) tries to pick at the edges of these conclusions. But when one digs into the details, it fails to tell a coherent story.
My above conclusion about YEC represents not just the fact of conventional geology's rejection, but also my own understanding, obtained after a number of years investigating the field through reading books and professional journal articles. But of course, you can find others who will claim that their examinations have led them to believe in a young earth. And, like much of science generally, sorting this out to determine what might be true or false usually takes a lot of work and some (painfully) accumulated, specialized literacy—not something most people are willing or able to do, given the busyness and complexity of daily life. 
A straightforward example
What I wish to present in what follows is an example illustrating the problems YEC faces. I choose it because it is relatively easy for a non-professional to follow and dramatically shows the severe difficulty of trying to fit actual data into a flood geology model.
Flood geology is a term used to denote the hypothesis that much of the geologic column was deposited by the biblical Noachian flood, described in Genesis 6-9. Thus, the obvious, (presumably) non-controversial constraint for this hypothesis is a limitation on both duration and mechanism. The flood lasted about a year, and deposition would have occurred via catastrophic water motion. 
The problem with this is that the evidence almost universally does not align with these constraints. Let's take, for example, karst, which I'll explain to you.
Karst processes
A Karst landform is one where water drainage has formed caves and sinkholes. The name comes from a region in Germany where this geological feature was first studied. A Karst process, then, is how such topography gets created: it involves subterranean water flow carving out caves, which then might collapse to create sinkholes. 
A modern instance is found in the Yucatan peninsula. The term "paleokarst" refers to the same processes having occurred in the ancient past and now evidenced in the geologic strata.
A clear example of paleokarst occurs in the Grand Canyon's upper Redwall Limestone Formation. Sinkholes and caves are found here, and the sinkholes are filled in with breccia – rock typically consisting of angular fragments of mudstone cemented together with sedimentary fill. In the Upper Redwall these filled-in sections are called the Surprise Canyon Formation. The breccia that filled in these sinkholes would have come from the strata immediately above. 
However, the type of material in the Surprise Canyon Formation is not presently found in the layer above. That overlying layer is called the Watahomigi Formation, and has a clearly different composition. Thus, the obvious inference is that the original material deposited above the Redwall completely eroded and was later replaced by the newer material of the Watahomigi. Only the filled-in sinkholes remain, showing the original overlying deposit.
Karst processes take a lot of time to form these cavities and they occur in limestone, which is susceptible to weakly-acidic water erosion that chemically dissolves the rock. Indeed, each of the above-described formations (Redwall/Surprise/ Watahomigi) takes significant time to form.
Now, here is the process, as interpreted by conventional geology:
The Redwall limestone (being the lowest) was formed first. It is primarily calcium carbonate which

lithifies

(turns to stone) via considerable pressure and duration. One of the most glaring problems for a Young Earth hypothesis is explaining how the flood, which ought to leave behind a random mix of material, can instead produce stacked formations, typically different from each other, yet internally homogenous.

Then the Karst cave-forming process occurs. Obviously, you have to first have the limestone before it can be acid-water eroded into caves, with some later becoming sinkholes via roof collapse. You do not get caves forming from soft sediment left behind from a flood.

Next the obviously different material in the Surprise Formation was overlaid, providing the material that dropped down to fill the sinkholes. And, as noted above, this breccia consists of a mixture of jagged chunks of

previously

formed rock, which then was cemented once inside the sinkhole cavities.

After this comes the erosion of the Surprise Canyon material that had been deposited above the Redwall. This Surprise formation material had to fall in from above, but now only remains in the concave "lenses" of the upper Redwall.

Finally, a new overlying layer formed above the Redwall–the Watahomigi. The material in this layer is different from both the Surprise and Redwall rock.
Here is a diagram of the relevant Grand Canyon layers. You can see the relationships I've just described.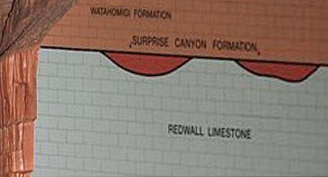 Each of these depositional steps would have occurred sequentially, over considerable time. It is pretty much inconceivable that a flood mechanism could produce such a result. Young Earthers have no hypotheses to explain this. I would challenge skeptical readers to postulate a flood-based mechanism that is actually plausible here. (And I haven't even mentioned radiometric dating, which confirms the sequential deposition by the ages of the different formations.)
You don't produce actual rock of the Redwall Formation in a year. You don't create caves in a year that would be formed in some pre-existing limestone. You don't have them filled in by different material from above in such a short duration. And the fill material (breccia) is composed of rock chunks, lithified earlier. Then that original Surprise Canyon material disappears and gets replaced by yet a third type of rock (the Watahomigi). 
If it weren't for presumed religious necessity, postulating a flood mechanism of vanishingly short duration to account for this observed data would never even be considered.
Consider the evidence fairly
I would hope my above-defined type (2a) believers would think about this example carefully. Don't casually accept or reject my explanation. Use this introduction to examine the evidence and interpretation for yourself. Then, if you choose to still believe in a young earth, ask yourself—in total honesty—why? Do you think your understanding of Genesis cannot be mistaken? Or that 6000-ish years is necessary to hold a defensible Christianity? Science is fallible, but human interpretation of scripture is also fallible. And the more compelling the geologic case, the more one ought to at least consider alternate understandings of the Genesis creation and flood stories. 
Yes, a significant revision of what you were once taught would occur. But there are possible alternate explanations of Genesis that aren't faith-destroying, even though the church may presently think otherwise. 
Adventists can come together at a General Conference session and vote on anything they wish. But that doesn't thereby make the result of any such vote a reality.
---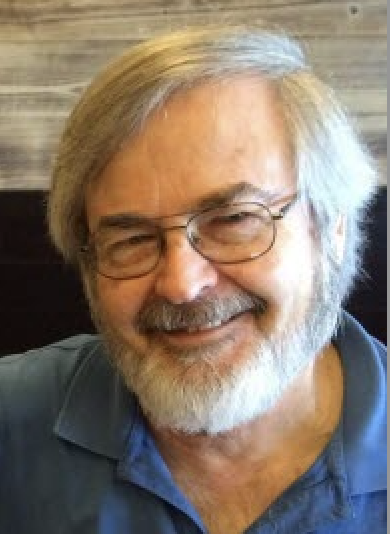 Rich Hannon is a retired software engineer. His long-standing avocations include philosophy, geology, and medieval history.